Local's Guide: Brecks Sweetest Spots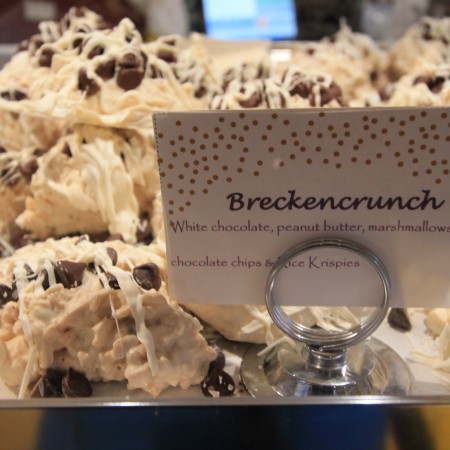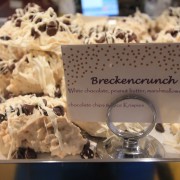 You'd be surprised how many people you see walking around with ice cream cones as the snow falls on Main Street in Breckenridge. Or, did you JUST see that person just walk by with a coffee cup topped with whip cream, caramel and chocolate chips and wonder WHERE that came from?! If you have a hankering for something sweet, savory, cold or hot, we have got the list of goods you shouldn't pass by as you stroll along Main Street.
Mary's Mountain Cookies has been serving fresh baked cookies to locals and visitors since 1998. You can't really miss this shop, as the aroma of homemade goodies will have you following your nose directly into their kitchen. Known for their sandwich cookies (two cookies filled with creamy frosting of varying flavors), this is a quick stop you should make a priority! Other cookie options include: gluten free, dipped, regular and assorted gift crates. Looking to give your Breckenridge wedding a small taste of Breckenridge? Check out how Mary's Mountain Cookies can be a part of your special day.  Your taste buds will thank you.
Best sellers: Famous for their sandwich cookies.
Most Popular: Vanilla Avalanche or Cookie Dough Delight
Local's tip: Not good at baking in the high country? Pop up in Mary's Mountain Cookies, they may have a pint or larger of pre made dough that's ready for baking!
Oh Fudge Sweet Nuts
Sister to Mary's Mountain Cookies and conveniently located right next door, pop in for a different kind of filling. Offering fudge, ice cream, taffy and other glorious sweets, you won't leave empty handed. The staff is very friendly and helpful. I can attest to their coconut fudge.
Best Sellers: Of course, fudge! Alongside that comes their caramel apples and ice cream.
Most Popular: Speaking of their fudge selection, don't miss out on their Dark Chocolate Caramel Sea Salt fudge or the Tiger Butter (vanilla fudge, peanut butter, another layer of vanilla fudge, chocolate fudge and peanut butter drizzled on top). Oh fudge, we're getting hungry…
Local's tip: Not sure what your taste buds are feeling? Ask for a tiny sample!
Sweet or savory? Although this is a small standalone outdoor eatery, you won't see a longer line anywhere in Breckenridge. To cure that grumbling belly, swing by and grab a bite to eat. Heat warmers stand outside behind the building to keep you toasty if the temperatures are chilly or it's snowing.
Best Sellers: Crepes of course! AND if you get stuck waiting, order the Hot Chocolate Deluxe, topped with mini marshmallows, whipped cream, chocolate chips and caramel.
Most Popular: Fruit & Chocolate (try strawberry & Nutella or strawberry, banana & Nutella), Monty Cristo (cheddar cheese, ham, chicken, honey Dijon & raspberry jam), Pesto Turkey (mozz, turkey, tomato, basil pesto & balsamic reduction).
Local's Tip: The earlier you get there the better (they open at 9 am). Also, planning your crepe indulgence outside of mealtimes will cut down on your time in line.
Rocky Mountain Chocolate Factory
Tucked back in a small alley off Main Street, you might not stumble upon this place unless you're in the know, but catch it if you can. With probably one of the widest varieties of candies, you won't leave without finding what cures YOUR sweet tooth. Caramel apples, barks, dipped items, fudge, dipped fruits, bulk chocolates and ice cream only top the list. Before you leave, purchase a box of chocolates to bring home (if you can wait that long to eat them).
Best Sellers: Truffles and toffee.
Most Popular: Macadamia Toffee and the Sea Salt Caramel Square.
Local's Tip: Living local? Hit RMCF up for $1 local scoops –  scrumptious even on a chilly day!
Yes, the name says it all. If you aren't sure what type of sweet or sour is going to cure that hankering of yours, Fuzziwigs is probably the place to stop. Offering one of the biggest bulk candy selections in Breckenridge, your choices include (but aren't limited to): Swedish fish, chocolate covered peanuts, jelly beans, or maybe you fancy those little caramel turtles.. You'll be leaving with a smile and a bag of all your favorite candies.
Best Sellers: Breckencrunch (Rice Krispies, marshmallow, peanut butter, white chocolate and dark chocolate are combined to create the famous Breckencrunch).
Most Popular: Bourbon Caramel, Breckencrunch & bulk candy selection (leave with your favorites!)
Local's Tip:  Stock up on old-school candies that are hard to come by elsewhere. Treat yourself to Mary Janes, Abba-Zabba bars, Candy Necklaces, Lemonheads, Mallo Cups, Sky Bars or Candy Buttons. They really have it all!
Is your mouth salivating? Ours are! Enjoy these local shops in Breckenridge; they appreciate it and so won't you! Do you want more reasons to come to Breckenridge? Enter our FREE Local Love Giveaway and you could win a trip to Breckenridge on us.


https://bestofbreck.com/wp-content/uploads/2016/02/swettoth-header.jpg
1500
1500
Nicole DeCesare
https://bestofbreck.com/wp-content/uploads/2021/08/bob-horizontal-logo.png
Nicole DeCesare
2016-02-26 18:54:29
2018-07-02 10:35:30
Local's Guide: Brecks Sweetest Spots