Get Your Sweet Tooth Fix in Breckenridge this Summer
Is it just us, or does being on vacation bring out your hungriest inner-foodie, searching for the next best entrée and of course, following the savory with a tad of sweet? Personally, I like to load up on all the goods while on vaycay, because calories don't count on vacation.
It's easy to find a sugary delight in downtown Breckenridge. Our small mountain town Main Street is a walkable stretch of three-quarters of a mile jam-packed with over 200 stores, boutiques, and sweet treat shops. This summer take a stroll down Main Street and don't miss these six spots where you can get your sweet tooth fix in Breckenridge!
Handcrafted in-house delicious goodness, Higgles Ice Cream is a bootstrapped ice cream parlor that has graduated from the humble beginnings of a mobile ice cream parlor to a front-row seat on Main Street in downtown Breckenridge. Higgles is known for sweet experiments like ice cream "taco Tuesday" and ice cream cakes. Keep it classic with a scoop of creamy chocolate or take a ride on the wild side with one of Higgle's special batch flavors. Past favorites are coconut macadamia, raspberry & fig and Colorado toffee. Higgles claims "it is never too cold, too snowy, too rainy to have ice cream in our cozy store." But when you visit this summer, you can relax outside with iconic views of Breckenridge at your fingertips.
Phone: 970.977.0023
Address: 100 North Main Street
Hours: Sunday – Thursday, 12 pm – 8 pm & Friday – Saturday, 12 pm – 9 pm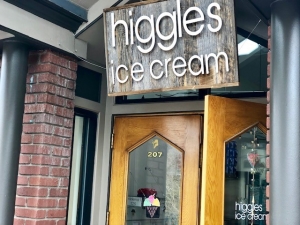 Around town you'll see people carrying brown paper bags – let's just say the contents aren't exactly what you think! Inside those little brown sacks are the BEST cookies of your life. Mountain Top Cookie Shop is a locally owned mom-and-pop cookie shop that has been in business for over 11 years. Gluten allergies? No biggie! Mountain Top Cookie Shop offers 4 gluten-free flavors: chocolate granola butterscotch, coconut cream, coconut crunch deluxe & double chocolate coconut crunch (all gluten-free options are subject to change). If you have a big group to feed or simply want to try multiple flavors, save a bit of money and get 2 free cookies when you buy 6! Mountain Top Cookies also keeps their freshness challenged day olds for purchase by the bag, buy 2 bags and get 1 free! Have friends or family you wish could taste the cookies? Mountain Top Cookie Shop ships your favorite cookies to anywhere in the U.S.!
Phone: 970.547.4757
Address: 128 South Main Street
Hours: 10 am – 10 pm daily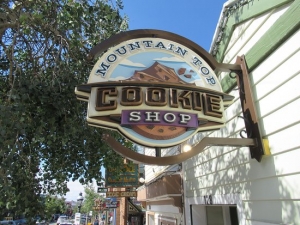 There is no way you can miss the enticing aroma that emits from I Scream Gelato when you walk by and it's likely the homemade bubble waffle cones that are the source. I Scream gelato creates a variety of traditional and unique gelato flavors from scratch daily. As if that wasn't enough, you can choose your toppings or opt for a milkshake, smoothie or even gelato brioche sandwich. Whatever you choose, your creation will be seriously Instagram worthy. For a fun activity you can try axe throwing upstairs from I Scream at Mtn Axe Breck.
Phone: 970.423.6260
Address: 105 South Main Street
Hours: 9 am – 10 pm daily
1.5 million and counting. That's how many crepes the bright yellow historic Breckenridge Crepes a la Cart has served up! Now that's a lot of sweets. But Crepes a la Cart offers savory choices too for a great lunch or dinner on-the-go option! Chocolate or fruity, pre-set or build your own, Crepes a la Cart has an option for everyone in your group. On a toasty summer day, the zesty lemon souffle with butter, sugar, Chantilly cream and freshly squeezed lemon is the perfect pick-me-up. For the ultimate power-up, add graham cracker or toasted coconut for a bit of crunch! Be warned in the height of summer in Breckenridge, lines at the crepe stand can be 20+ minutes long. Lucky for you, Crepes a la Cart opened up a new kitchen location just across the street that rarely has a wait! How about a crepe for breakfast? Try the Minturn Special, stuffed with smoked salmon, egg, brie, red onions, spinach and a dill and chive sauce, mmmm mmm mmmm!
Crepe Cart Location
Address: 307 South Main Street
Hours: Sunday – Monday 9 am – 9 pm, Thursday 9 am – 9 pm, Friday – Saturday 9 am – 10 pm
Kitchen Location
Address: 309 South Ridge Street Alley
Hours: Monday – Friday Closed, Saturday & Sunday 12 pm – 5 pm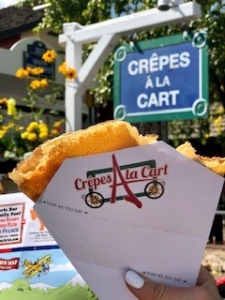 The "newest kid on the block" in Breckenridge, figuratively speaking, is Stir Pan Creamery. Stir Pan serves up Thai ice cream rolls, a global phenomenon of a sweet treat delight. The ice cream rolls are made from liquid, rather than traditionally scooped from an ice cream bucket. A liquid base is poured onto a frozen surface, sprinkled with toppings of your choice, then chopped, spread and rolled into delicious ice cream rolls. Stir Pan offers a coconut milk alternative for the dairy-free and be sure to check out their specials board – a previous specials favorite is the "Peanut Butter Cup" with peanut butter, oreo, chocolate sauce, and a warm German chocolate brownie. Drooling yet?
Phone: 970.668.9255
Address: 500 South Main Street
Hours: Monday – Friday 3 pm – 9 pm, Saturday – Sunday 1 pm – 9 pm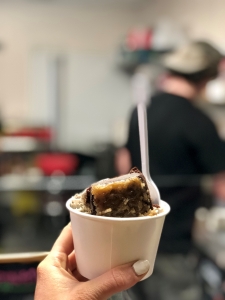 Described as a "whimsical candy experience in the heart of Breckenridge," Fuzziwigs is a miniature Willy Wonka factory of bright colors and fabulous tastes. A candy shop is the perfect sweet treat spot in Breckenridge when you can't decide on just one thing! From boxed candy, to serve yourself bins and candy you haven't seen in decades, you can find just about anything to tickle the fancy of your taste buds at Fuzziwigs. Freshness and quality are at the heart of Fuzziwig's candy mission, as well as friendly service from a Breckenridge local! Be sure to try the small-batch chocolate and fudge confections that melt in your mouth!
Phone: 970.423.6314
Address: 216 South Main Street
Hours: Monday – Sunday 10 am – 5:30 pm