Stand-Up Paddleboarding this Summer
5.30.19 // by: Nicole DeCesare
Have you heard of SUPing? It's the new craze in Breck and it's a MUST-try for all skill levels! If you're not familiar, picture this: lying, kneeling, or standing on an oversized, thick surfboard, with a paddle, cruising over lakes, oceans, and even down rivers.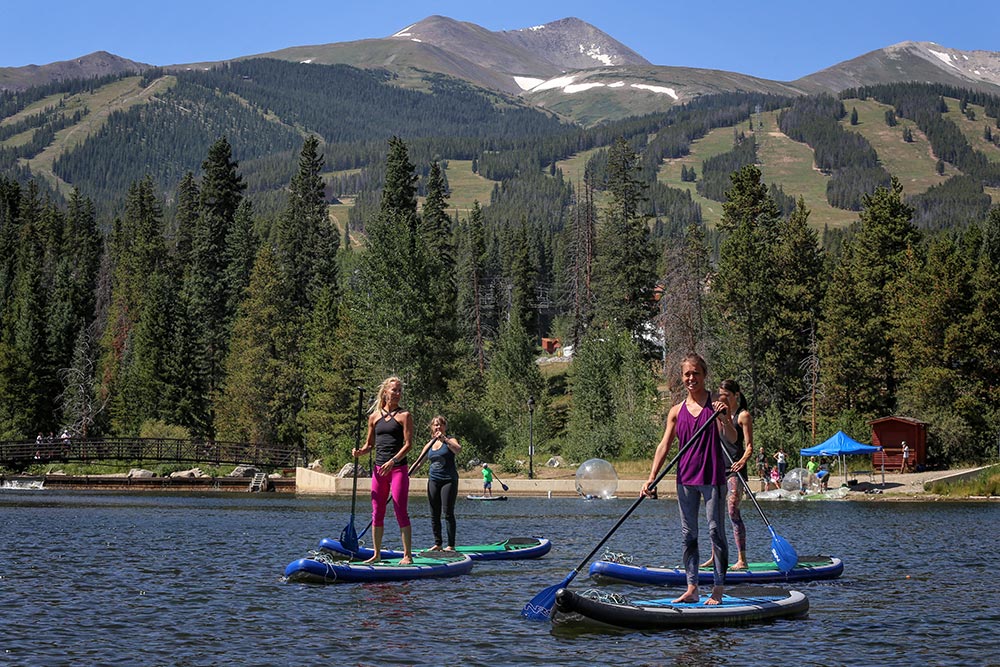 The sport's origin can be found in surfing towns like Hawaii. Surfers would stand on their boards with a paddle to get further out into the ocean. Jimmy Lewis can be named as one of the first creators of the paddleboard structure, differentiating itself from the surf board to be more balanced, wider and able to cover more ground. It wasn't soon after that many surfers opted for this "paddleboard" to allow for more versatility while surfing and soon after "SUPing" became known as a worldwide sport.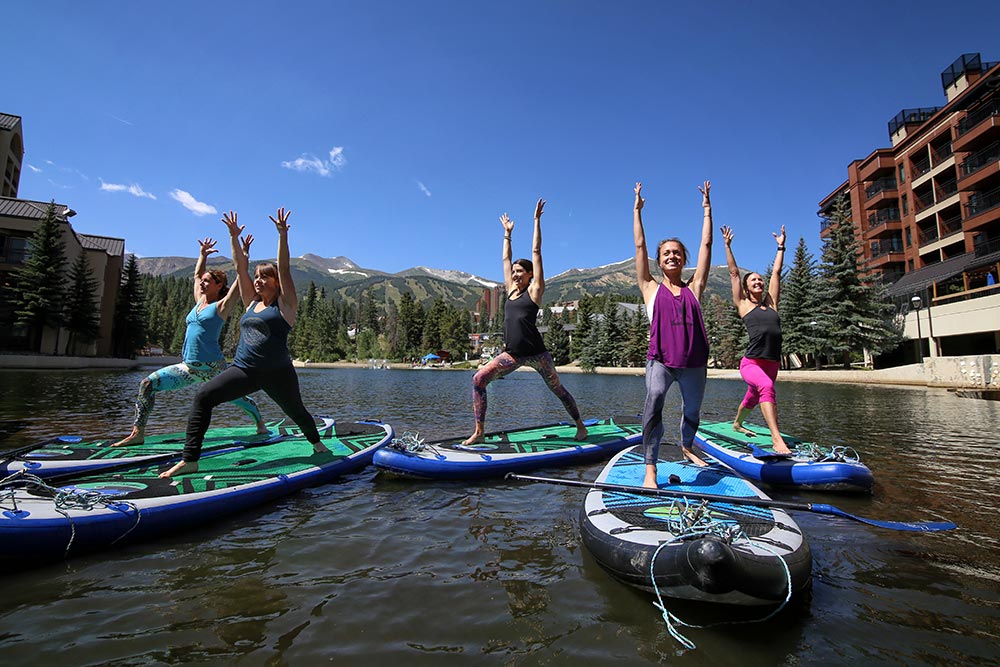 Not only is "SUPing" used for surfers, but can also be used on leisure cruises, a means of floating down a river and even an inventive way to do yoga! You can find two rental places on Lake Dillon that enable you to take cruises across the glassy lake water and explore the mountainous shoreline. The Dillon Marina and the Frisco Marina rent out paddleboards starting at $40 for a minimum of 2 hours. Soak up the sun, explore one of the many islands and then head to the Tiki Bar for some apps and a Piña Colada. If you have a group of people, try one of the beginner or intermediate "SUPPERS" tours where a guide will help your group navigate through the lake and provide tips on how to get the most out of your paddleboard experience.
If you are looking for a new way to find your zen, try an exciting workout, or want to stretch out those sore muscles, try a "SUP" yoga class! In Breckenridge, Colorado, you can try a class on the Maggie Pond. Meta Yoga Studio offers different options for all skill levels. You can book a private lesson or get a group of friends together and have a truly unique experience together in the Rockies.
For the more adrenaline seeking junkie, try floating down the Colorado River on a stand-up paddleboard. This is recommended for the more advanced "SUPPERS" who can navigate down rapids and steer around obstacles in the river. However, guided trips with a professional are also available. These guided trips include a safety talk before setting out and a guide that will walk you through the motions of navigating a stand-up paddleboard down Class II rapids. These paddleboards can be rented through Stand-Up Paddle Colorado.
It's no secret that the mountains offer many ways for you to be creative, adventurous, and enjoy the scenery of the Rocky Mountains. Whatever it is that you are seeking on your next adventure, there are a variety of different ways to try this new and innovative sport in the Summit County area.