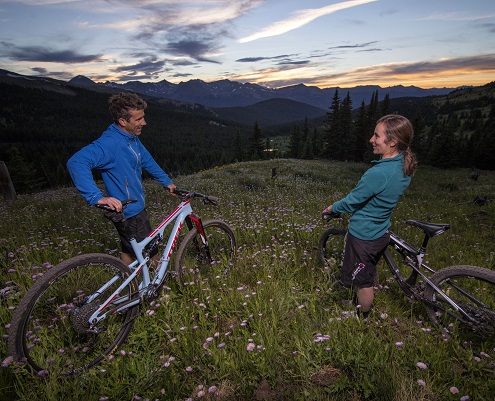 Biking this Summer in Breckenridge
Biking in Breckenridge Here's what to bring.
10 essential items to bring on your Breckenridge bike ride
Recently I was out on a bike path ride on my mountain bike. The trails were still too wet near my house and to get back in shape I've been riding up to Sapphire Point at the top of Swan Mountain Road (just a few miles north of Breckenridge) from my house. It's a casual ride so I've just been hopping on my bike and grinding out the 3-mile hill climb. One moment I'm cruising back down and I suddenly, I'm riding wonky. I look back and my back tire is going flat. Of course, I'm just riding the bike path casually and I don't' have a spare tube or patch kit so my 45-minute hill climb just became a nearly 2-hour adventure to get back.
Always ride with gear when biking This is the perfect reminder that it doesn't matter where you are riding as soon as something goes wrong, the gear you bring is essential if you want to avoid walking back.
If you are visiting Breckenridge and planning to do some mountain biking, here is a list of essential items to bring along so your ride goes smooth.
Water: Water is the stuff of life. A must have on any ride in Breckenridge. Breckenridge's high mountain air causes sweat to evaporate immediately so you might not even know you are dehydrated before you are feeling it. Drink lots of water.
Sunblock: At 9,000 feet you will be roasting to a crisp in no time if your skin is not properly protected. Make sure to use a sunblock with an SPF of 30 or higher.
Light rain coat: Everyone know the saying, "If you don't like the weather wait 5 minutes. This certainly applies in Breckenridge. There is always the chance of a passing shower in the Rockies so make sure to have a light, compact rain coat with you.
Spare innertube and a patch kit: By far the most common issue that will arise on a mountain biking trip is a flat tire. It does not take much to get a flat and replacing or repairing a tube is relatively easy. It's best to have both a tube and a patch kit so you can handle multiple flats.
Tire Pump: a small tire pump or CO2 inflator is a must on a ride. Don't rely on your friends for this tool. There are bike pumps these days that fit in the palm of your hand.
Tire Levers: This small light tool makes getting a tire on and off a bike wheel easy. it is a simple technique that is easy to learn so don't forget this tool.
Phone: Besides taking pictures of the mountain scenery and good times on a ride, having a phone is a great asset in the event of an accident. If you are not in cell phone range someone will be able to ride to cell phone range and alert authorities if necessary.
First Aid Kit: A small first aid kit is a must have on any mountain bike ride. Mountain biking is a safe and fun activity but a good first aid kit can be a real asset for many common injuries that can happen during a ride.
Multi Tool: A good idea is to have a small multi tool with common tools that are used on bikes. Multi tools come in handy for small repairs that happen when on the trail.
Chain Pull: A chain break is a surprisingly common mishap on a trail ride. A simple chain pull tool makes it easy to put a chain back together or pop a link if necessary.
With hundreds of miles of single-track trails and bike paths, Breckenridge is one of the top destinations in the west for riding. With rides of all levels Breckenridge is the perfect place to try mountain biking. If you are visiting Breckenridge and want to ride but don't have gear no worries! There are a whole lot of bike shops that rent and sell gear in Breckenridge. One of our favorites is Epic Mountain Gear Rentals because you can book rentals on line, ahead of time. Just make your reservation and pick up your rental at Breck Sports which offers a full selection of the latest gear you will need to make you ride a success.
If you are thinking of visiting Breck, check out deals on Breckenridge lodging here.
https://bestofbreck.com/wp-content/uploads/2019/06/Sunset-Bikes-sm_BlackPowderPass_TrippFay_495x401px.jpg
401
495
Lauren Parker
https://bestofbreck.com/wp-content/uploads/2021/08/bob-horizontal-logo.png
Lauren Parker
2019-06-03 11:43:17
2023-05-04 08:21:18
Biking this Summer in Breckenridge