What I Love About Briar Rose
Ginny Vietti / March 24, 2023

Have you ever found a place to drink or dine that feels more comfortable than your living room? Where you know the menu (including down to the ingredients) verbatim? Where the staff know your name and what you drink before you sit (and even know to locate the non-wobbly chair you prefer)? Where they carry your preferred mixer vs. just what comes out of the soda gun? Where there is the campfire smell of a smoked old fashioned to warm you? Where the chef knows who is in the other room by what has just been ordered? OK, that last part is a little embarrassing…but also true.
Located on Lincoln Street in Breckenridge, Colorado, is a classic, white-tableclothed, impeccably serviced steakhouse featuring wagyu, local bison, brussels so good you'll forget they are veggies, and escargot served in a cast iron dish (aka a vehicle for butter and garlic best ingested soaked into the homemade, rosemary sourdough). While the experience in the dining room is unequaled in Breck, I prefer to go past the formality and around the corner, where you walk back in time to the cozy, rustic and Old West-inspired saloon.
The saloon at the Briar Rose is a locals' secret – where many of us choose to avoid some more well-known hot spots during the busy season, enjoy local perks during the off-season, soak in the sun on the back porch in summer, escape the chill of the mountain in winter, slip into dark comfort in the bright summer days…ok you get the point. The Briar Rose saloon is a year-round gem.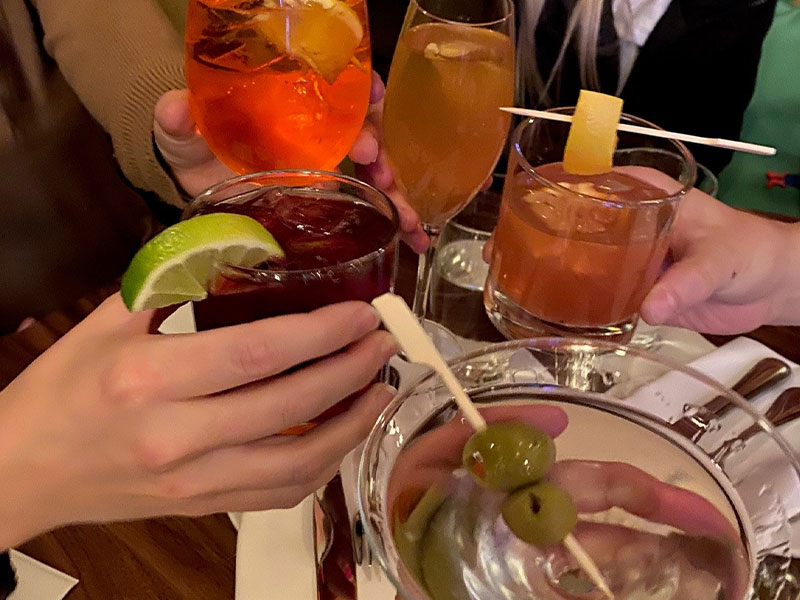 The hand-carved bar dates to the early days of Breck's gold-mining history. The game trophies on the walls were won by the wife of the couple who formerly owned the restaurant decades ago. Those who inspect the wildlife closely may find an unexpected adornment that I have yet to get the full story on. It's just another reason I love this place that offers an elegant experience without being pretentious.
Starting at 4pm, (don't go earlier, they won't let you in no matter how much they like you), drink specials and small plates feature cocktails well beyond just well, happy hour wine that isn't boring and gourmet plates that can easily be your dinner, but without the price tag.
Top items to try: cajun beef tips (be sure to add the sourdough), tuna lollipops, shishito peppers (the secret is rice vinegar but don't tell them I told you!) and if you like cheese, ask for the desert variety – it's not on the happy hour menu but they will bring it from the restaurant if you ask nicely. One word of caution – the mac and cheese will change your life, but you may want to include their wedge or pear salad – you'll need the extra fiber.