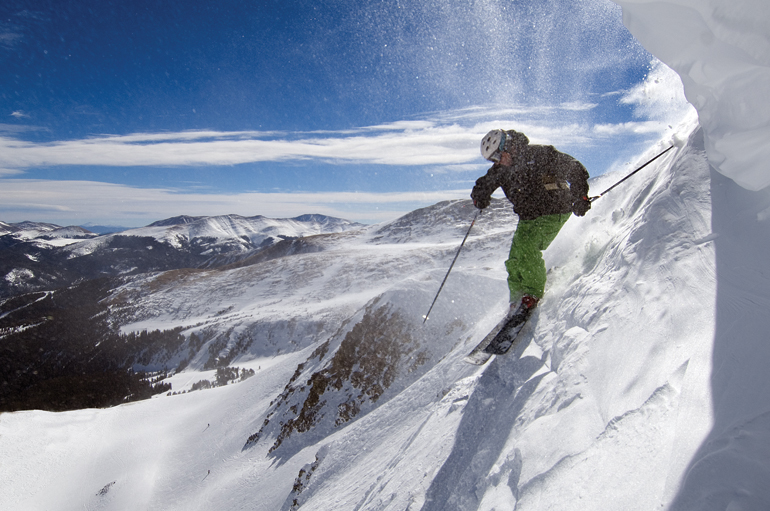 We found this press release and wanted to share it with you. Here in Breckenridge we almost always have skiing and snowboarding on the brain and nothing stokes us up and gets us in the mood better than a great ski movie. Warren Miller Productions has been making some of the best ski movies in the industry for the past 62 years and this year is no exception. When we found out that the Speakeasy Theater was showing the lasts Warren Miller movie "Like There's No Tomorrow" We were excited to share this news. If you are in Breckenridge this weekend and looking for something exciting and fun to do this weekend think about going to see this and you will be helping out a great cause:
62nd Annual Warren Miller "Like There's No Tomorrow" Film Presentation
Where: Speakeasy Theater, Breckenridge CO
When: Saturday, February 18, 2012 6:00pm & 9:00pm
Why: Benefiting Timberline Learning Center
Tickets and info: www.TimberlineLearningCenter.com or call 970-453-9656
Info: The pressure is off. No one is watching. It's just you, your boards and the mountain. The weather has broken and the snow is untracked. The only sound is that of your breath, crystallizing in the winter air. There's only one place to go, but there are an infinite number of ways to get there. Adjust your gear, take a deep breath and . . . ski, shred, huck, bomb, launch, spin, charge . . . Like There's No Tomorrow.
This year, Warren Miller Entertainment offers your first stop for preseason powder stoke, with the introduction of its 62nd annual winter sports film, Warren Miller's . . . Like There's No Tomorrow. Narrated by Olympic Gold Medalist Jonny Moseley and shot on location on five continents . . . Like There's No Tomorrow celebrates the moments that make up a perfect winter. Tour the world's most inspiring snowy landscapes, from the rugged peaks of New Hampshire's Mount Washington to the legendary powder of Squaw Valley, California; from the striking Himalayas in Gulmarg, India to the southern hemisphere's highest peak in Portillo, Chile. Alaska. Utah. Colorado. New Zealand. Norway. It's all here, just waiting for you to fill in the blank. Watch world-class athletes – including Chris Davenport, Julia Mancuso, Daron Rahlves, Colby West and Seth Wescott – drop lines most of us only see in our dreams and learn, frame by- frame how to live . . . Like There's No Tomorrow.
https://bestofbreck.com/wp-content/uploads/2015/06/Friday-Feb-17-2012.jpg
1500
1500
Meckenzie Donnell
https://bestofbreck.com/wp-content/uploads/2021/08/bob-horizontal-logo.png
Meckenzie Donnell
2012-02-17 17:38:47
2015-06-25 17:44:01
62nd Annual Warren Miller "Like There's No Tomorrow" Film Presentation