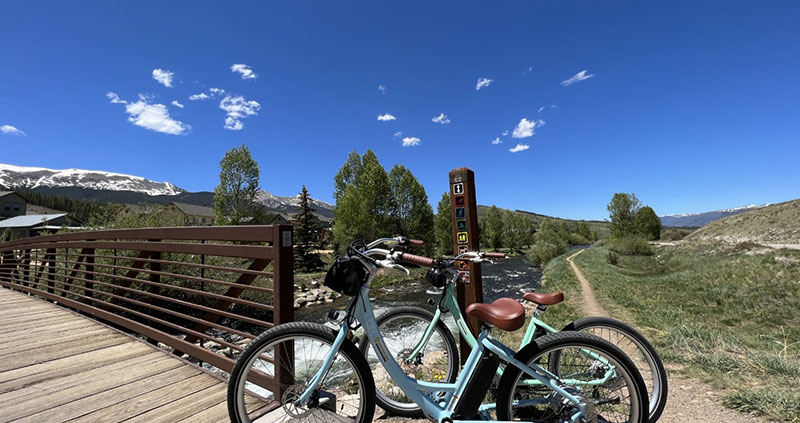 Electric Biking in Breckenridge
If you'd like to get around Breckenridge and Summit County on two wheels but need a little assistance, give electric biking a try. This mode of transportation has quickly gained popularity and is an eco-friendly way to sightsee in the high country. Come take a ride with us and see what it's all about!
What is an Electric Bike?
An electric bicycle, commonly known as an e-bike, is a bike that is equipped with an electric motor that gives you a boost while you're pedaling. You still have traditional bike gears, but you can opt to add a little juice whenever you need some assistance. While climbing hills at 9,600' we can tell you we appreciated the extra help!  
How Does it Work? 
Before you get going, you'll turn on a power switch and a display panel. The display panel is conveniently located on the handlebars and shows you your speed, charge level and pedal assist level. On the left handlebar you can control your pedal assist level, while on the right handlebar you have your traditional gears. 
The pedal assist levels of zero to five correlate with how much power you are relying on from the motor compared to your pedaling. At zero, you receive no power; while at level five you receive maximum power and need to do little to no pedaling. The higher level of power you use, the more of the battery charge you will use.  
Fun fact: With pedal assist, bikes can go up to 20 miles per hour and a charged bike can last up to 45 miles per trip on average!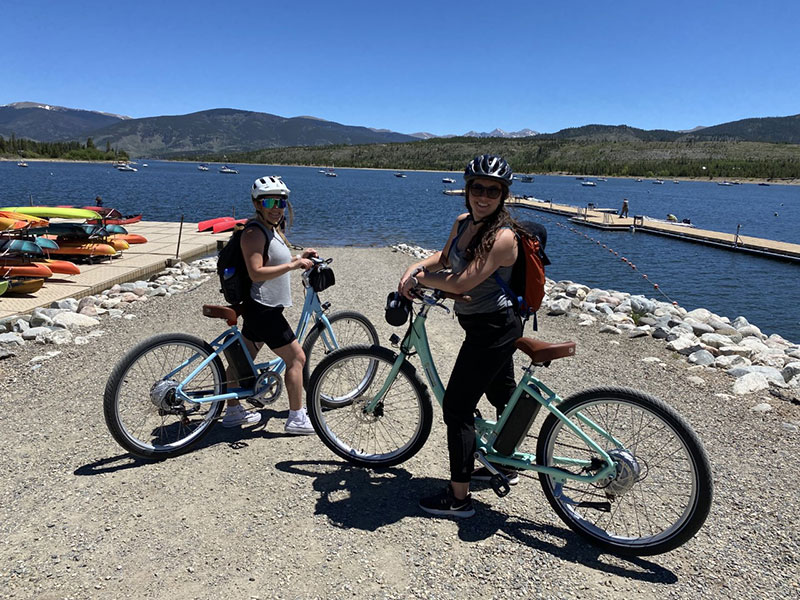 Where We Rented From
We rented our e-bike cruisers from Craniologie right on Main Street in Breckenridge. Craniologie rents Class 1 e-bikes with pedal assist, which are the only type of e-bike permitted on the Rec Path. We opted for a half-day rental so we would have just enough time for leisurely riding and stopping for lunch at Lake Dillon. The rental included bike locks and helmets and the staff were helpful with explaining features and safety before we were on our way. 
Rental Options & Pricing 
Bix Sol Eclipse: Classic Cruiser Style
Half Day: $59

 

Full Day: $79

 

24 Hours: $99

 
Blix Packa Genie: Cargo Bike with Bike Rack
Half Day: $69

 

Full Day: $89

 

24 Hours: $109

 
Optional Child Trailer Add-On: $30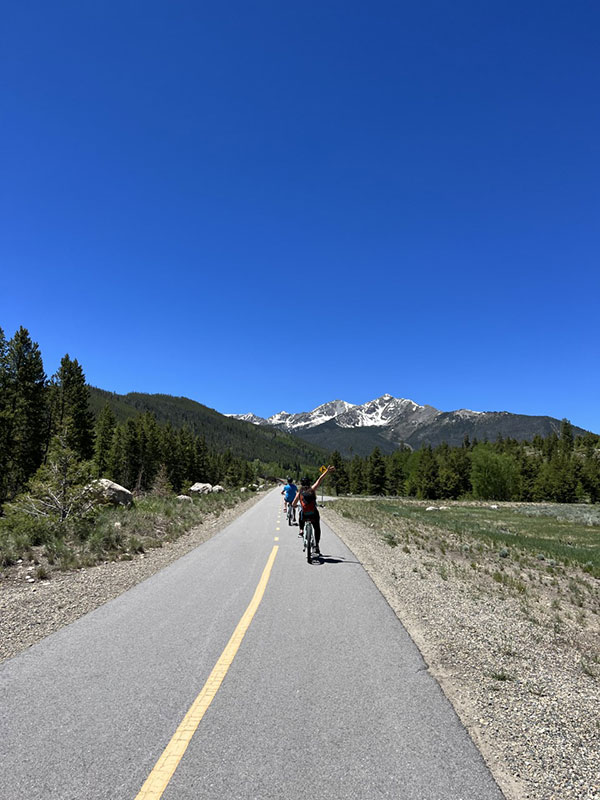 Tips Before You Go
E-Bike Etiquette 
The most popular option for e-biking around Breckenridge is taking the Blue River Recreation Path, better known as the Rec Path. This paved path can take you from Breckenridge to Frisco, Dillon, Copper and Keystone! 
The Rec Path is a popular place for walkers, joggers and bikers alike, which means you'll be passing a lot of people along the way. Always let people know when you are approaching or passing with something as simple as, "On your left," and make sure to slow it down. If you are e-biking with a group, be sure to ride single file when passing others and be aware of your surroundings so you do not take up too much space.  
What to Bring 
Our e-bike rentals only had a small pouch on the front, so bringing a small backpack was the best option to hold our belongings. In your bag, don't forget to pack water and sunscreen. The sun is strong in Summit County and even if you aren't pedaling as hard, you'll still need to hydrate!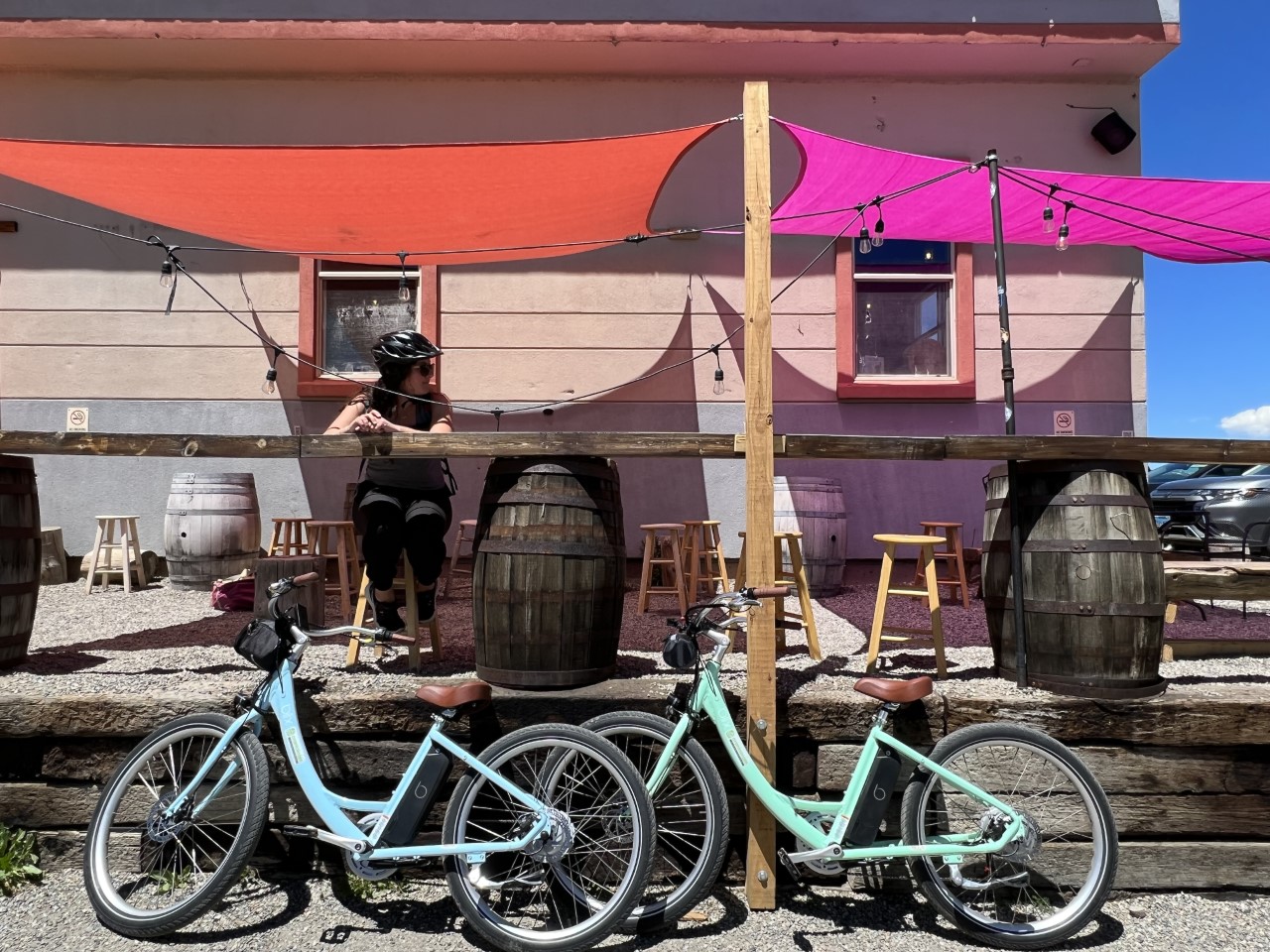 Our Half-Day Itinerary
11 a.m.: First, we picked up our rentals at Craniologie and hopped onto the Rec Path, conveniently located right behind the shop. We took our time getting used to the bikes and taking in the mountain views while enjoying our ride along the Blue River. Once we passed Summit High School, we stayed to the right and took the underpass so we could enjoy scenic views of Lake Dillon (highly recommended!). From there, it was only a short jaunt to the Frisco Bay Marina.  
12 p.m.: Since we had an hour of hard work (only kidding), we decided to stop for lunch and beverages at Island Grill at Frisco Bay Marina. It was a perfect sunny day and our combination of grilled fish tacos and frozen cocktails really made us feel like we were on island time.  
1:15 p.m.: After our pit stop, we reapplied sunscreen, powered up our bikes and hopped back on the path to Breckenridge. Since we were familiarized with the bikes, we sped up our pedal assist to level five and cruised. The way back to Breckenridge is slightly uphill the whole way so it was a treat to have the help pedaling! 
2 p.m.: As we approached the town limits of Breckenridge, we still had an hour of rental time left so we decided to make a pit stop at Broken Compass Brewing on Airport Road. Broken Compass is a local staple, with a welcoming tap room and a wide selection of beers. We enjoyed our brews outside under sun shade sails before hopping back on the bikes.  
3 p.m.: It was only a 10-minute pedal from Broken Compass back to Craniologie were we returned our bikes and headed on our merry way.  
In total, the ride was about 20 miles (10 miles each way), and we had a great time! Admittedly, it's been hard going back to regular old biking, and we think we'll be adding e-bikes to our wish lists.  
https://bestofbreck.com/wp-content/uploads/2022/07/best-of-breck-breckenridge-ebiking-2.jpg
600
800
Laurel Coffman
https://bestofbreck.com/wp-content/uploads/2021/08/bob-horizontal-logo.png
Laurel Coffman
2022-06-30 14:21:17
2023-08-23 13:32:31
Electric Biking in Breckenridge