What is your favorite trail at Breckenridge Ski Resort?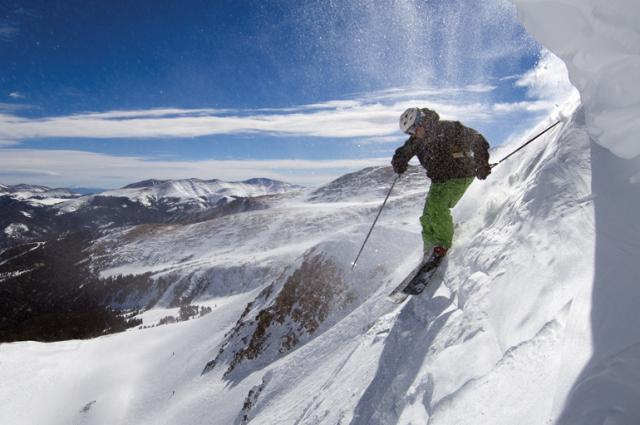 Oh yes, Ski Season is back and although there is really only a couple of ski runs open in the whole county right now the ski jones around the office is building, becoming almost palpable. One is likely to hear talk of imminent snowstorms and epic ski days past drifting from offices and desks all around Breckenridge Grand Vacations. This has us thinking; what are people's favorite ski runs at Breckenridge. We asked our employees and received some really great responses. Read below to see what our employee's favorite ski runs are at the Breckenridge Ski Area.
"The front bowl is such a unique place, how could it not be your favorite? It is steep and gets snow blown in. Just keep off it on a warm spring day in the afternoon!"
Mike Millisor, President of Breckenridge Grand Vacations
"One of my favorite areas at Breckenridge Ski Resort does involve a short hike but almost always guarantees great snow even several days after the last storm. The Back 9 is accessed off the top of the Mercury Chair or via the top of E Chair. A short walk up a cat track will get you too Broadway and Twin Chutes. Due to the north facing aspect of both runs the snow holds well and usually fresh snow blows into the area every day. Few people venture out to this area so even on the busiest days you can find some untracked snow and solitude on the mountain."
Rick Tramontana, Breckenridge Grand Vacations Interval International Support Dept Manager
"My favorite run at Breckenridge is 4 O'Clock Run because it brings me down to town at the end of the day and has the best terrain on the mountain! In all seriousness, my favorite run is super secret because I can always find a few turns in fresh snow, regardless of when the last storm was. No matter the time of day or time of year, I usually enjoy the entire area all to myself and get to experience the peace and serenity of nature. It is my own little secret that I have yet to share even with my own fiancé."
Josh Stuhr, Hotel Manager of the Breck Inn
"Hmm…. cannot give that up however I do like taking the T-Bar up and going skier's left all the way over to the lower bowl of Peak 7. The snow really is sweet there and real nice chutes in this area you can continue downhill and stay skier left through some cool glades and end up at the American lift right in front of GL7." Dale Holland, Breckenridge Grand Vacations Director of Maintenance
"I like to ride the Southside on Peak 10 because I can always find powder even at 2 in the afternoon and the lines are never long. There are some great natural drops and some built up jumps throughout the trees that make it super fun! The only drawback is the long cat track at the end, but if you stay skiers left you can make it without having to kick on most occasions."
Jeremy Crowson, Grand Timber Lodge Housekeeping Manager
"It is difficult to say which ONE trail is my favorite.  I would have to pick two. The first would be Whale's Tail.  It is on the top of mountain and you can see over to Copper Mountain, Leadville and on a really clear day to Holy Cross in Vail.  It is a wonderful wide open bowl. As for tree skiing, The Burn or Windows is pretty spectacular." Anonymous
"My favorite trails at the Breckenridge Ski Resort are Double Barrel and Way Out, which are right next to each other. These runs used to be only accessible via a short hike off of 6 Chair. However, it can now also be accessed from a short hike off Imperial Express SuperChair as well. If you hike the summit from the Imperial Express, you stand at just under 13,000 feet above sea level and have amazing views of Summit County and beyond from there!"
Ryan Huff, Breckenridge Grand Vacations Direct Marketing Manager
"I love the Crossfire (not on the map) trees on Peak 10. They are just perfect for me, nice open trees at the top which tighten as you get further down. These generally tend to have snow later in the day as well since not many people are aware of them being there. And no, I will not point out to you where these are." Rob Ehlert, Breckenridge Grand Vacations Inventory Manager
"My favorite trail at Breckenridge Ski Resort is "Y-Chute". It has a great view of the Continental Divide and gives a great boost of adrenaline due to the steep grade and the wide open aspect of the Peak 7 Bowl." Brad Beverlin, Breckenridge Grand Vacations Director of Loan Servicing
Tell us what your favorite Breckenridge ski run is. We would love to hear from you!
If you would like to plan a trip to Breckenridge, contact Breckenridge Discount Lodging. We are your source for Breckenridge deals, Breckenridge discounts and Breckenridge recreation. Give us a call at toll free1-866-476-2311 or visit www.breckenridgediscountlodging.com.
https://bestofbreck.com/wp-content/uploads/2015/06/Thursday-Oct-20-2011.jpg
1500
1500
Nicole DeCesare
https://bestofbreck.com/wp-content/uploads/2021/08/bob-horizontal-logo.png
Nicole DeCesare
2011-10-20 17:34:56
2015-06-16 17:49:40
What is your favorite trail at Breckenridge Ski Resort?