When most people think of Breckenridge, they think of snowy mountain peaks and skiing or snowboarding during the winter months. As winter slips away and the sun shines brighter and warmer at 9600 feet above sea level all that snow begins to melt and flow into creeks, ponds, lakes, waterfalls, and babbling brooks which eventually converge into the mighty Colorado River. And all that running water presents a great opportunity for summer fun and adventure: Whitewater rafting!
Breckenridge is nestled at the bottom of the Tenmile mountain range, and conveniently close to rivers that are ideal for whitewater rafting, kayaking, and stand-up paddle boarding. These on-water adventures are perfect for thrills, taking in the scenery of beautiful canyons, fishing, and feeling that Colorado sunshine.
While running the river is a great summer activity, it does come with a level of risk and we recommend if you are planning on a white-water adventure do so with a guide service, like our in town favorite Performance Rafting Tours, but more on them later. Let's take a look at some of the rivers that flow in or around Breck: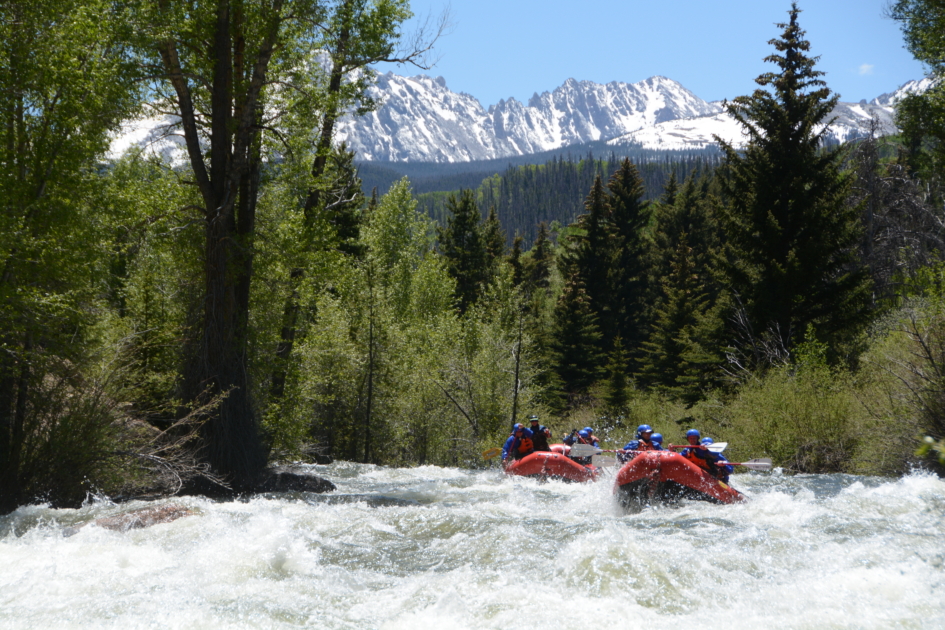 The Blue River:
Flowing through the heart of Breckenridge, the Blue River offers a range of sections suitable for all skill levels. As you navigate this stunning waterway, you'll be enchanted by the alpine scenery that surrounds you. The Upper Blue River is a great stretch for whitewater rafting offering Class I to Class III rapids, while the stretch below Green Mountain Reservoir is more suited to kayakers, stand-up paddleboarding (SUP), and rafts, with rapids ranging from Class I to Class II.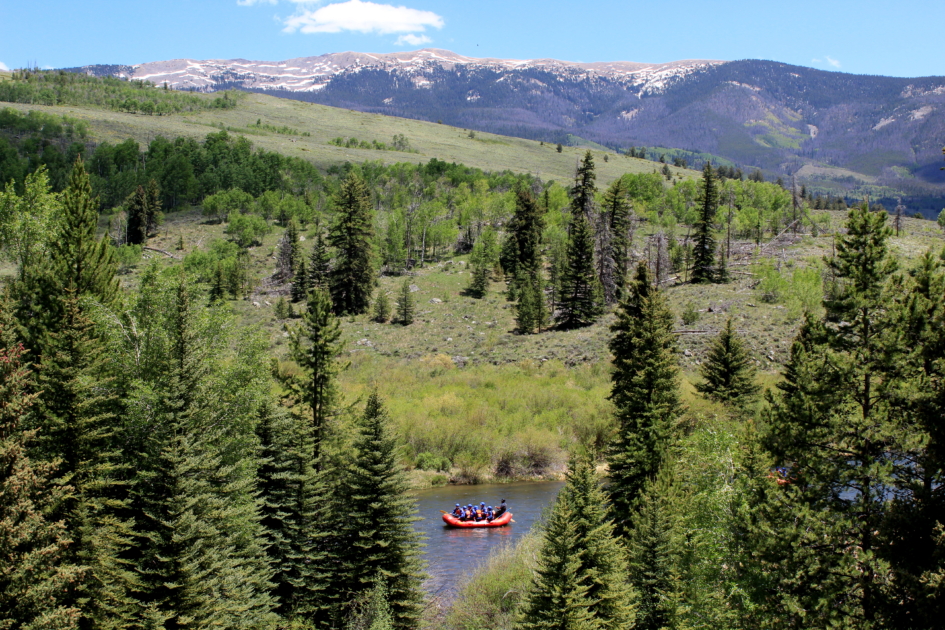 The Arkansas River AKA "The Ark":
A short drive from Breckenridge, the mighty Arkansas River awaits, offering an unforgettable whitewater experience. Renowned for its thrilling rapids and dramatic canyons, the Arkansas River attracts adventurers from around the world. With sections ranging from peaceful floats to challenging Class V rapids, this river caters to all levels of experience. Performance Rafting Tours is your go-to guiding service for exploring the Arkansas River, whether you choose whitewater rafting, kayaking, or SUP. Their experienced guides will lead you through the exhilarating drops, epic waves, and breathtaking gorges. What is our pick for a stretch of river to explore on this section? Brown's Canyon! A great mix of scenery and waves await as you float through the rock-flanked surrounding. This float is excellent and only takes about 2.5 hours.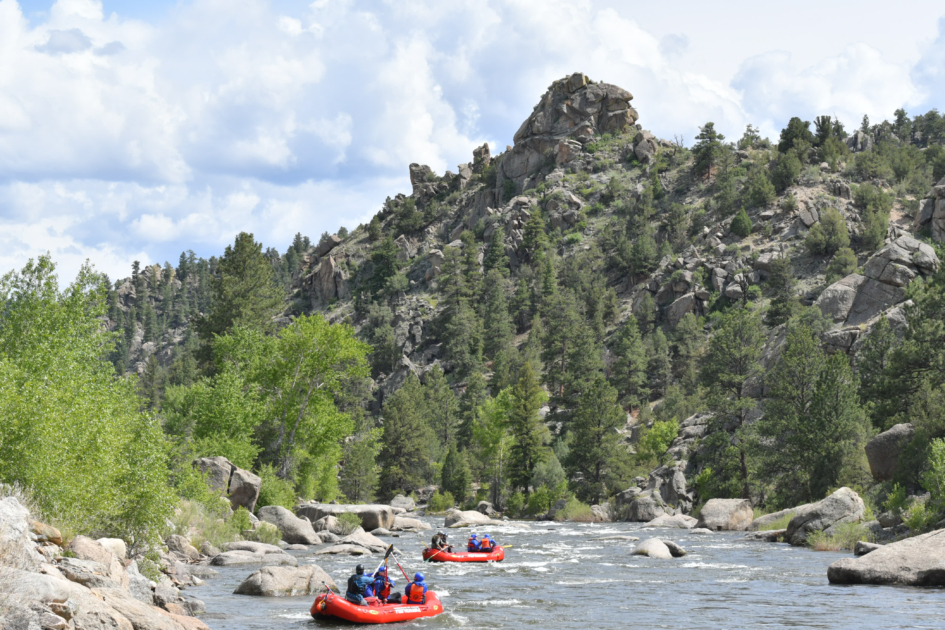 The Colorado River:
About an hour and a half drive away from Breckenridge, you will find the state's namesake river. You can float for miles on this river with stretches ranging from calm family fun with a few splashes all the way up to raging Class V rapids. Eagles, river otters, foxes, bears, big horn sheep, and other Colorado wildlife can be observed on this river as it passes through mountains,  canyons, deserts, and everything in between. Each section of the Colorado offers different views and challenges, so please consult a guide service, research, and be prepared for heading out on an adventure.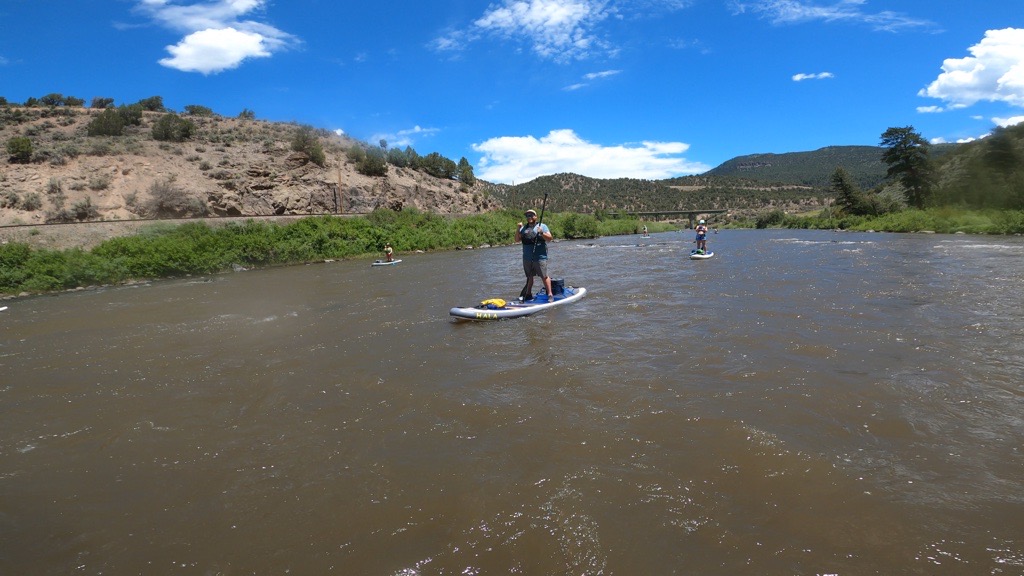 Other Notable Nearby Rivers:
Breckenridge is close to a number of other rivers that offer equally enticing water adventures. Clear Creek, the Yampa, and the Eagle River are just a few examples of the nearby waterways that promise unforgettable experiences. Each river features a variety of rapids, ranging from gentle to heart-pounding Class V challenges.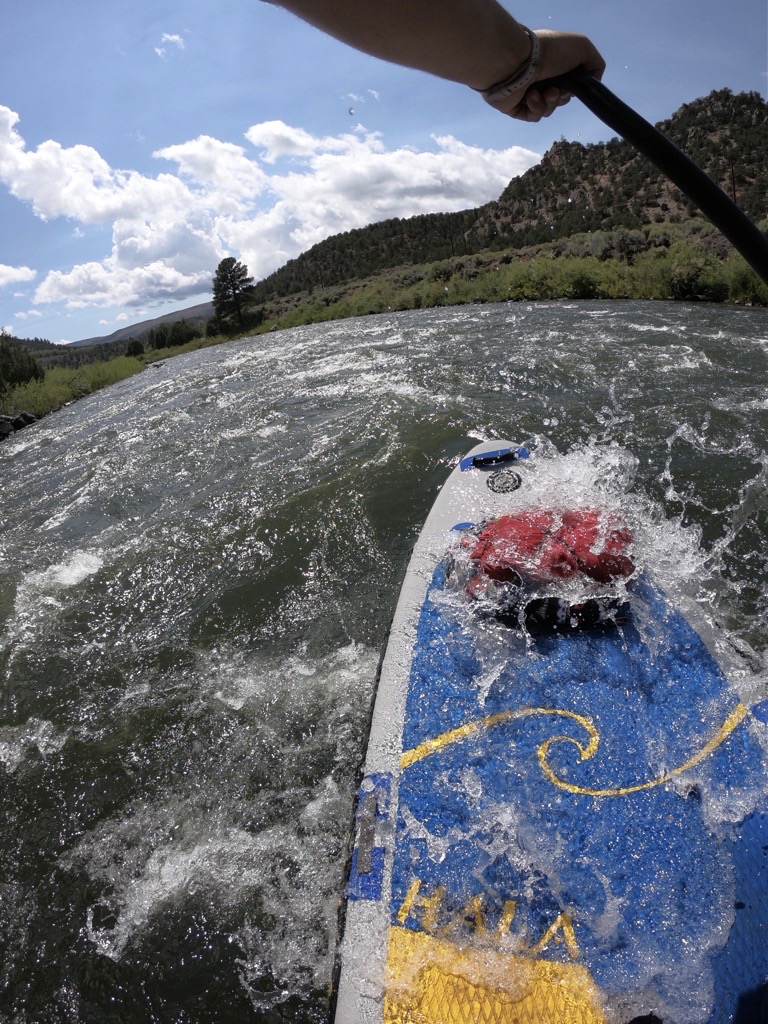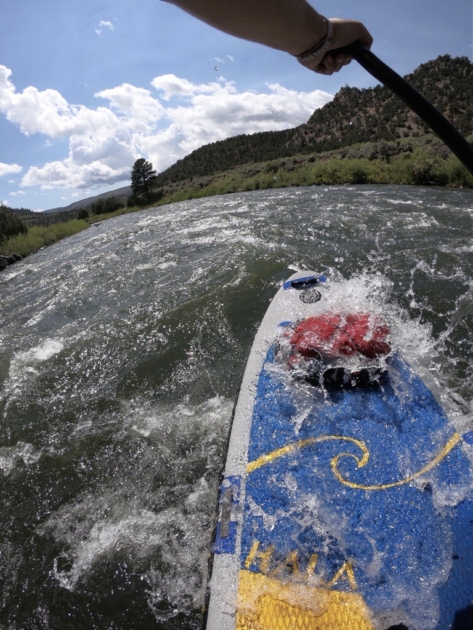 So, you want to wade into white water rafting? Let's talk about the most important aspect: Safety.
White Water Safety Tips:
When venturing out on these rivers, it's essential to prioritize safety. Here are some tips to adhere to when floating the rivers around Breckenridge:
Always wear a personal flotation device (PFD) or life jacket.
Maintain a proper grip on your equipment and be aware of your surroundings.
Stay hydrated and apply sunscreen regularly to protect yourself from the sun's rays.
Be cautious of rocks, submerged obstacles, and changing river conditions.
Be prepared! Do plenty of research on the stretch of water you are interested in floating. Know the CFS, water temperature, and prominent rapids on your stretch. Great resources are the USGS and Bureau of land management websites.
Feet up! If you fall off your craft make sure to keep your feet up to avoid foot entrapment, a common hazard with Colorado's rock-lined rivers.
Scout your rapid or portage. If you are unsure of how a rapid or wave is flowing, don't be afraid to pull over and hike to get eyes on it before just charging in blindly. Don't see a line you want to take? Don't be afraid to portage around – take your craft out of the water and hike around past the water feature. If you are scouting or portaging be aware of where you plan to stop as there are sections of riverbank that are private property and pulling up to the shore can be considered trespassing.
8. If you're not an experienced paddler, consider guided tours or lessons to enhance your skills and knowledge. We can't stress this point enough, white water adventures are seriously fun, but can also be seriously dangerous without the proper knowledge. We encourage even seasoned oarsmen, kayakers, and Sup'ers to consult or get a guide when the waters are flowing high or exploring a new section of water.
This brings us to our preferred guide choice….
Performance Rafting Tours
Founded in Breckenridge in 1986, Performance Rafting Tours number one priority is safety. They go above and beyond in training their rafting guides and set a standard to exceed the minimum number of hours required by the state of Colorado to become a certified rafting guide. Performance Rafting Tours has 5 different locations in Breckenridge, Buena Vista, Idaho Springs, Colorado Springs, and the Royal Gorge. Performance Rafting Tours has been owned and operated by Breckenridge locals since its beginning and has tons of accolades and 5-star reviews to back up the commitment they have to safety and offer an excellent rafting experience. Even if you just have questions about the river or rafting don't be afraid to pop into their Breckenridge location for a quick chat. The Best of Breck team recently had the opportunity to go on a tour down Brown's Canyon with Performance Rafting Tours and were smiling ear to ear through the Pinball, Zoom Flume, and Windowmaker rapids.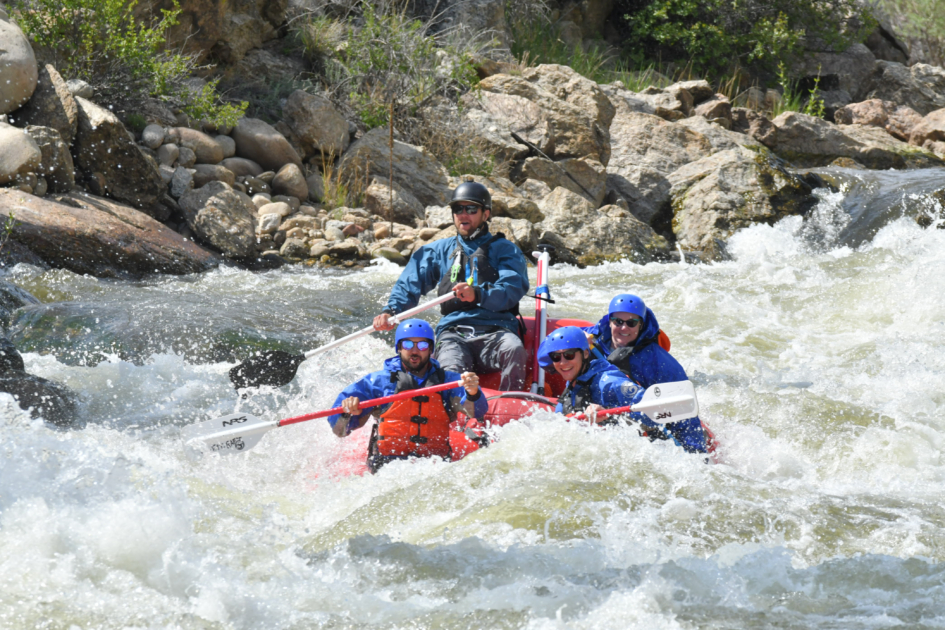 Breckenridge is a great outpost for anyone seeking some summer fun on the water. If you are looking for a way to wind down after your rapid induced adrenaline rush check out the Grand Colorado on Peak 8 which offers mountainside hot tubs, a full-service spa, and also an ultra-relaxing private grotto with a steam room & sauna, cold plunge, and hot tubs.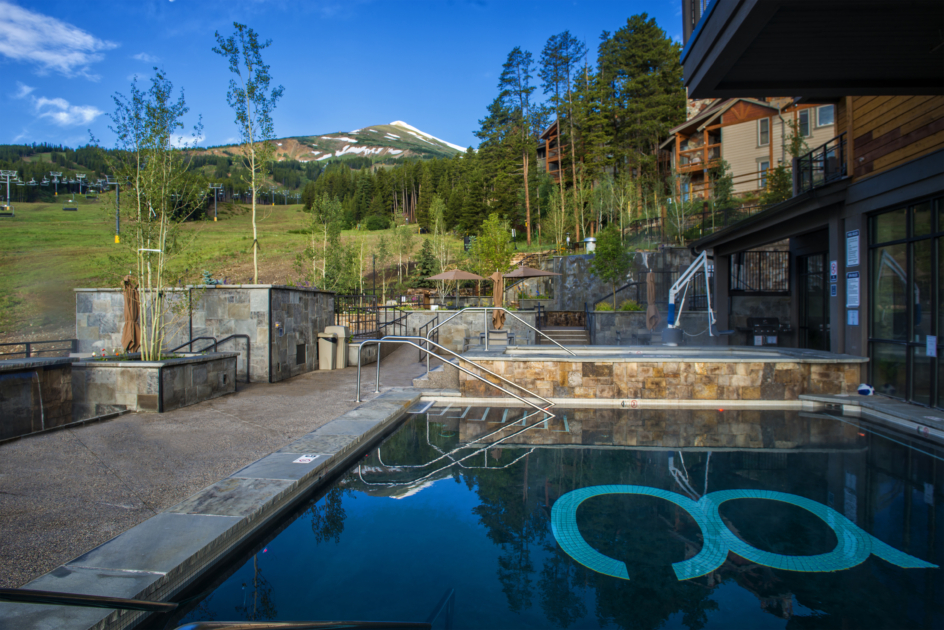 If you are looking for other summer activities around Breckenridge, here are some more of our favorites.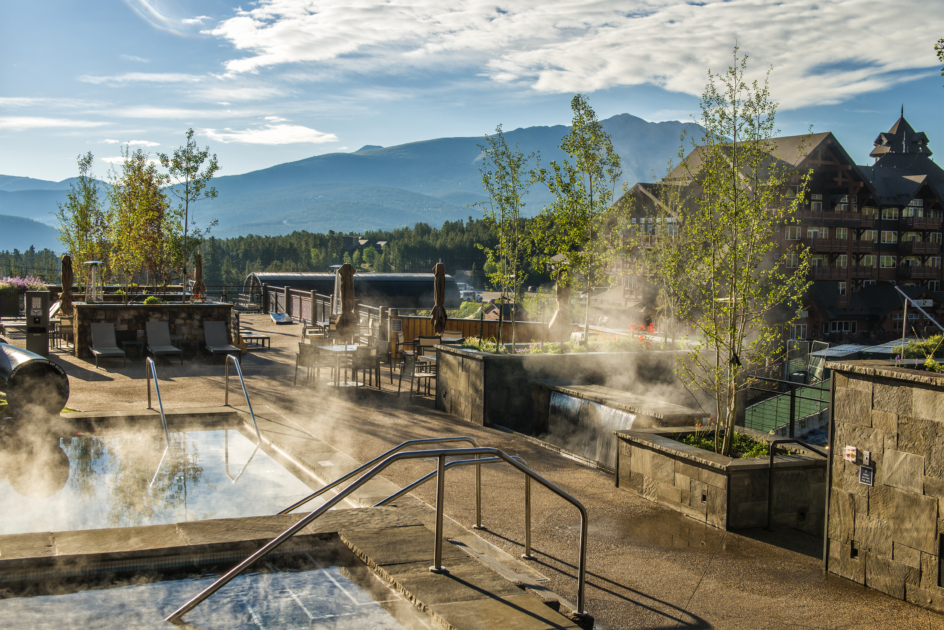 https://bestofbreck.com/wp-content/uploads/2023/07/DSC_7942-scaled.jpg
1707
2560
Cody Mendoza
https://bestofbreck.com/wp-content/uploads/2021/08/bob-horizontal-logo.png
Cody Mendoza
2023-07-06 14:33:50
2023-07-06 14:53:15
Breckenridge Whitewater Adventures