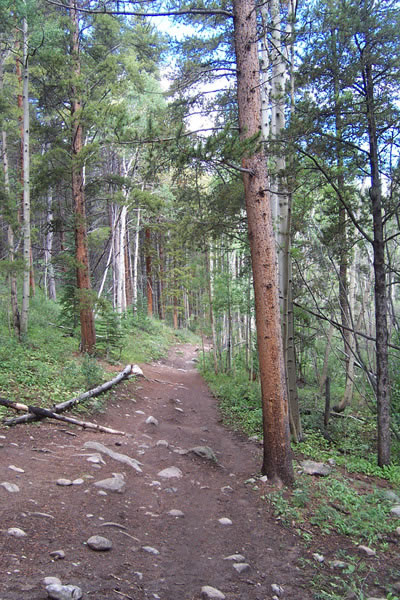 Lower Peaks Trail Rainbow Park
This week the Best of Breckenridge crew, along with Breckenridge Grand Vacations and the Friends of the Dillon Ranger District, started their annual trail maintenance project. Each summer we work on our favorite trail, the Peaks Trail. The Peaks Trail is about 9 miles and runs from Breckenridge to Frisco (and vice-versa). The trail follows an old mining road from the 1800's and has a section that runs alongside an aqueduct that was built by miners to funnel and sift water containing precious gold and silver.  The Peaks Trail offers a relatively easy hike with minimal elevation gains with breathtaking views of the Ten Mile Range. The Peaks Trail is popular among both hikers and mountain bikers.
There are three ways to access the Peaks Trail. You can find a trailhead just past the Grand Lodge on Peak 7 near the Peak 7 Base Area in Breckenridge, from the Rainbow Park trailhead in Frisco or you can also connect to it from the Gold Hill Trail. The Gold Hill trailhead is located on Gateway Drive (across from the Tiger Run RV Resort) about five miles north of Breckenridge on Highway 9. The Gold Hill Trail connects with the Peaks Trail after about 3 miles, and you can continue on the Peaks Trail either towards Breckenridge or Frisco. It is a great starting spot if you want to do a one-way hike to either the Peaks trailheads. The Gold Hill Trail is also part of the Colorado Trail which stretches 400 miles from Denver to Durango.
The trail winds through forests of lodgepole pines, meadows of wildflowers and meandering streams.
The elevation gain is only 995 feet over the 9 mile course. The Peaks Trail can be hiked as a there-and-back or a point-to-point trip.  If you are staying at the Grand Lodge or another Peak 7 or Peak 8 property, you can take the hotel shuttle to the Gold Hill trailhead and walk the Gold Hill/Peaks Trail back.
If you are planning on hiking in the High Country, here are some tips from the Grand Lodge on Peak 7 Website:
High Country Hiking Tips
Bring lots of water. Breckenridge has very dry air. Sweat evaporates from the body quickly, so continual replenishment of fluid is essential.
Prepare for any weather. A favorite local's saying is "If you don't like the weather, wait five minutes." Always be prepared for different conditions on the trail.
Wear sunscreen. The sun at high elevations is more intense than at lower elevations, and with over 300 sunny days a year in Breckenridge, you are bound to have sunshine. Make sure to bring sunscreen with an SPF of 30 or more and apply often.
Be courteous. Many trails in Breckenridge are multi-use trails and shared by hikers, bikers and even horseback riders. Bikers must yield to hikers and horseback riders. Announce yourself when approaching. A little friendliness can go a long way!
Stay on the trail. Going off the trail can damage or destroy sensitive areas. Please respect the natural beauty so others can enjoy.
Plan ahead. Always leave hiking information with a friend before going out. Arrange to call that person by a certain time after the hike. That way if there is a problem, help can be summoned.
Pick up after your dog. It's the law in Summit County and the right thing to do.
Good hiking shoes and socks are important. A good pair of hiking shoes and socks can be the difference between the perfect hiking experience and a difficult hike.
For more information on Breckenridge and to book the Best lodging in Breckenridge visit www.grandlodgeonpeak7.com.
https://bestofbreck.com/wp-content/uploads/2015/07/Friday-June-21-2013.jpg
1500
1500
Nicole DeCesare
https://bestofbreck.com/wp-content/uploads/2021/08/bob-horizontal-logo.png
Nicole DeCesare
2013-06-21 16:19:16
2022-01-07 07:30:14
Peaks Trail Overview