Have you heard of the Friends of the Dillon Ranger District (FDRD)?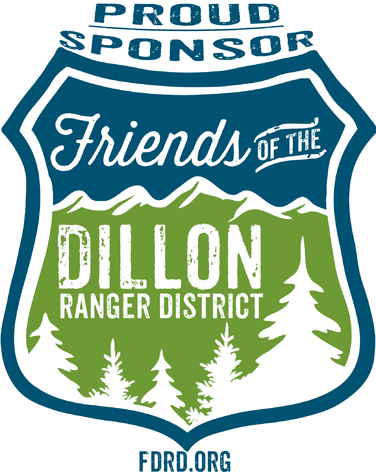 Do you like to hike, bike, fish, ATV, ride horses and generally play in the woods of Summit County? Most everybody who comes to Breckenridge and Summit County in the summer or the winter will spend a good part of their trip in the Dillon Ranger District which comprises all of the National Forest land in Summit County. At 312,000 acres that is pretty much all of the woods, mountains, meadows, rivers, campgrounds and recreation sites in Summit County!
Friends of the Dillon Ranger District (FDRD) is a local nonprofit organization that has been assisting the Dillon Ranger District with Trail Maintenance Projects since 2004. Local organizations, businesses, or groups within the community have stepped up to "adopt" a trail. What does that mean? Adopting a trail means that you commit to recruiting volunteers to help with at least 3 full project days out on your adopted trail!
Back in 2009 the FDRD approached the owners of Breckenridge Grand Vacations (BGV) to see if there was any chance of creating a partnership. It didn't take long for BGV to see the benefits of partnering with FDRD. The employees of BGV are all here in Breckenridge because of their love of the outdoors and care deeply about the natural beauty of Breckenridge and Summit County. It seemed like the perfect opportunity to add a crucial element in BGV's efforts to give back to the community that they love so much and what better trail to adopt than the Peaks Trail which runs from Breckenridge to Frisco and starts right next to the Grand Lodge on Peak 7, BGV's flagship resort.
Breckenridge Grand Vacations has just completed their 3rd official year of adopting the Peaks Trail. According to Sarah Slaton of the FDRD, "BGV is by far one of the most popular projects on our schedule and hosts a large amount of volunteers over their commitment of 4 days. They have done everything from building and maintaining turnpikes to creating drainage for the trail to building and repairing bridges etc. You name it and they have probably done it."
Every year BGV commits to having several employees trained as crew leaders so that BGV can host these trail days. FDRD could not possibly supervise the large number of volunteers these projects bring in without their incredible Crew Leaders! Breckenridge Grand Vacations was awarded "Adopt of the Year" in 2011 and Michael Jensen was also awarded "Crew Leader of the Year" in 2010! Kaira Adam has been the driving force behind setting up these projects and getting people psyched about giving back. According to Kaira each year the program has grown in popularity with more employees interested in being trained as a supervisor than there are available slots. BGV also throws in with a BBQ for the volunteers at the end of each day. It is great fun for everybody involved.
If you love playing in Breckenridge and Summit County, consider giving back to the FDRD. There are many ways you can help. With over 60 projects a year, FDRD volunteers contribute thousands of hours maintaining and improving trails, planting trees, pulling invasive weeds, educating forest visitors, and much more. One of the best ways to pitch in is to volunteer your time on one of the many projects the FDRD has going. Donations are always accepted and greatly appreciated. Become a member of the FDRC. For more information visit the FDRD Website at www.FDRD.org  send them an email to info@fdrd.org or give them a call at 970-262-3449.
Don't forget for the best deals on Breckenridge Lodging visit www.breckenridgediscountlodging.com.
https://bestofbreck.com/wp-content/uploads/2015/07/Wednesday-Aug-8-2012.jpg
1500
1500
Nicole DeCesare
https://bestofbreck.com/wp-content/uploads/2021/08/bob-horizontal-logo.png
Nicole DeCesare
2012-08-08 22:36:40
2015-07-02 22:47:03
Have you heard of the Friends of the Dillon Ranger District (FDRD)?