Breckenridge International Festival of Arts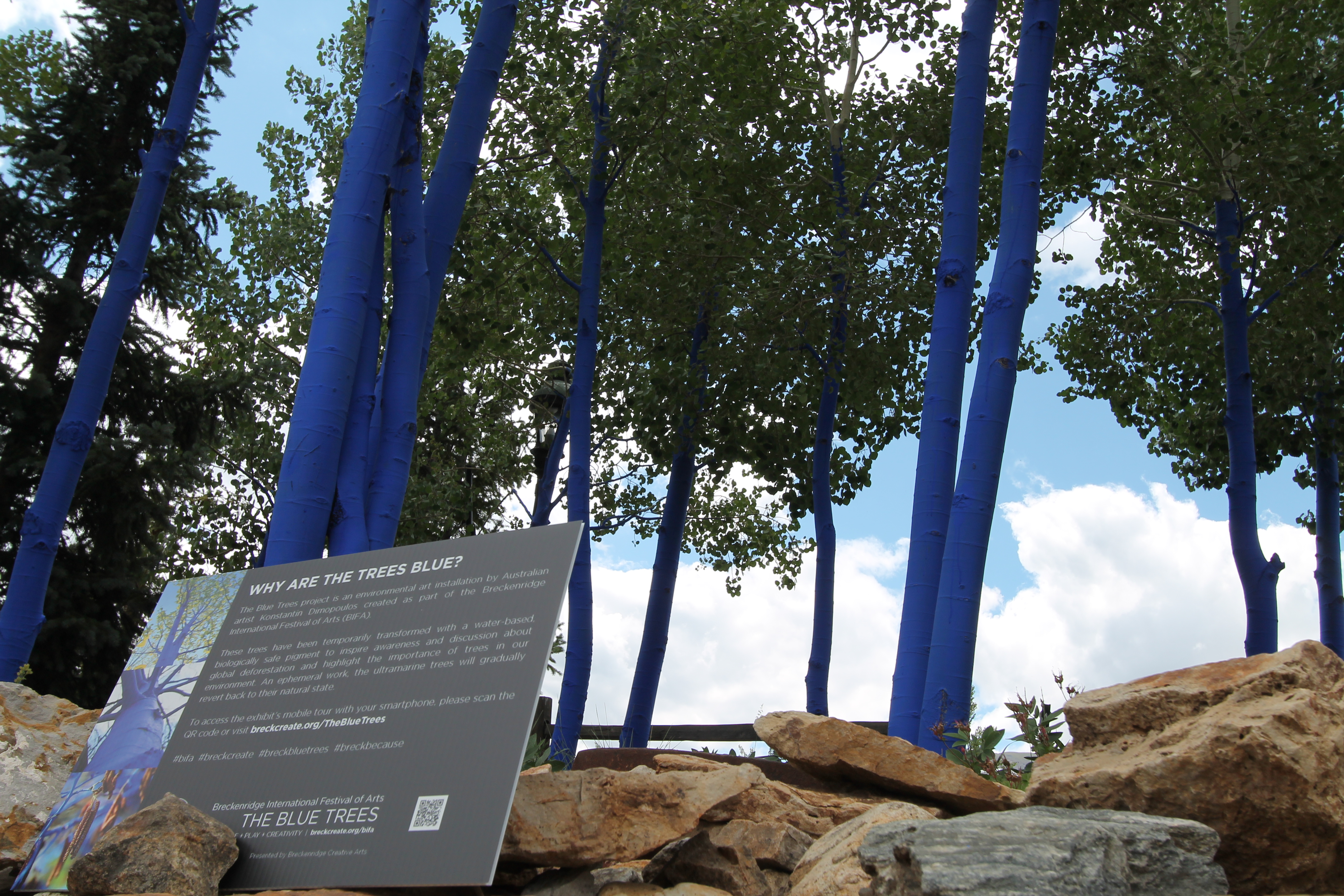 With performances, live music and art demonstrations throughout Breckenridge, town is one busy place during the Breckenridge International Festival of Arts. This festival is part of Breck Create's efforts to highlight the arts district and culture in Breckenridge. Each day has a schedule of different events and times so it is important to check details however it is a great festival that is jammed packed so make sure to catch your favorites!
The Blue Trees
The Blue trees can be seen all weekend long on Main Street in Breckenridge. The idea of this art symbolizes the importance of environmental awareness by artist Konstantin Dimopoulos. As you walk around the town make sure to stop and take a look at the trees that represent our beautiful town.
ARTCRNK BRK (Friday, Saturday, Sunday)
This exhibit held at the Old Masonic Hall from 11am – 6pm. This exhibit features one of a kind bicycle art posters by local Colorado artists. Stop by the exhibit as you walk down main street Breckenridge stop by the Masonic Hall and see these art posters that are hanging throughout the building.
Bike Zoo (Friday)
This event is a great one to see! Walk by Festival Square in Breckenridge and see bicycles dressed as monarch butterflies. These creative works of art have butterfly wings that span over 12 feet high and intricate art work on the body of the bike/butterfly. This unique exhibit is also pay contribute to the USA Pro Cycle Challenge coming to Breckenridge this Thursday Aug. 20th and Friday Aug 21st.
Trail Mix Concerts (Friday, Saturday, Sunday)
Walk a local Breckenridge trail and enjoy like performances and sculptures as you hike. This unique event offers a new way to enjoy hiking and the beautiful scenery of the Rocky Mountains. Talk to the artists and discover the inspiration behind each of their art pieces and performances!
Ira Glass (Saturday)
This event hosted at the Riverwalk Center features radio host Ira Glass. This well-known radio host of This American Life on NPR will hold a comic-storytelling evening filled with his experiences in the radio field. Tickets range from $45-$70 and can be purchased at the Riverwalk Center or online.
Abound (Friday, Saturday, Sunday)
Artist Julie Hughes conducts arts made from cast paper tree skins at the Old Masonic Hall. This art demonstration is in efforts to share a different side of nature in which our relationship with can seem somewhat frail. Come see these pieces and experience nature in a way never thought before.
The Triplets of Belleville (Sunday)
This exciting event is a combination of silent-movie/ live music. Composer Benoit Charest, plays his exciting 1920's Paris and LE Jazz Hot to the tune of the Oscar nominated film the Triplets of Belleville. This fun filled event is great for the kids! Tickets start at $24-$45 and can be purchased at the Riverwalk Center or online here.
Closing Night Party (Sunday)
The River walk Center hosts a late night closing party at the Riverwalk center. Enjoy the events as it comes to an end in Breckenridge!
Live Music (Friday, Saturday Sunday)
Live music will be held throughout the evening starting around 6pm. These concerts will be held at Festival Square, on the corner of Washington and Ridge Street- one block up from Main Street. Other performances and live music will be held at the Riverwalk Center where you can purchase tickets or online here!
The Breckenridge International Arts Festival is jam packed with many different events, performances and live music. Come to Breckenridge this weekend and experience the mountains in a new light that combines art with nature. Below is great deals for lodging in the area.
For more information and scheduled times of each event, Click here!

https://bestofbreck.com/wp-content/uploads/2015/08/Friday-Aug-21-2015.jpg
1500
1500
Meckenzie Donnell
https://bestofbreck.com/wp-content/uploads/2021/08/bob-horizontal-logo.png
Meckenzie Donnell
2015-08-21 15:12:33
2015-08-21 15:21:53
Breckenridge International Festival of Arts