The North Face Speaker Series Returns to Breckenridge September 11th
Come to the Riverwalk Center Monday, September 11th at 7 p.m. for the North Face Speaker Series. Members of The North Face Athlete team including Alex Honnold , Emily Harrington, Cedar Wright and Clare Gallagher will host an evening with a collection of films and share with you never told stories of adventure, triumph, and culture from all ends of the earth.
Tickets for the event are $10 and can be purchased at the North Face Website.
For just $25 you can come early to the North Face store located at 322 South Main Street and meet the athletes. This also includes admission to the Main event at the Riverwalk Center as well as beer, wine and appetizers. For tickets to the Meet and Greet visit the North Face Store or call 970-453-1613.
All proceeds from the Speaker Series go the Breckenridge Outdoor Education Center (BOEC). For more than 40 years, BOEC has been changing lives, or more accurately, showing people that they have the power within themselves to change their own lives.
Don't miss this opportunity to hear about the amazing adventures of some of the world's truly elite athletes.
The North Face Athletes:
Emily Harrington
Driven and determined. That's Emily in a nutshell. Born and raised in Boulder, CO, Emily Harrington has been climbing for most of her life and boasts an impressive list of achievements to show for it. After a decade of success in climbing competitions at the highest level, Emily's adventurous spirit has led her to blaze new trails in the mountains, notching first female ascents on some of the hardest technical routes around the globe, free climbing big walls, and summitting the world's tallest peaks.
Five-time sport climbing US National Champion
First female ascent of multiple 5.14 sport climbs
Free climbed 'Golden Gate' on El Capitan, Yosemite (5.13b, 40 pitches)
Winner of the women's division at Ouray Ice Festival 2012
Summitted Mt Everest in 2012
Summitted Cho Oyu (sixth tallest peak in the world) in 2016, achieving a speed record (2 weeks, door to door) and complete ski descent from the summit
Alex Honnold
Alex Honnold isn't crazy, he just knows what he can and cannot do. And he can do a lot. He doesn't play out worst-case scenarios when he's clung to the wall, thousands of feet up with no rope. He replaces fear with a rare form of clarity. That clarity has led him to make free-solo ascents of some of the biggest walls in America and blaze new routes up cliffs around the world. Not that his humble attitude would ever allow him to brag about it. Through his epic big wall speed climbs and audacious free solos, Alex continues to push the boundaries of the impossible.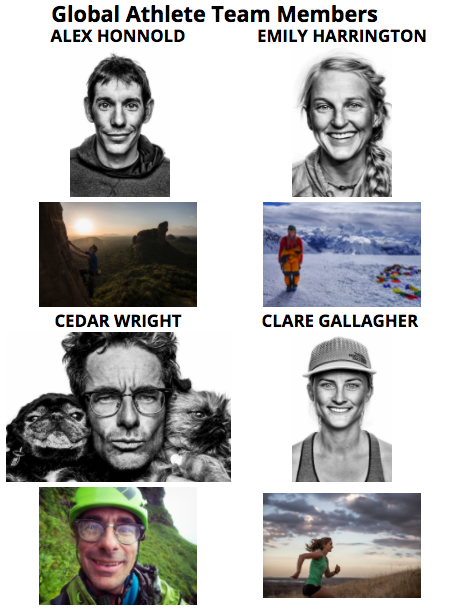 First and only free-solo of "Freerider" El Capitan, Yosemite, CA – 5.13a.
First ascent of the Fitz Traverse, Patagonia with Tommy Caldwell
Speed record on the Nose of El Capitan with Hans Florine – 2:23:51
Yosemite's first "Triple Solo": Mt. Watkins, Half Dome and El Capitan alone, in under 24 hours
First and only free-solo of the Moonlight Buttress, Zion National Park, UT – 12d, 1,200 feet
First and only free-solo of El Sendero Luminoso, El Potrero Chico, Mexico – 5.12d
First and only free-solo of the Northwest Face of Half Dome, Yosemite, CA – 5.12a, 2,200 feet
Cedar Wright
Cedar Wright first discovered climbing while pursuing an English degree at Humboldt State University. In between classes, Cedar explored the jagged boulders and sea cliffs of the Northern coast. He was instantly hooked.
After graduating from college, Cedar decided to dedicate himself fully to climbing. He moved to Yosemite where he became inspired and humbled by the vast granite before him. For the next few years, he worked for Yosemite Search and Rescue, where he learned invaluable skills and techniques. In between dangling on a rope outside a helicopter, he climbed relentlessly. He applied his love for speed and adventure by making blistering speed ascents on El Capitan and first ascents on the Sentinel. He remains one of the few people to have freed El Capitan in a day.
Cedar's love for exploration soon took him outside of the United States. From Africa to Pakistan to Argentina, Cedar continued to put up impressive climbs in impeccable style: fast, free, and with no trace. In the past few years, Cedar has become increasingly interested in filmmaking and has shot video for numerous climbing companies as well as outdoor giants like National Geographic. For many of his video pieces, he writes his own music. In his free time, Cedar enjoys sharing his passion with others.
He passes along his climbing knowledge to sherpas at the Khumbu Climbing Center in Nepal, and his love for the outdoors to children as part of the Get Outdoors initiative. Cedar is characterized by his tenacity, and unique sense of humor, and continues to push himself as a climber and a creative. One part climber, one-part filmmaker, and one-part musician, the future holds great things for Cedar.
Clare Gallagher
In the middle of Thailand's long and depressing rainy season, Clare Gallagher struggled to find motivation to run. She had moved there in 2014, after graduating from Princeton, to teach English. On a whim, she signed up for a 50-mile ultramarathon in northern Thailand, near the border of Laos and Myanmar, just so she could put an event on her schedule and train for something."It all went from there, and I fell in love with the sport," said the 24-year-old Englewood native, who now lives and trains in Boulder.
This summer, she stared down her toughest test yet — the Leadville 100 trail run — having never raced more than 50 miles. Now, she was going to double it.
And not only did she win the women's division in 19 hours, 27 seconds, the time was the second-fastest for a woman in the history of the race, behind Ann Trason's 1994 record of 18:06:24. Gallagher finished fifth overall in a race won, for the third time, by Ian Sharman of Bend, Ore.
Her competition wasn't even close. She moved into the lead at the May Queen aid station, 13.5 miles into the race, and held it. Behind her was Maggie Walsh of Littleton, who finished two hours behind her in 21:00:28, and Jennifer Benna of Reno, Nev., was third at 21:45:00.
Gallagher lives in Boulder now and trains with the Rocky Mountain Runners. She graduated in 2010 from Cherry Creek, where she finished runner-up in 2008 at the state cross country meet. She competed in cross country and the steeplechase while attending Princeton, but endured numerous injuries and graduated in 2014.
Stop by the Breckenridge North Face Store or visit the North Face Website for more information.
https://bestofbreck.com/wp-content/uploads/2017/09/Friday-Sep-8-2017.jpg
1500
1500
Nicole DeCesare
https://bestofbreck.com/wp-content/uploads/2021/08/bob-horizontal-logo.png
Nicole DeCesare
2017-09-08 11:37:56
2017-09-08 11:46:52
The North Face Speaker Series Returns to Breckenridge September 11th