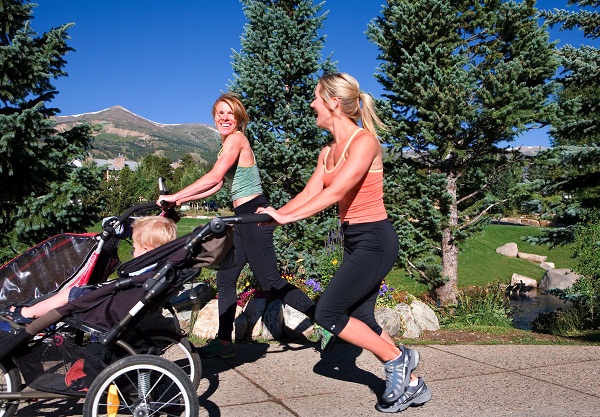 Everybody knows that Breckenridge is an outdoor lover's paradise offering so many summer activities that it would be hard to name them all. There are times though, that being outside isn't possible; rain, darkness, or other reasons might get in the way of the pursuit of outdoor activities. It is even possible that maybe a break from the outdoors is needed.
The Breckenridge Recreation Center is one of the crown jewels of the Breckenridge experience. Located just north of the town core on Airport Road, the Breckenridge Recreation Center is a 69,000-square-foot multimillion-dollar facility that offers so many different activities that it would be impossible to enjoy all of them in one trip.
Of course, the Recreation Center acts as the main public fitness center and community pool for the town of Breckenridge, offering exercise equipment, free weights, a running track, and many other gizmos and gadgets for exercising. On top of that, there is a full-size gymnasium, indoor basketball courts, racquetball courts, indoor tennis, aerobic and dance studios with all kinds of daily classes and a pro shop for all of your recreation needs. The aquatics facility offers a lap pool, kids pool, recreational pool, big waterslide that is too much fun, sauna, steam room, and indoor and outdoor hot tubs. There are lifeguards on duty, so the little ones are well-protected swimming.
One of the center's coolest features is the climbing wall inside the front entrance. The whole family can enjoy a variety of routes from beginner to advanced and can try top roping, bouldering and even lead climbing. The staff of expertly trained climbers is there to assist you and your family in your climbing adventure.
Outside there are even more exciting attractions to enjoy. Have you ever wanted to feel what it would be like to compete in the French Open? There are 4 clay tennis courts to try as well as hard courts and they are lighted. There are softball and soccer fields that are lighted and open to the public. There are playgrounds for the kids, public restrooms and a community center that can be reserved for groups and parties. Another awesome attraction outside is the skate park which include tons of features and a 9 foot bowl to try your skating skills. There is also easy access to the Upper Blue River and the trails and gold medal fishing.
If you are looking for something to do in Breckenridge make a point to look up the Breckenridge Recreation Center as an alternative to all of the outdoor activities that Breckenridge has to offer.
If you are looking for the best deals on Breckenridge lodging visit www.breckenridgediscountlodging.com.