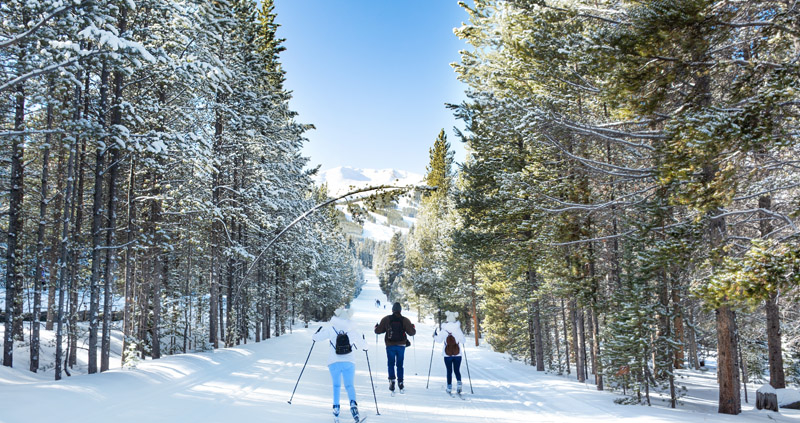 Local's Guide: What to Do in Breckenridge This Winter
It's no secret that 2020 has presented some major challenges thus far; and, sometimes it's difficult to decide on what to do or where to go to make the most of our free time in the safest way possible. It's important to factor in the current pandemic, but it's also important to make sure our lives are not being put on hold. As a local living in Breckenridge, I see my mountain town as a perfect destination for my friends and family to not only visit, but to truly have fun despite the hurdles that this year has sent our way. 
As you think about what to do with your vacation time and how to do it safely, where do you see yourself? I see myself enjoying the outdoors and reconnecting with nature alongside my loved ones. I see myself playing outside, with well over six feet between myself and those I don't want to be in close proximity with. This is why Breckenridge is the perfect place to be this winter. Here's a list of some of the things that I know I will be doing (beyond skiing) to make the most of my winter in the 2020/2021 season.
Sledding – The options for sledding hills around Breckenridge are truly endless. One of my personal favorites is Carter Park. This activity is sure to bring smiles (whether you're watching or participating) in a socially distant setting outside. 
Cross-Country Skiing – This is the perfect way to get in a little workout, breathe in the fresh air and spend some quality time outdoors.
Snow Shoeing – This is also an awesome alternative to skiing. You can make it as hard or easy as you want! Pack a lunch and explore some places you never thought you'd find yourself in the winter.
Après – This one is a given. Who doesn't enjoy finishing skiing, snowshoeing (or literally anything) and ending the day with a beverage and good company? It really adds the cherry on top to a good day. Share some stories of the day, laughs and cheers to the good times that Breckenridge has brought you!
Fat-Tire Biking – Who knew biking on snow could be so fun! Rent some gear from one of the many spots that offer fat-tire bikes in Breckenridge and explore some trails or ride through town! Don't forget your helmet and gloves, though!
Spa Day – Ah yes, spa day. Unwind, relax and treat yourself with a massage, facial or just hang out in the adults-only grotto all day and let the bubbles take your worries away. My personal favorite is Infinity Spa.
Ice Skating – Can you say perfect date night?! Check out the ice rink at the Grand Colorado on Peak 8! 
Fly Fishing – There's a sweet spot in the winter where the rivers have either yet to freeze over, or they're melting just in time and the fish are ready to bite! Walk into any local fly fishing shop, ask them where the fish are and they will be more than happy to direct you to the perfect spot. Dress warm and make sure you have all the right equipment!
Dog Sledding – I went dog sledding for the first time last winter and all I can say is, "wow." All my favorite things combined: dogs, the outdoors, smiles and sledding. Check out Good Times Adventure Tours  and make your reservation now!
Hot Tubbing – who doesn't like slipping in a warm tub after a long day of adventuring?
Movie Night – However you feel most comfortable—in or out! Rent a movie and pop some corn or head over to Breckenridge's Speak Easy Movie Theater, where you can see the best flicks. Not to mention, you can also enjoy a nice glass of wine there, too

😉

 . 

Hot Chocolate & Baking – An extremely underrated activity for those days when it might just be a little too cold out, or maybe your legs are still shaking from skiing the day before!
Snowmobiling – Yup, it's as fun and fast as it sounds! Grab your family or group of close friends and make your reservation today at Breckenridge Snowmobiling.
BreckCreate Art Classes – Check out the classes that BreckCreate has to offer and explore your creative side with some professionals.
Dinner Sleigh Rides – Every year, I go back to Two Below Zero for a magical dinner sleigh ride. It is one of my favorite winter activities. There's something so beautiful about riding a horse-drawn sleigh through the glistening snow-covered trees under the moon then drinking a warm cocoa with some entertainment and a fantastic meal to finish the night off.
 Gr8 Escape Room at the Grand Colorado on Peak 8 – Put your detective hat on and test your problem solving skills with some friends. Call the Grand Colorado's Activities Desk to book your reservation: 970-547-8781.
Snowcat Tours – Reach new heights and explore the places you never thought you'd find yourself! Not to mention, the COOLEST form of transportation ever.
Historical Tours with the Breckenridge Heritage Alliance – Go back in time to when Breckenridge was all but a small mining town with a few saloons. The guides at the Heritage Alliance are sure to make you smile and you will walk away feeling like a true history buff.
Gold Runner Coaster – Ride a roller coaster on a mountain in the middle of winter? Yes, please! Get your tickets online at Breckenridge Ski Resort.
https://bestofbreck.com/wp-content/uploads/2020/10/800x6001.jpg
600
800
Tianna Terrell
https://bestofbreck.com/wp-content/uploads/2021/08/bob-horizontal-logo.png
Tianna Terrell
2020-12-13 16:54:46
2021-01-14 15:43:47
Local's Guide: What to Do in Breckenridge This Winter