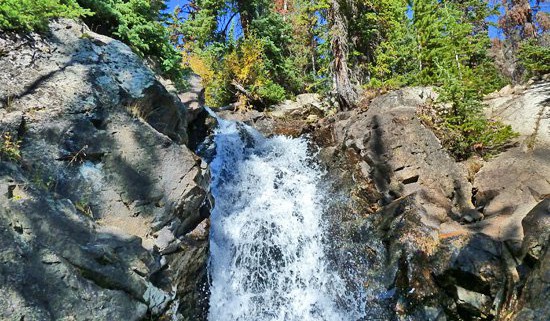 Pace your Oktoberfest with this Hopping Hike!
Town will be buzzing with Oktoberfest this upcoming weekend and this Breckenridge highlighted event is one you definitely shouldn't miss! However, if you need a small break in between the brats and beers, we have the perfect place for you to burn those calories and escape the crowds for a couple hours. This hike is known for beautiful scenery through the base of Buffalo Mountain and ends at South Willow Falls with beautiful views for your backdrop.
The Hike: Willow Falls/Mesa Cortina – Located just 9 miles North of Breckenridge in the Eagle's Nest Wilderness Area of Silverthorne, this 8.7 mile roundtrip hike is moderate with about 800' of elevation gain. If you are looking to explore but possibly still acclimating to the elevation (or those beers from Oktoberfest caught up with you!), this is a great hike for you!
Useful Tips!
Bring water and something to snack on! Even though this is a moderate hike, you should plan on at least 2 hours RT and you will be happy to have the energy resources.
Moose are common in Eagle's Nest Wilderness Area, so keep your distance!
Dogs and horses are allowed. Motorized vehicles are not permitted on the Mesa Cortina Trail or Gore Range Trail.
Bring sunscreen! When you're two miles closer to the sun, you can get burnt (even on the cloudiest of days).
How to get there: From the junction of Interstate 70 and Highway 9 in Silverthorne, drive north for 0.3 miles and turn left on Wildernest Road. Proceed 0.5 miles before turning left onto Ryan Gulch Road. Drive up the base of Buffalo Mountain for 3.7 miles and stop at the Buffalo Cabin Trailhead, parking on the left side of the road.
If you want to ride to the trailhead with the Summit Stage transit bus, stay on Highway 9 north and park near the station on Fourth Street in Frisco. The Wildernest bus departs at a quarter past each hour and reaches the trailhead by half-past the hour. (Directions supplied from Summit Daily).
For a detailed outline and directions for the trail itself, visit Pro Trails!


https://bestofbreck.com/wp-content/uploads/2015/09/3265.jpg
413
550
Nicole DeCesare
https://bestofbreck.com/wp-content/uploads/2021/08/bob-horizontal-logo.png
Nicole DeCesare
2015-09-09 19:34:25
2018-07-02 10:37:01
Pace your Oktoberfest with this Hopping Hike!