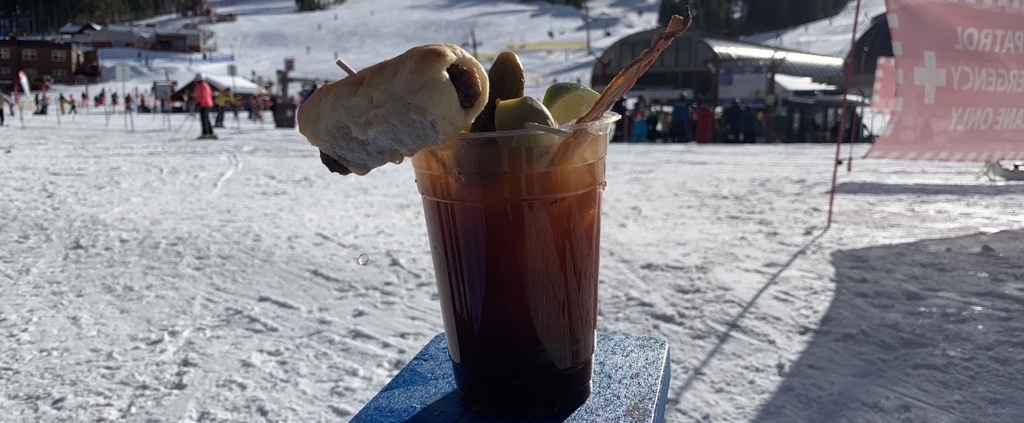 Breck's Booziest Bloody's
Bloody Mary's: the glorious hair-of-the-dog libation that helps get you goin' in the morning. After a late night out on the town, a Bloody Mary might be exactly what you need to kick-start your day. The Best of Breck Team ventured around the county and did some "research" on where to get the best hangover cure in a glass in Breckenridge. We turned to our own taste buds and reached out to locals so we could give you the inside scoop. Here's who made the cut (not in any particular order):
GC8 Bloody – Three Olives Vodka with pickle, pepperoncini, olive and bacon skewer – $12
Robbie's is a brand new, locally owned slopeside bistro with unparalleled views. Located right at the base of Peak 8 within the Grand Colorado on Peak 8, Robbie's is the new hot spot to grab a drink après skiing. We checked out their bloody as advised by some locals, and were blown away. It was seriously good; the perfect mix of vodka and tomato juice, perfect spice, and topped with BACON. Yeah, bacon.
Garden Bloody Mary – Three Olives Vodka and a spicy tomato juice with what really seems like the whole garden. – $12.50
The Canteen is a local's favorite with a HUGE Bloody Mary served in a literal canteen cup. Make sure you carve out some time to drink this whole canteen. Just when you think it can't get any better, it tastes almost better than it looks. Also, don't forget to order a mini Coors Sidecar for only $1.75 extra!
Ullr Bloody Mary – Elevate Vodka, house-made Bloody Mary mix, pickle, olives, pepperoncini, lime, slice of bacon and a sausage roll.  – $14
This Bloody Mary is no joke. Come hungry and thirsty and leave full with this boozy breakfast in a cup. It doesn't stop there, though… the views make this journey up to Peak 8 all worth it. Enjoy your Bloody Mary outside on their patio looking at all the skiers coming down Peak 8 and hopping on the Colorado and Rocky Mountain SuperChairs.
The Usual Suspects – Pick your house infused vodka: pickle or jalapeno. Then pick your mix: Zing Zang or Motherlode Provisions. Served with a surprise garnish! -$12
The Ultimate Bloody Mary – 32oz of the Usual Suspect with an extra gluttonous garnish of fun! -$20
MLT is known for their house infused booze, so of course, you get an infused vodka with your bloody. They garnish the Usual Suspect with a strip of bacon, olives, pepperoncini and olives. The Ultimate Bloody gets a little crazy. First of all, 32oz of booze. 32. OUNCES. Sign us up. Second of all, they garnish that baby with peppered bacon, a spam fry, and an entire chicken tender! Really reinforcing the whole 'meal in a glass' concept.
Bloody Mary – Breckenridge Vodka or Breckenridge Vodka Chili Chile, with pickle, celery, jalapeno, pepperoncini, olive, lemon, and lime. Served in a mason jar. -$9
If you've never been to the Crown, definitely check it out. It's a cute little coffee shop right in the heart of Breck that has delicious breakfast, lunch, coffee and BOOZE! You can get all these delicious boozy breakfast drinks early in the morning because it's a coffee shop so they're open earlier than most places. They keep it local and use vodka from Breckenridge Distillery as well as 9600 Bloody Mary Mix. Then they basically top it off with a salad. Sold.
—
So next time you're in Breck and stay out a little too late, head to one of these spots in Summit County for a delicious hangover cure. Remember, you can't drink all day unless you start in the morning!
Cheers!
https://bestofbreck.com/wp-content/uploads/2021/01/MicrosoftTeams-image-1.jpg
768
1024
Tianna Terrell
https://bestofbreck.com/wp-content/uploads/2021/08/bob-horizontal-logo.png
Tianna Terrell
2021-01-30 11:27:59
2023-09-06 09:54:22
Breck's Booziest Bloody's