Summer is here and it's time to sit back, relax and enjoy a drink out in the sun. Breakfast, lunch, happy hour or dinner, there is a perfect patio for any occasion. We have compiled a list of our top ten favorite patios in Breckenridge. Take a look and let us know if we missed your favorite.
You may not realize that Modis has a rooftop patio at first, however this is a great place to enjoy a cocktail outside. On top of this two story building, you will find the sun shinning and a bird's eye view of mainstreet. Modis has two daily happy hours with unique drinks that take you all the way back to the 1920's. From El Diablo (a mix of tequila, lime juice, blackberry liqueur and house ginger beer) to the Lion's Tail (a mix of bourbon, allspice liqueur, lime juice, simple syrup and Angostura bitters) there is something for everyone.
Insider Tip: Order from the ever-changing happy hour apps. You will not be disappointed.
If you are looking for a top-notch place to dine, but also be outside, Relish is the place to go.Their daily happy hour is from 4-6 pm that includes a two for $10 deal that allows you mix and match drinks and apps all for $10! Make sure to fill up during happy hour or you will be wanting to stick around and order dinner.
Insider Tip: Plan accordingly and make a reservations as this space is smaller.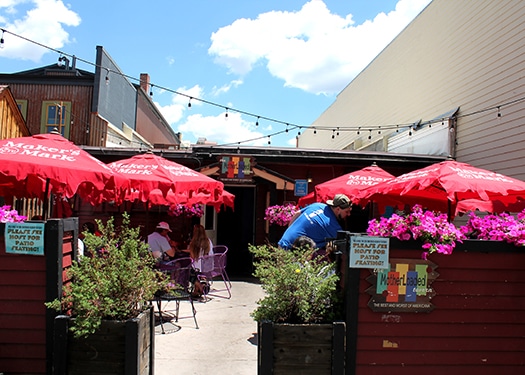 Known for their comfort food and live music, this place has a spacious patio. The Mother Loaded Tavern (MLT) hosts a porch party every Sunday that is great entertainment for the whole family. They also have a daily happy hour that include unique drinks and great appetizers.
Insider Tip: They have homemade infused liquors and anything including mac n' cheese is a go. Trust us.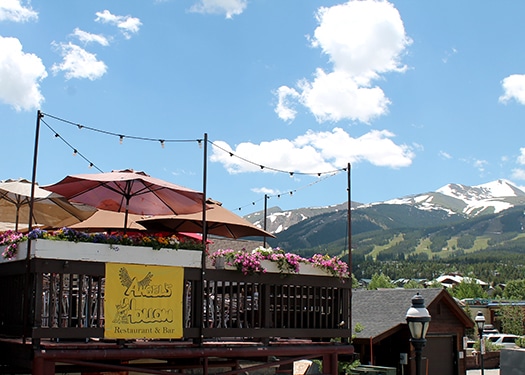 Do you like margaritas, blood mary's or a good view of the mountains? If you answered yes, then Angle's Hallow is the deck for you. Located a block from main street, this tucked away gem is the perfect place to soak in the views and weather in Breckenridge. They are generous with their drink pours, so bring your friends and be ready for a good time.
Insider Tip: Don't skip out on the salsas and sauces. They are seasonal and fresh!
Start your day off right with one of the locals favorite places to have coffee or a bite to eat. The Crown is the hippest place in Breck to enjoy coffee in the morning and happy hour/bar in the afternoon. Enjoy the patio out back while the background noise fills with sounds of the river just across the way.
Insider Tip: Cool off with some of their ice cream delights!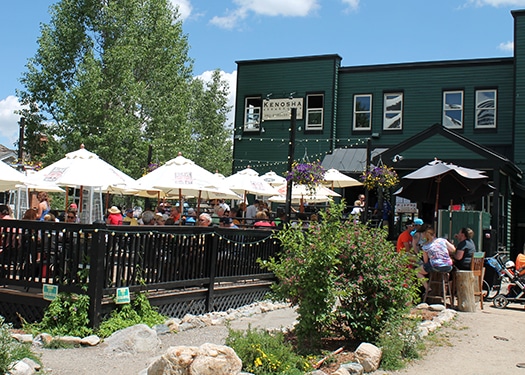 A popular place to hang in the summer, Kenosha's spacious deck is big hit. Happy hour: check, games: check, great food: check and plenty of sun: double check! Spend the afternoon hangin' on this patio for a time well spent!
Insider Tip: Kenosha has a rotating tap menu. If you are looking for a new beer or an all-time favorite, check out their tap list here.
Do you like martinis? Either way, your going to love Blue River. They have all kinds of different martinis including a Paloma martini, Champagne Dreams martini, Tequlia Sour martini, Breckenridge Sidecar martini and more! Enjoy any of their unique and delicious cocktails while sitting on their side patio. While you are there, make sure to check out their two-for-one daily happy hour and outstanding menu.
Insider Tip: While known for their happy hour, their food is NOT something to miss out on.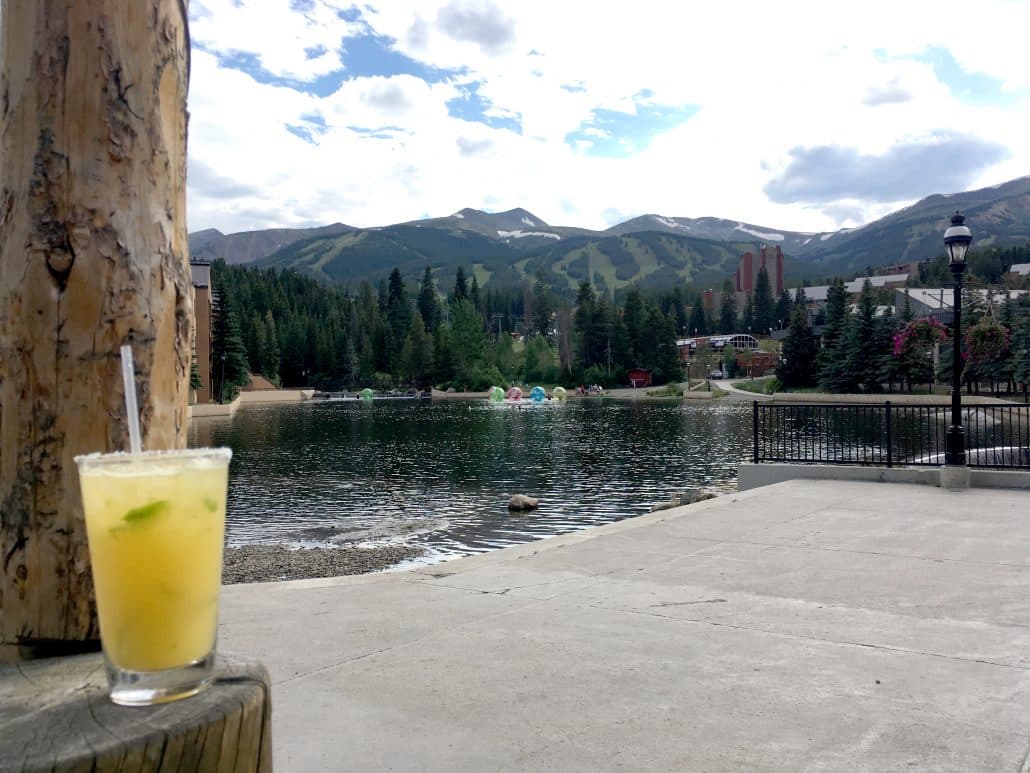 Come one come all! (even the furry ones are allowed). Enjoy food and drinks steps away from the Maggie pond. This place not only has great happy hour and food, it also has fun games to enjoy outside .
Insider Tip: Try the jalapenos margarita for a drink your sure to love!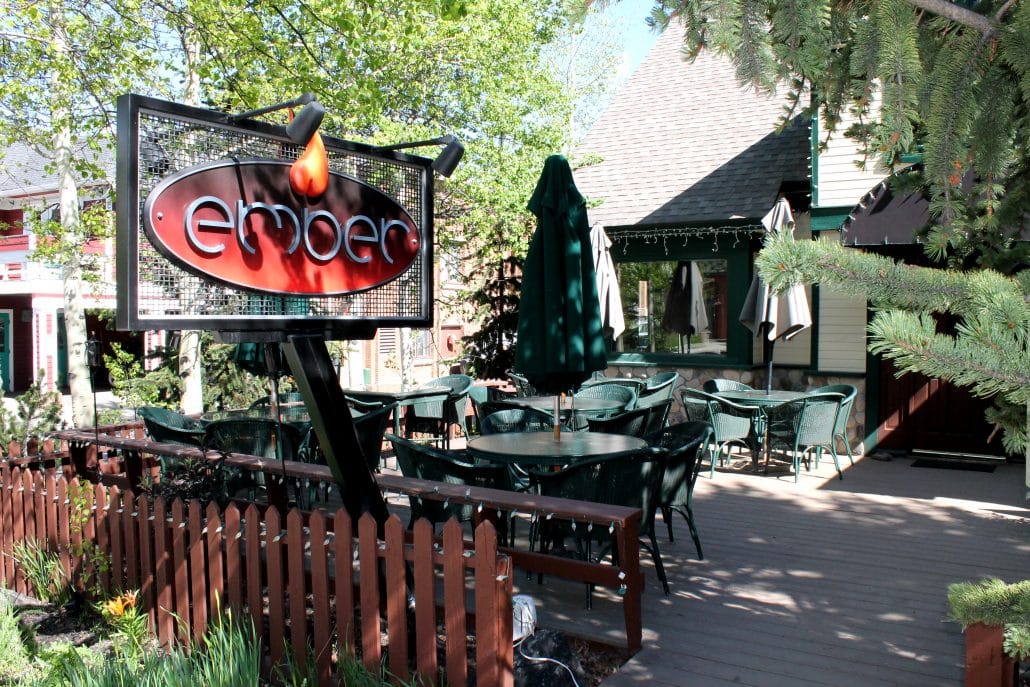 Known for their twist on drinks and food, this place has the perfect ambiance to relax the mood while trying something new! They are known for their technique, creativity and love they put into everything they serve.
Insider Tip: If you aren't sure, ask for recommendations. Ember is known for having their sommeliers and chef's give fantastic suggestions.
Located at the base of Peak 8, and attached to the Grand Colorado on Peak 8, Robbie's Tavern is the newest addition to slope side dining. This casual dining spot is privately owned and run by the same team as The Canteen Tap House and Tavern. With stunning views of Peak 8, a large patio area and delicious food, this is a perfect spot to swing by while on the mountain.
Insider Tip: Chicken drummies are a must and they pair perfectly with a tin cup mule.
https://bestofbreck.com/wp-content/uploads/2017/06/Monday-June-26-17-1.jpg
1500
1500
Brittany De Graaf
https://www.bestofbreck.com/wp-content/uploads/2015/08/logo-332x156.png
Brittany De Graaf
2017-06-26 10:53:36
2017-06-26 13:37:38
Top Ten Breckenridge Patios