'TIS THE TOASTING SEASON: BRECK'S CRAFTIEST COCKTAILS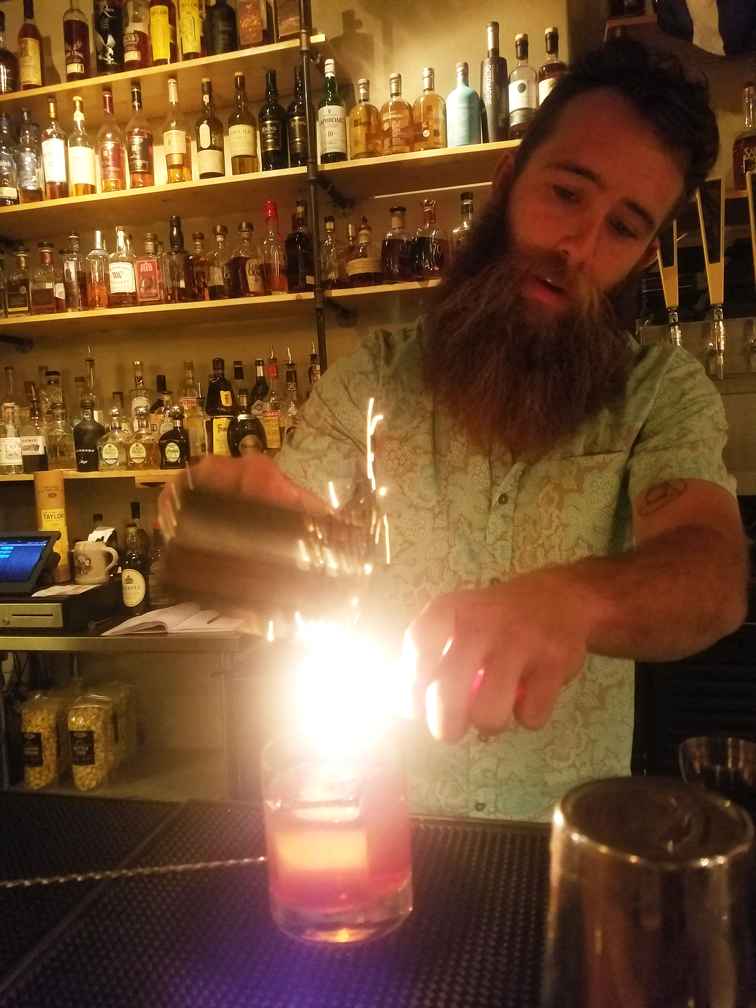 As the last autumn leaves linger and quiet snowflakes tease us with their occasional appearances, the local mixologists in Breckenridge have you covered when it comes to crafting tasty seasonal libations. The staff at BOB has done some painstaking research to find you the best winter warmers in town at three of our favorite locations.
The Blue Stag is known for more than its epic fire pit; it stirs up some amazing seasonal concoctions, too! We've listed our top two to get you started.
Hunter S. – Named after America's favorite vagabond, this cocktail is sure to get your mind wandering. Smokey and sweet with orange undertones, this cocktail is refreshingly smooth with a cherry kick that's impossible to loathe.
Georgia Heat – Almost as hot as the weather down south, this peachy ginger cider gives off a subtle heat from the habanero that warms your tummy while satisfying your sweet tooth. It's hard to order just one!
One of our preferred spots to hang in town, this dog friendly bar has board games galore and tons of smiling faces. And, you guessed it: this is the perfect place to enjoy après ski crafted cocktails!
InCider Scoop – Served with a Granny Smith apple slice, this crisp cocktail is tart but sweet with hues of cinnamon. Be careful; your taste buds are sure to fall in love after just one dangerously delectable sip.
Sundowner – The name leaves little to the imagination. After a couple of these, you might be headed in for the night. The sundowner is a delicious kick in the pants for those who enjoy a whiskey cocktail. Orange bliss meets barreled perfection.
Graham Ol' Après – Skip the chocolate cake and treat yourself to liquid dessert. This foamy concoction will take your palate on a wild ride filled with chocolate sauce and graham cracker crumbles aplenty.
Ol' Nutter Fashioned –  This traditional standby gets a modern twist when flavors of orange and pecan mix with Buffalo Trace whiskey, making it an instant classic.
Anonymous – If you're lucky enough to be there when mix master Justin is serving, get a mouthful of his mysteriously nameless hickory-smoked whiskey concoctions, perfected with a fired cinnamon finish.
One of the go-to spots in town for martinis, try to hit the Bistro during their evening and/or late night happy hours and your wallet will be just as satisfied as your thirst.
Peach & Pepper – Warm up with this tequila-based, peachy pick-me-up featuring zests of lemon with a habanero kick.
Picante Fusion – Crafted with Breckenridge vodka, the surprisingly smooth fusion of pineapple with a distinct and delicious touch of basil tastefully tames the habanero bite.
Pear-Ginger Mint – Get a second wind while sipping on this minty mixture that combines just the right blend of refreshing ginger, tangy lime and sweet pear.
Now that we've got you salivating, it's time to book your stay in Breckenridge and quench that thirst. As always, breckenridgediscountlodging.com is the prime place to find the best lodging options and prices. So, wipe that dribble off of your chin, grab your drinking shoes and come taste the spirit of the season in Breckenridge like never before. Cheers!
https://bestofbreck.com/wp-content/uploads/2016/10/DIY-Family-LIfe.jpg
1500
1500
Meckenzie Donnell
https://bestofbreck.com/wp-content/uploads/2021/08/bob-horizontal-logo.png
Meckenzie Donnell
2016-10-20 23:19:04
2016-10-25 17:04:11
'TIS THE TOASTING SEASON: BRECK'S CRAFTIEST COCKTAILS