Gnarliest Runs in Summit County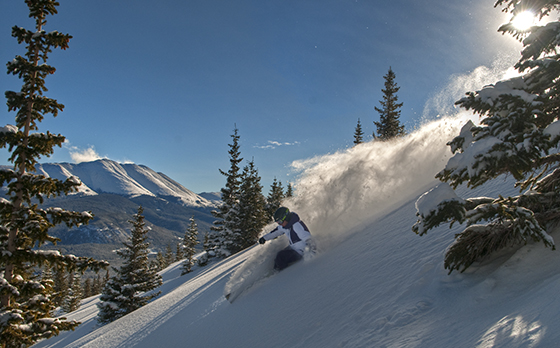 When I was thinking of how to approach this topic and I Googled the definition of gnarly and I got 400,000 results. I thought clearly this word has a lot of meanings. I guess I could write about the hardest, steepest, most intimidating, deepest, bumpiest… and so on…  but "gnarly" is the descriptor we chose for this topic and is the best overall way to describe gnarly ski runs. Gnarly ski runs always challenge the best skiers and riders. They will be difficult, steep, above tree line or buried in trees, have rock drops, unexpected hazards, bumps and generally be a hazard to the health and well-being of anyone skilled or foolish enough to drop in.
Here then are our picks for 10 of the gnarliest ski runs in Summit County.
Breckenridge
Nine Lives – located in Lake Chutes, Nine Lives tops out at a 50-degree pitch. It is possibly the steepest inbound ski run in Colorado. Located entirely above tree line requiring a cornice drop, mandatory air and super tight turning area. Hit this on a powder day and watch the snow you push surround you and drop like a waterfall.
Wacky's – Another Lake Chute, Wacky's is a super steep and technical Run that requires much negotiation around multiple rock bands. If you fall on this run you will most likely fall all the way to the bottom without stopping un less, of course you hit a rock band.
Windows – Drop down from the heights a little and experience the extreme terrain located off of E-Chair on Peak 9, specifically the Windows. The Windows Chutes are the definition of gnarly tree runs. Navigate tight trees and steep terrain. Lap the E-Chair and ski them all.
A-Basin
Gautier (5th Alley) – If you want to go ski something that will just scare the crap out of you consider Guatier! Located on the on the west side of the Pali Face just past the 4th Alley, Guatier is the steepest run on a face full of the steepest runs in Summit County. Throw in trees and VW sized bumps and you are looking at a "do not fall" proposition.
West Turbo – Named after one of the sickest skiers ever to grace the slopes of A-Basin, West Turbo is a tight rock chute buried in the trees just under the Pali Chair. The coolest part it the amazingly sketchy entry that involves a straight drop and almost mid-air turn into a 45-degree rock studded chute. Good times!
Granddad's – This is not your father's ski run. Located in the wooded area just below the 2nd Alley, Grandad's is a series of mandatory "pillow" style rock drops. It is about four in all. Of course in keeping with the gnarly theme this is all happening in a thick forest at an almost 50-degree pitch.
Keystone
The Grizz – The Grizz is located just west of Bushwacker on the north slope of the Outback. You will know you are there when you are following a series of numbers on yellow signs nailed to trees. The Grizz is not particularly steep but is really long and totally buried in the trees. You spend the first half of the run dodging trees in what feels like a long ski run. By the time you think are should be near the end you are maybe halfway as you slip into a natural halfpipe that seems to go on and on. if your legs aren't burning at the end of the Grizz than you are a marathon skier.
Ambush/Powdercap – Ambush and Powdercap are parallel runs on the north face of North Peak. These are steep and open or "cut" runs. The "Gnarliniess" in these 2 runs is the result of the endless moguls you will ski through.
Copper Mountain
Enchanted Forest – The Enchanted Forest (Upper into Lower) can be a truly magical experience. The gnarliness of Enchanted Forest comes from its consistently deep powder thanks to consistent winds from Union Bowl loading up the trees. Enchanted forest is pretty much the entire north side of Copper Peak. Start in a natural halfpipe in the upper glades and descend into a thick forest full of single track trails and harrowing trails
Black Bear and Free Fall Glade – Ride the Super Bee Lift and take Andy's Encore and on the right about halfway you will find the signs for Black Bear and Free Fall. Be careful though for they are hard to find. These 2 runs are the gnarliest tree chutes at Copper Mountain and offer steep, bumpy wooded terrain that loads with powder and offers turn after turn of powdery amazingness.
Want to come ski the best of Breckenridge and Summit County and not break the bank? For the best deals on Lodging in Breckenridge visit www.breckenridgediscountlodging.com.
https://bestofbreck.com/wp-content/uploads/2016/12/Wednesday-Dec-21-16.jpg
1500
1500
Nicole DeCesare
https://bestofbreck.com/wp-content/uploads/2021/08/bob-horizontal-logo.png
Nicole DeCesare
2016-12-21 09:48:13
2016-12-21 09:49:12
Gnarliest Runs in Summit County