Family Skiing
&

Family Sized Savings—A Local's Tips

October 5, 2021// Ginny Vietti
I grew up visiting Breckenridge on Spring Breaks and marvel at the poignancy of some of those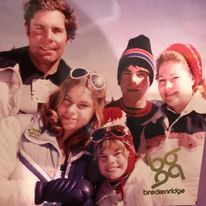 memories. Maybe not typical of a ski vacation memory, I clearly recall my first purchase of "art" at the seasoned age of 12, (a framed, screen-printed, pink and purple unicorn), that I purchased with my savings in one of the multi-story, iconic brick malls on Main Street. The waxy scent of screen printed t-shirts produced on site in one of the many t-shirt shops prickled my nose as I next decided between a green circle, blue square or black diamond patch that my mom would sew onto my Rosignal jacket (I went with "most difficult" as encouraged by my dad).
Ski days went by in a blur of tree runs that terrified my mom and competitions to see who could spray the most snow on the other siblings' skis at rest stops.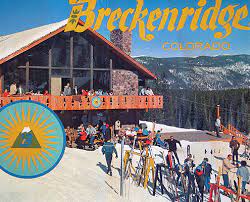 We would lunch (mostly brown-bagging it) at the old Bergenhof day lodge (now the Grand Colorado on Peak 8). Sometimes I would be pampered with "exotic" foods while we crisped on the deck in the March sunshine. Lunch treats included strawberry Yoplait, (yogurt wasn't yet common in my Michigan hometown), followed by the extravagance of a full-sized Snickers (the Powerbar of the 80s).
I'm lucky enough to now live and work where these, and many more, memories were made. I love sharing ways for others to create their own Breckenridge memories of a lifetime – and how to do it on a budget. As a parent of a "Summit County Kid" (which means he prefers shorts year-round has no idea how good he's got it), I enjoy revealing activity insights with people who realize just how unique this high altitude paradise is.
First – the Main Event – Breckenridge Ski Resort:
Skiing is not cheap, but there are ways to save. Pre-purchasing lift tickets either via pass products or mutli-day tickets can help. Buying lodging and lift tickets together can be a great way to save on the whole shebang. Choosing lodging and lift tickets packages from one of the vacation ownership resorts (timeshares) really moves the needle.
There are a few resorts in town that offer incredible deals in exchange for some time spent touring their property with one of their representatives. The tours are individual to the guest and actually quite educational. The preview center is also in an amazing location right on the mountain. Did I mention guests can park the day of their tour and enjoy ski-in/ski-out access to Peak 8?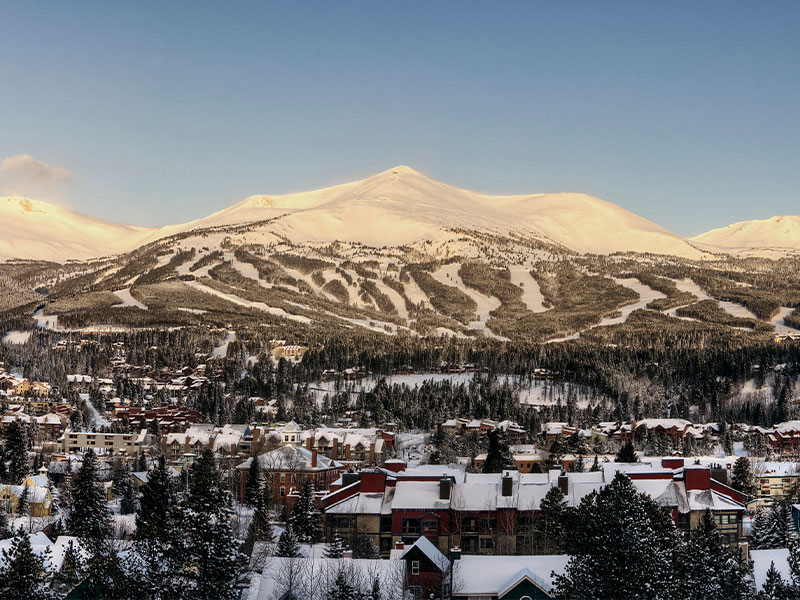 Click here for some of these discounted packages. There are qualifications for these packages and they do require that time commitment but they can save thousands.
Many equipment rental companies offer discounts for booking prior to arrival. Some even deliver! Check out Ski Butlers or Breckenridge Sports for pre-arrival discounts.
Other Winter Activities:
For older kiddos – Dinner sleigh rides offer the opportunity to experience both a great meal and a peak into the past. They typically utilize colossal horses to pull the sleighs which are a site in and of themselves. Many also feature entertaining drivers who share old-time stories and information about the area. Click here to learn more.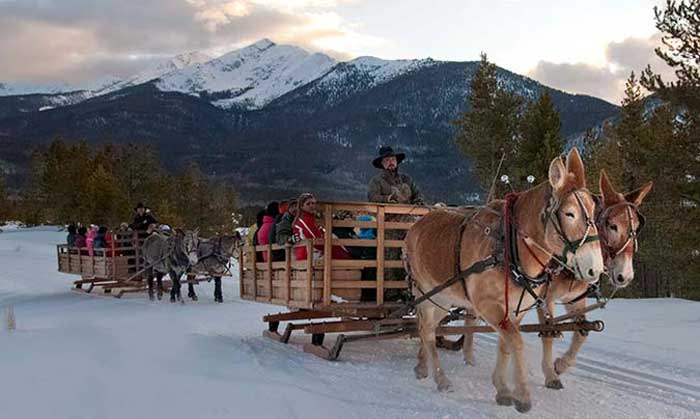 For little kiddos – try the Mountaintop Children's Museum on a day where bundling up just doesn't sound fun.
Fun for the whole family – The Frisco Adventure Center offers Nordic skiing, snow-tubing and beginner ski and terrain park lessons all in one area. Bonus for parents, a nice lodge and fireplace for warming up with an adult beverage options.
Winter Swimming:
Who doesn't love the novelty of swimming outside when it's snowing? These resorts offer incredible indoor and outdoor aquatics – some even have zero entry pools and indoor splash zones. All three also have hot tubs – some adult-only and poolside beverage service.
Additionally the Breckenridge Rec Center offers day passes to their aquatics area that includes a slide.
Other ways to save:
Try visiting when the rest of the county isn't. Early season does pose a risk of poor snow coverage but offers some great savings. Surprisingly, Thanksgiving isn't typically extremely crowded or expensive. Generally, families aren't looking for the most intense terrain the Resort has to offer anyway (usually up top), and lower, groomed slopes are open and are great for beginners and intermediate skiers. In early December, the Town hosts the Running of the Santas and the Lighting of Breckenridge.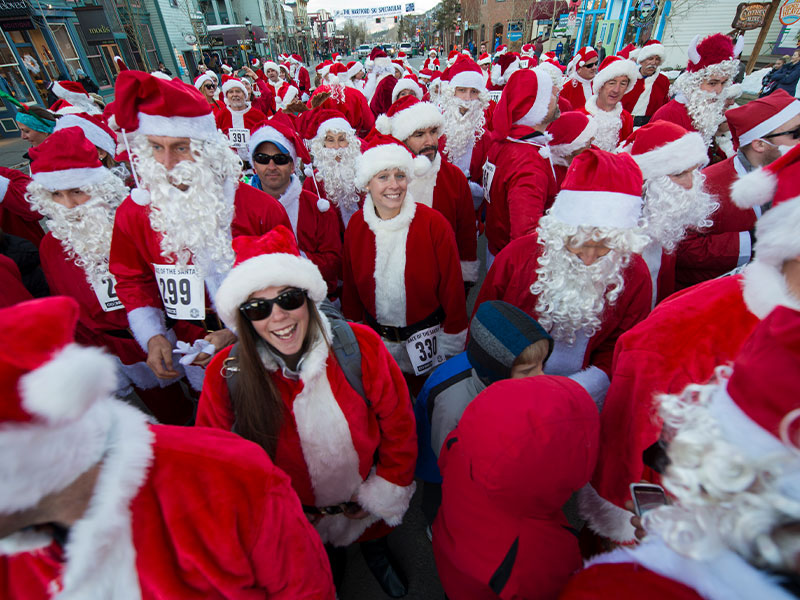 Spring Break like I experienced is one of the highest priced times to come due to school break schedules. However, if you can swing a trip right after, April offers amazing snow, warmer afternoons and softer landings for those just learning. Try post Easter for the best rates and warmest days.
Word of Warning:
Be careful about exposing your kids to this awesome ski town…I'm pretty sure those formative Breck Spring Breaks contributed to my eventual choice of college – the University of Colorado, Boulder and my ultimate choice to leave my home state and start a life out West.