Check out the Breckenridge BIKEBUS!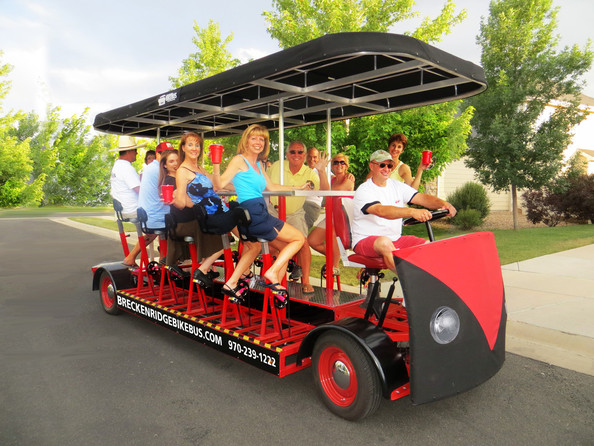 This idea is proof that there is still creativity in the world. Who would ever think that they could get together with 10 to 16 of their closest friends and pedal around town on what is effectively a mobile bar. What a thought! We here at Breckenridge Brand Vacations love to exercise, be outdoors, hang out with friends and occasionally party a little! The guys at Breckenridge Bike Bus were thinking about us when they built this little wonder.  We loved it so much we sponsored it!
Basically the idea is simple. The BIKEBUS is a large multi-pedaled vehicle where ten riders provide the pedal power while five other passengers can simply sit back and enjoy the ride. There is also a "standee" spot in the center of the BIKEBUS for a group member who serves as "Biketender."The Breckenridge BIKEBUS will run up and down Main Street and Ridge Street in Breckenridge. A Breckenridge BIKEBUS driver steers and brakes — the passengers are the engine.
If you have a crew or even a small group this is a great idea. What an interesting way to get around town and not have to worry about driving. Look these guys up on your next trip to Breckenridge and see town in a whole new way. They will do charters so you can set the time and place.
For more information on the Breckenridge BIKEBUS visit http://www.breckenridgebikebus.com/.
For the best deals on Breckenridge Lodging visit www.breckenridgediscountlodging.com
https://bestofbreck.com/wp-content/uploads/2015/07/Monday-Aug-6-12.jpg
1500
1500
Nicole DeCesare
https://bestofbreck.com/wp-content/uploads/2021/08/bob-horizontal-logo.png
Nicole DeCesare
2012-08-06 22:04:15
2015-07-02 22:10:47
Check out the Breckenridge BIKEBUS!