The Peak 8 Fun Park is now Epic Discovery!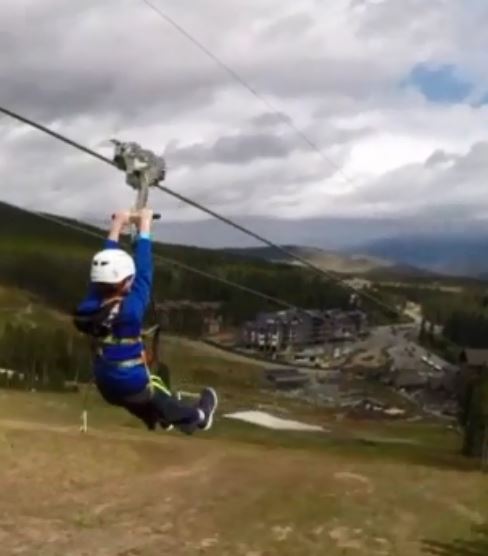 The new and improved Epic Discovery Fun Park opens Friday, June 9th!
Breckenridge Ski Resort has renamed the Peak 8 Fun Park, Epic Discovery and with good reason! Epic Discovery was named because Breckenridge's signature summer activity has grown so much that it now encompasses Peaks 7 and 8. This summer there will be the addition of a newer, bigger Gold Summit Climbing wall, a new ten tower zip line and the new Aplineer Challenge Course, a multi stage ropes course nestled high in the trees above Peak 7. All of this is new and in addition to Peak 8 stalwarts such as the God Runner Coaster, Mineshaft Maze and of course the Alpine slide.
Here is a breakout of just some of the various activities you and your family can enjoy at the new and improved Epic Discovery Fun Park.
Expedition Zipline Tour – Test yourself on the new Expedition Zipline Tour. Based out of the new Independence Outpost on Peak 7, you will fly along 8 ziplines between 10 towers and 200 ft long aerial bridge walk. Get a bird's eye view of the mountains, the skyline and critters along the forest floor.
Gold Summit Climbing Wall – Start at the top of the new Alpine Camp, and then climb higher! The Gold Summit is a 40 ft tall climbing wall, with 16 distinct routes available- perfect for beginners to advanced climbers.
Alpineer Challenge Course – This other big addition is also located at the new Alpine Camp. Pick your route and test your balance. Freely choose your route with 15 features including a log walk, rope swings, and more!
Gold Runner Coaster – Enjoy this 2,500 ft alpine rollercoaster and race through the forest by yourself or with a friend and don't worry. If it is too fast you get brakes!
Alpine Super Slide – The alpine slide is the "old school" ride that started it all on Peak 8! Contesting of 3 tracks each 2,600 feet long, cruise down and race your friends as tracks 1 and 2 are side by side and identical.
Breck 4×4 Tours – Ride in an open air 4×4 vehicles with up to six of your friends or family members. This 90-minute ride explores Peaks 8 and 7 and takes in beautiful views of the Ten Mile Range and the back side of the Front Range.
Mountain Biking – Downhill mountain biking has been growing in popularity year after year and Breckenridge is a world class downhill biking experience. Get a mountain bike and take a chairlift to the top of Peak 8 for an exhilarating ride down the Breckenridge's Mountain Bike Trails. From easy to expert there are trails for all ability levels.
SuperPutt Mini Golf – Mini Golf is still as much fun as when it started way back when. Breck has a great course for the whole family.
Scenic Chairlift Rides – Take a scenic chairlift ride and now also the ride to the new Epic Discovery Alpine camp! The Colorado Super Chair runs up to over 11,000 feet in elevation and offers stunning mountain views. Ride back down or hike through Breckenridge pristine pine forests and aspen glades.
Gemstone Panning – Great for kids, pan for gems and keep what you find!
Mineshaft Maze – A Peak 8 summer all-star! Try and beat the clock in Colorado's largest human maze. Kids win prizes when they are faster than the clock.
Rockpile Climbing Wall –With the addition of the new 40-foot Gold Summit Wall at the Epic Discovery Alpine Camp there is a lot of climbing. The Rockpile wall is located at the base of Peak 8 and is easily accessible and fun for the whole family.
Lil' Climber Ropes Course – This year add one for the kids. This course offers super fun and safe obstacles for the kiddos to play on.
Little Flyer Zip Line – a zip line perfectly designed for little kids to get the flying as soon as possible!
SuperBungee Trampoline – Fly high on the SuperBungee Trampoline. Twist and flip as you gain even more altitude bouncing along. This safe and exciting trampoline is great for kids and adults.
Tom's Nugget Tubing – another kids' ride a wonderful summer tubing experience.
Ripperoo's Bounce House – Kids love bouncy castles! This one is awesome and huge!
Spend a day at the Breckenridge's Epic Discovery Park and You will not be disappointed. For the best deals on Breckenridge Lodging visit www.breckenridgediscountlodging.com. Or stay right at the base of Peak 8 at the New and luxurious Grand Colorado on Peak 8.
https://bestofbreck.com/wp-content/uploads/2021/08/bob-horizontal-logo.png
0
0
Meckenzie Donnell
https://bestofbreck.com/wp-content/uploads/2021/08/bob-horizontal-logo.png
Meckenzie Donnell
2017-06-07 15:25:04
2017-06-08 17:16:03
The Peak 8 Fun Park is now Epic Discovery!