Lining the mountainscape above the town of Breckenridge is the aptly named Breckenridge Ski Resort. Spanning across 5 peaks of the Ten Mile range, it is nearly impossible to not be in awe when you drive down the highway and see the town, mountains, and resort for the first time. With Breckenridge's base elevation of 9600 ft above sea level, you can often find amazing snow conditions and lots of sunshine. Although, different times of the year present different terrain, conditions, and things to know about your time on the slopes. Having lived in Summit County for nearly ten years, let me share some helpful knowledge on what to expect when visiting the resort.
Early Season: Mid-November to Mid-December. 
Breckenridge typically opens the second weekend of November. While not the first resort to open in Colorado or even Summit County, they usually have some of the best early-season snow. With recent snowmaking systems upgrades, the "White Ribbon of Death" days are gone. Opening Day is a great time to visit as it is full of energy, and the town is still waking up from the off-season. Early in the season, Breckenridge Ski Resort's dedicated snowmaking and grooming teams follow a standard pattern of terrain openings: Open the mountain at Peak 8 with the Colorado chair and a few trails underneath it, usually a green and blue level run. After Colorado chair, with natural snowfall and favorable snowmaking conditions, the Rocky Mountain Super Chair will shortly open.
The resort team usually aims to have Peak 9 with its long mellow sloping groomers open by Thanksgiving. For the first big holiday of the season, the Quicksilver, Beaver Run, and Mercury chairlifts are spinning. During this time, more and more terrain will open from natural snowfall, but be cautious on ungroomed runs as natural terrain and "snow snakes" (sticks, rocks, or natural obstacles) that could be hiding under shallow snow. The snow on groomed runs will be good and great, even with a bit of natural snowfall. Temperatures will be milder these months, with November usually having highs in the upper 30s and lows in the mid-20s, while December begins to cool off with highs in the upper 20s and lows in the high teens.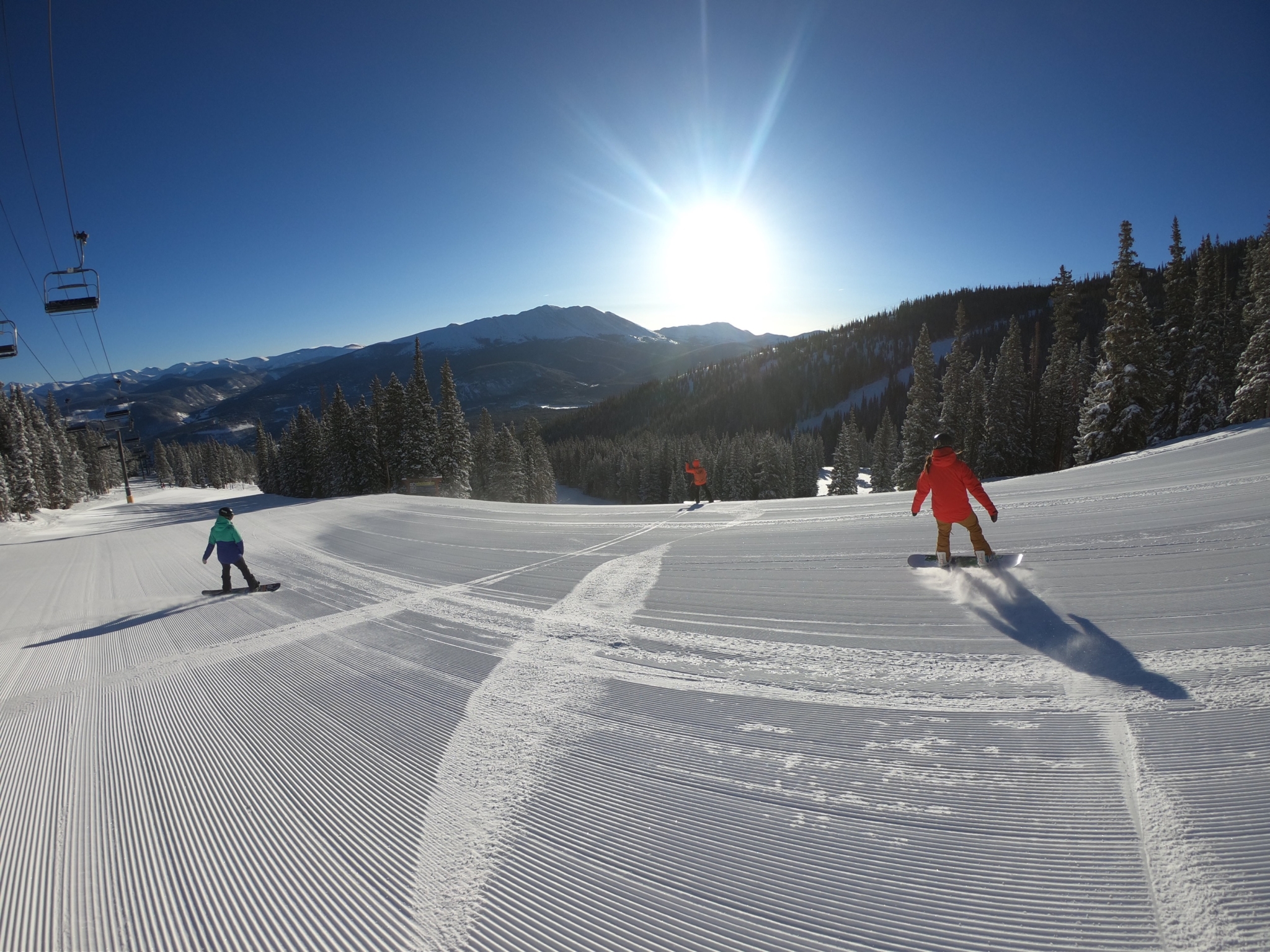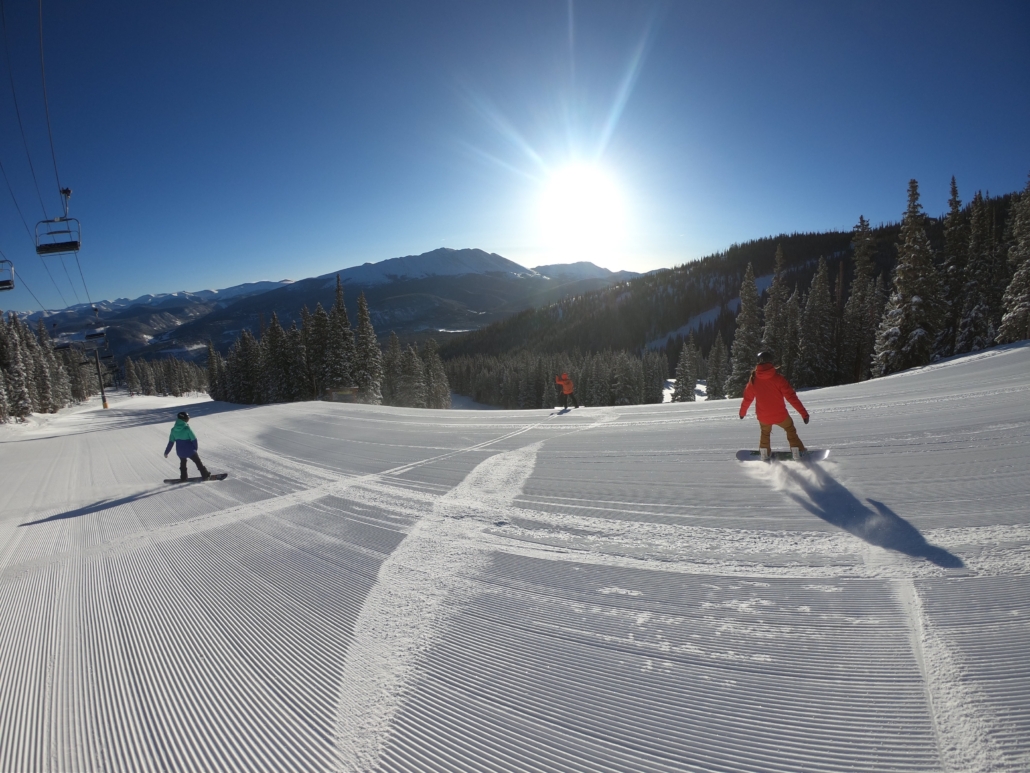 If enough natural snowfall has occurred, Ski Patrol and Resort Ops teams will begin to expand up the mountain and look to open the famed T-bar or 6 Chair on Peak 8. These areas depend heavily on natural snowfall as they are a high alpine environment where snow making equipment is not installed. Getting the first run down Contest bowl or Horseshoe bowl could be an exhilarating experience, but with early season conditions still, caution must be exercised!
The next to open will be Peak 7! This depends a lot on favorable snowmaking temperatures and natural snowfall, so the range of dates for when the Independence and Freedom Super Chairs begin to run is quite large. On average snowfall years, you can expect this peak with its long blue groomed runs to open before Christmas.
The Holidays: Late December – Mid-January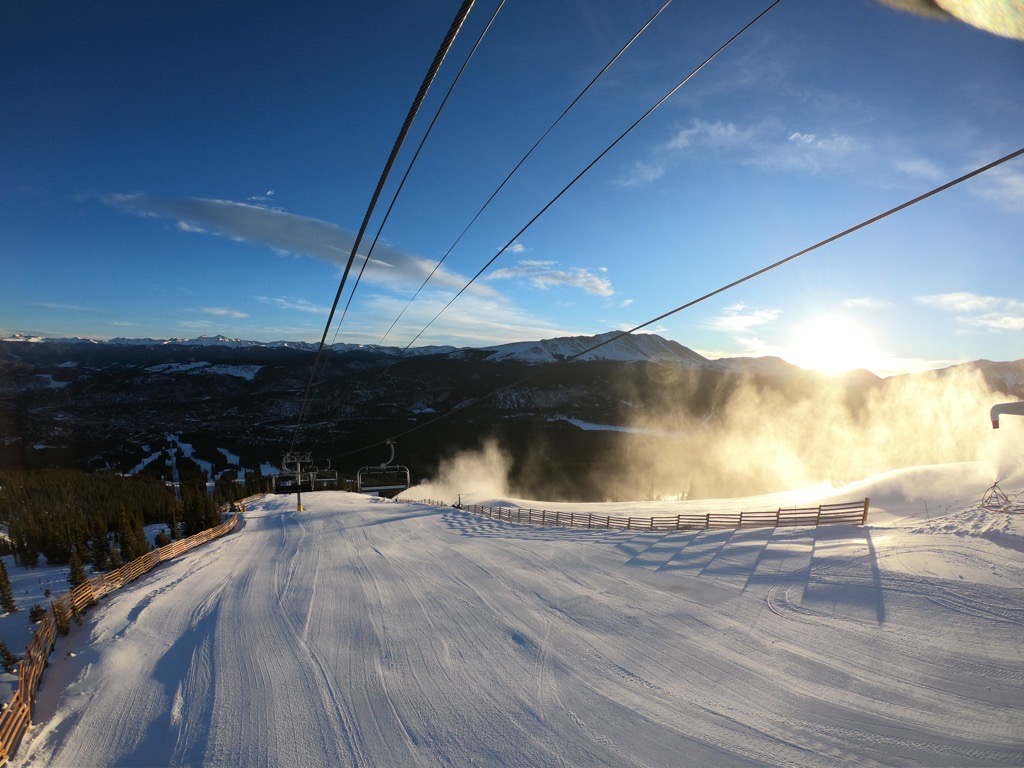 With three peaks open and plenty of visitors wanting to spend their holidays in a winter wonderland, more advanced terrain will begin to open up (once again, natural snowfall and good snowmaking temps dependent). The following terrain openings vary from year to year, but more often than not, once conditions are right, Peak 10 and its steep advanced runs will open up for some leg-burning fun. The average daily temperature this time of year is in the 20s, with lows in the low to mid-teens. During this time, skiing on the weekdays is crucial to get more runs and avoid long lift lines. This peak, which opened in 2013, is the latest addition to Breckenridge's expansive terrain. Peak 6 has a little bit of everything: Groomed runs, trees, open bowls, and a hike to high alpine chutes, all accessed by the high-speed Kensho 6-pack chair. Peak 6 has several blue runs, which are great for the intermediate skier or snowboarder.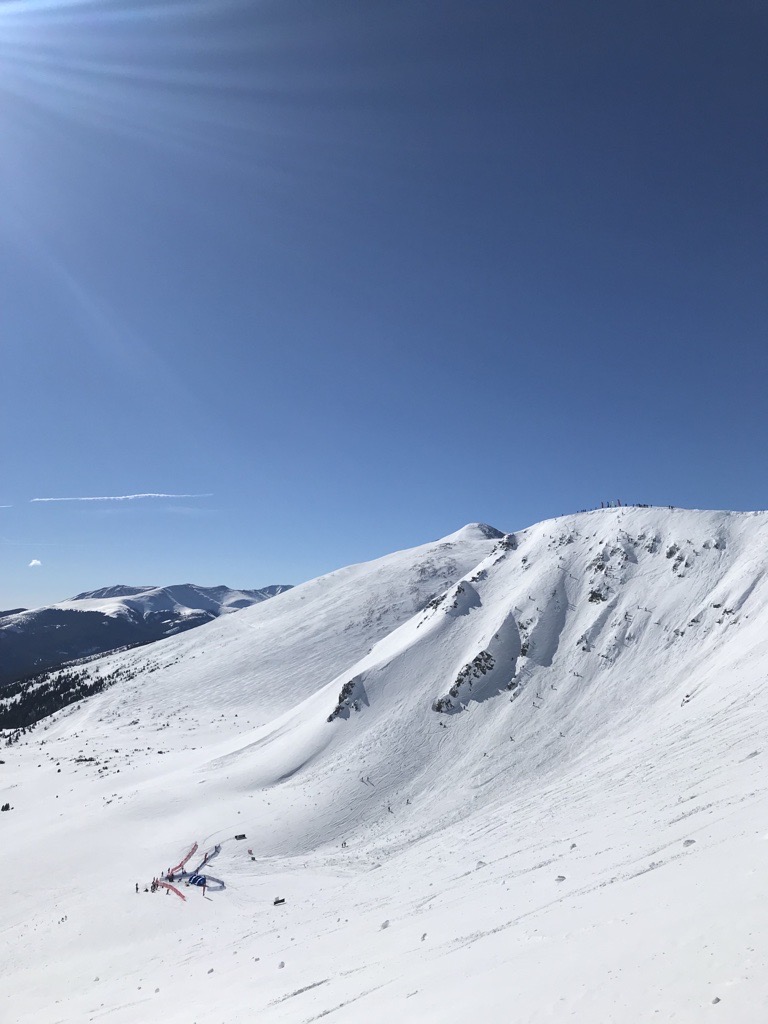 Mid Season: Mid January – March
The heart of the season. Hopefully, your ski legs will warm up as the final pieces of the mountain to open will be accessed by the highest chair lift in North America. Unloading at 12,840ft above sea level, the Imperial Chair stands above them all. From here, you can access black diamond and double black expert terrain in the Imperial Bowl and Whale's Tail – or take a groomed single black-rated run, Imperial Ridge, back down to lower elevation. The views from the top of this chair and the mountain are stunning, and you can see mountain tops to Pike's Peak!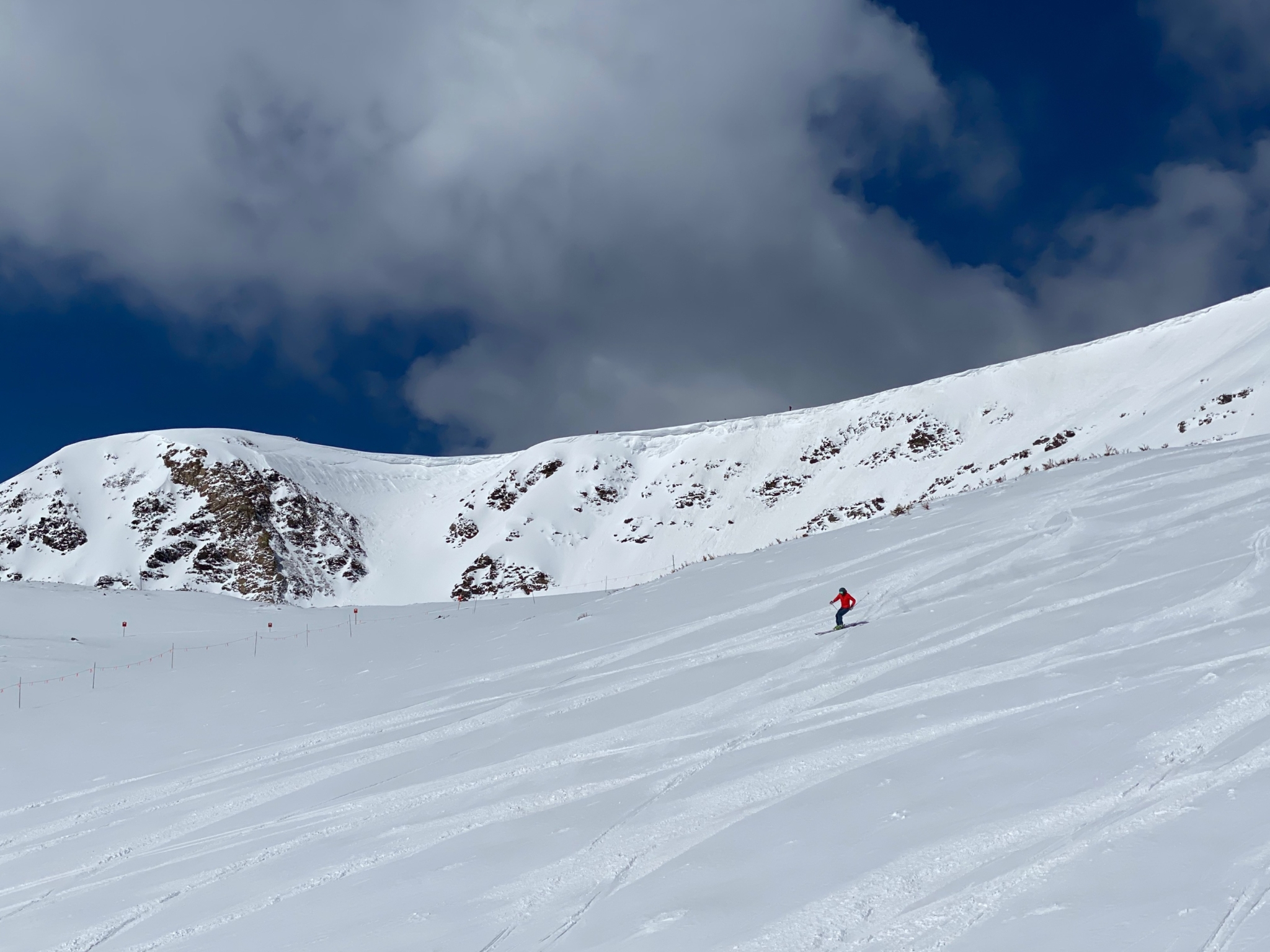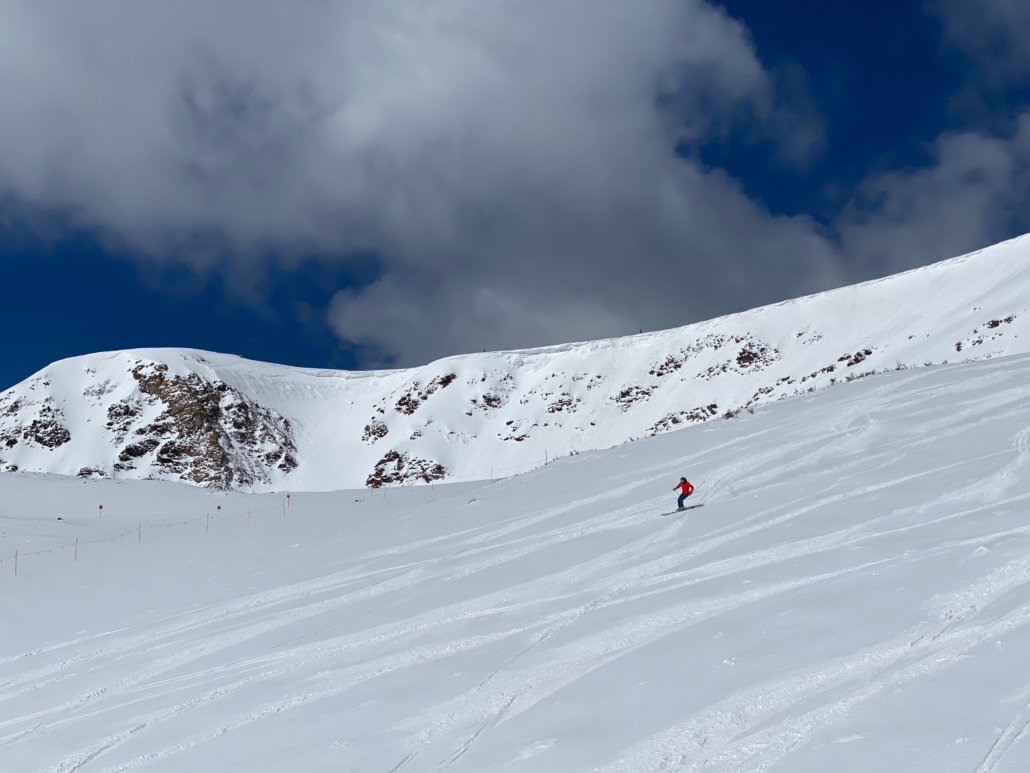 This is the time of the season when Breckenridge is most likely to have a good base of snow and your best chance to catch a powder day! March is typically Colorado's snowiest month, and when the snow starts dropping & the whole resort is open, it is game on! Colorado enjoys over 300 days of sunshine annually so that you can soak up some rays on a bluebird day in the Mid Season. January and February typically have a high temperature of around 30 degrees and low temperatures in the low teens.
Spring: March – April 
Let the sun shine! While we often get big dumps of snow in March, when it isn't snowing, the temperatures are heating up to almost 40 degrees! Did someone say sweatshirt weather? These are great days for those who love skiing but maybe not the cold temps that are often associated with it. Breckenridge's elevation keeps the snow in excellent condition, and you can find stashes of powder for days after a storm.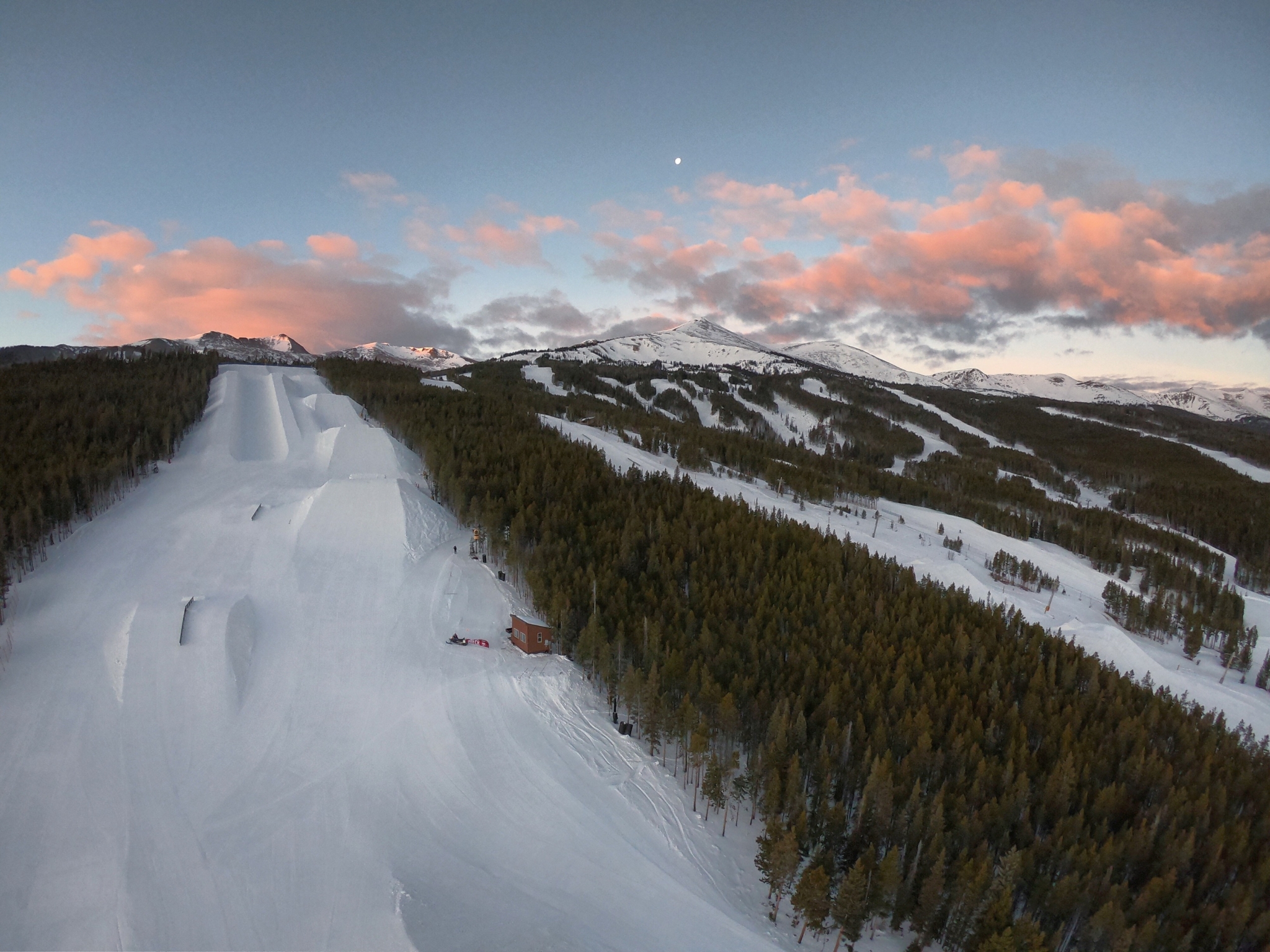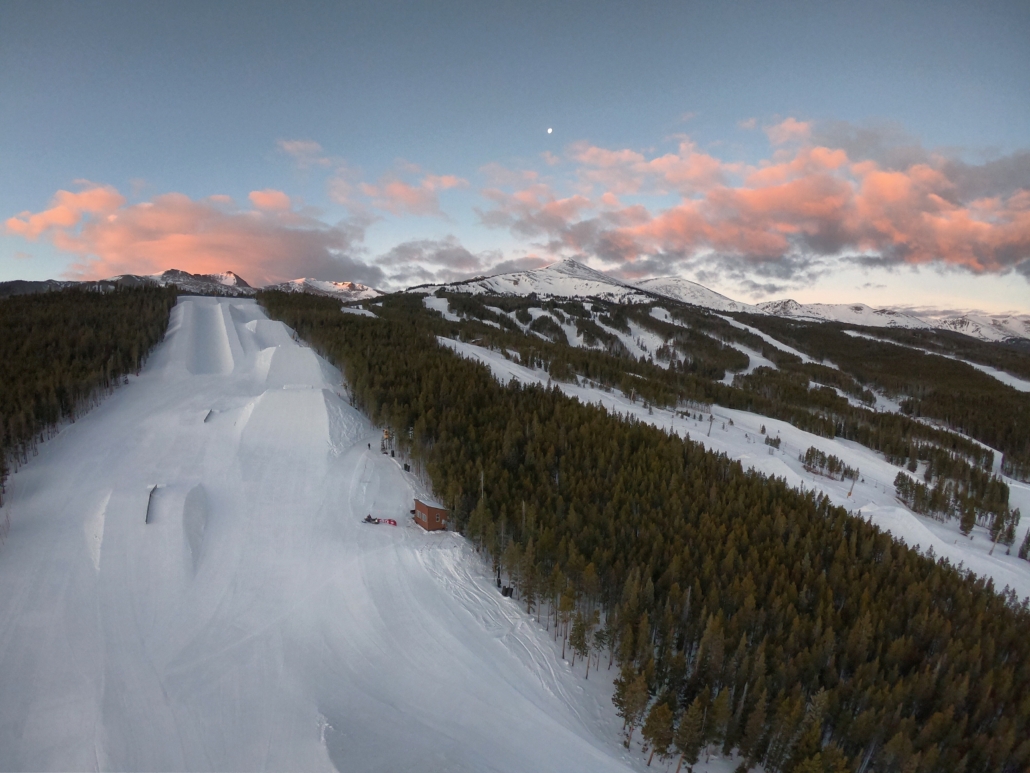 April – May: Late Season 
Still yearning for a ski day? In the late season, you can often find warmer temps and less crowded slopes. The mountain will begin to scale back operations and close down Peaks 10, 6, and 9 at the conclusion of April, leaving Peaks 8 & 7 open for the final month of the season. By this time, you can expect to be surfing the slush on warm sunny days – although I've experienced a handful of sneaky late-season snow storms at the beginning of May before! In April, highs are consistently in the 40s and creep up even higher in May! Usually, the slopes are quiet this time of year, and the town also has a little less foot traffic.
Once May rolls around, terrain availability is all dependent on the weather. The Resort intends to stay open until Memorial Day, but that is all weather dependent, and trails will begin to close down. Closing day, whether on May 31st or earlier, is usually a blast. You'll see (and should participate in)lots of costumes and celebrations of a season well spent.
Sometimes it is hard to think back, months and months ago, to the first time you strapped in on a board or skis, but if you spent any of that time during one of the previous seasons, hopefully, the interim is filled with happy memories. This guide on terrain, temperatures, and conditions is all very weather dependent and it is best to check our Breckenridge Ski Resort's snow report and lift & terrain status page before planning your visit. In addition, you can utilize the great weather reporting service, OpenSnow to check on how much snow has fallen or what is in the forecast. No matter the season you decide to visit Breckenridge, staying slopeside offers amazing access to the slopes; I'd highly recommend the special offers at the Grand Colorado on Peak 8 or the Grand Lodge on Peak 7! Click here for some exclusive offers for these properties!
https://bestofbreck.com/wp-content/uploads/2022/12/MicrosoftTeams-image-65.jpg
768
1024
Cody Mendoza
https://bestofbreck.com/wp-content/uploads/2021/08/bob-horizontal-logo.png
Cody Mendoza
2022-12-14 10:58:31
2023-10-31 12:46:02
Everything To Know About Ski Conditions in Breckenridge