Staff Feedback – What is Your Favorite Holiday in Breckenridge?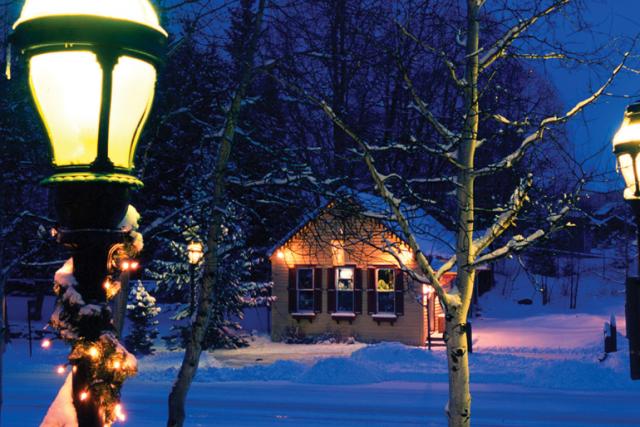 With Halloween just past and the big holidays approaching we thought it would be fun to ask our staff what their favorite holiday in Breckenridge is. Breckenridge offers a wonderful place to gather with family and friends for many holidays. One thing is for sure. If you are thinking winter holidays, you are guaranteed a white Christmas in Breckenridge! Breckenridge knows how to throw parties for the holidays. From The Lighting of Breckenridge in December to Mardi Gras, Independence Day and even Holidays we make up like Ullr Fest, Breckenridge is a perfect holiday destination. See below for what holidays our employees love.
4th July the town has a good amount people but not too crowded. there are lots of stuff going on the parade is a kick warm weather the mountains still have snow caps very fun time in the mountain.
Dale Holland, Breckenridge Grand Vacations Director of Maintenance
I love the 4th of July. The wild flowers are in full bloom, and by then all the mountain biking trails are dry. Amy Hoffmann, Breckenridge Grand Vacations Manager of Owner Accounting
The holiday that I enjoy spending in Breckenridge the most is Independence Day. My wife and I had our first date here in Breckenridge on July 4, 2004. It is a very special day for us to enjoy a hike with our dogs, and then out for a wonderful dinner in town followed by enjoying the fireworks display (fire danger permitting J). It does not get much better than that in my mind.
Brad Beverlin, Breckenridge Grand Vacations Director of Loan Servicing
The Christmas and New Year's holidays are a wonderful time of the year to be in Breckenridge. From the abundance of twinkling lights to the annual lighting of Breckenridge you are instantly put into the holiday spirit as soon as you take that first stroll down Main Street. On New Year's Eve the ski resort hosts one of the biggest torch light parades in the state that runs down peak 8 and the town puts on an exceptional firework show.   Everything from the mood in town to the snow falling from the skies gives you the feeling of true joy. Rick Tramontana, Director of Owner Relations
The fourth of July is my favorite holiday in Breckenridge. There is nothing better than spending a nice, warm (usually) summer day outside watching the various festivities from the Breckenridge parade to the BBQ's during the day. Ultimately, your day must end by watching the fireworks from the Frisco Marina. The fireworks are shot just across the small bay and nearly shower over you as they fall. While it is not for those with sensitive ears, the day is usually the picture perfect summer day.
Josh Stuhr, Hotel Manager of the Breck Inn
We spent our first Christmas here this year. It was truly one or our best. Most of ours have been in Arizona and most recently in Hawaii. It just doesn't feel like Christmas when you are at the beach or hiking in 70+ degree weather on Christmas day after that big turkey dinner. This year in Breckenridge yielded no guilt as we opened presents, ate the huge meal, built a fire, and simply relaxed around the house snacking on left-overs with the cold temperature and snow all around the house. I look forward to many more Christmas's just that simple and perfect!!
John Liner, Breckenridge Grand Vacations Sales Manager
My favorite holiday is Christmas and New Years. I love all the twinkling lights on all the trees mixed in with all the snow. Anonymous
I would say Thanksgiving is my favorite holiday up here. It just seems to me to signal the opening of the season to me. Even though the resort is usually open before that time, it just seems to me that  is when the snow starts really coming and it really kicks off. It also seems to be a holiday that a lot of locals seem to stick around for and there always seems to be a good time to be had by all.
Rob Ehlert, Breckenridge Grand Vacations Inventory Manager
My favorite season here is Christmas. I grew up in a touristy small town in Michigan and I'm reminded of great childhood memories here in Breck during this season. Steve Wilson, Grand Timber Lodge Maintenance Manager
If you would like to plan a trip to Breckenridge, contact Breckenridge Discount Lodging. We are your source for Breckenridge deals, Breckenridge discounts and Breckenridge recreation. Give us a call at toll free1-866-476-2311 or visit www.breckenridgediscountlodging.com.
https://bestofbreck.com/wp-content/uploads/2015/06/Tuesday-Nov-8-2011.jpg
1500
1500
Nicole DeCesare
https://bestofbreck.com/wp-content/uploads/2021/08/bob-horizontal-logo.png
Nicole DeCesare
2011-11-08 18:35:50
2015-06-16 18:45:01
Staff Feedback – What is Your Favorite Holiday in Breckenridge?