Run-cation: Experience Breckenridge with purpose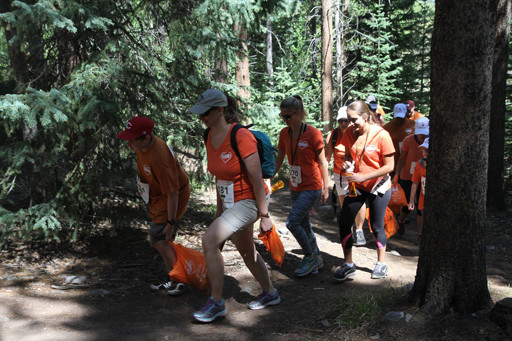 What is a run-cation? It is exactly how it sounds, a vacation where you participate in a running or walking race in a beautiful destination. As soon as you complete your race, you are rewarded with extreme satisfaction and a sense of pride. You participated in an event with hundreds of like-minded, inspired people getting together to support a cause and showcase their athleticism. Not only will you experience internal bliss after completion of your race…Bonus! You just happen to be in a beautiful outdoor destination and you got to experience the location unlike anyone else. Still think you're not into running or walking at 9,600 feet?
Understood, run-cation's are not for everyone. In fact, you have to be a bit of a go-getter to want to achieve something while you're on vacation.  For most of us, just getting to our destination with our family and friends is an achievement and it is hard to see why we would need to do anything more. A run-cation is about far more than just the run. It is about teamwork with your family and friends, it is an experience that ties you into the local community and allows you to accomplish a goal as an individual or team.
If all of the intrinsic motivation isn't enough to get you to plan a getaway with a goal, think about it this way. The beer always tastes colder when you're thirsty. The food always tastes better when you've worked up an appetite. Massages feel better when you're a little bit sore. Stress always floats away when you exercise. The outside is always a little more beautiful when the inside is glowing. Oh and tired kids don't stay up as late.
All factors considered, you might just have enough of a case to book your next getaway to Breckenridge to participate in one of the running or walking races this summer! Mark your calendar, make it a goal, rally your team and set out to experience your most satisfying, memorable weekend in Breckenridge!
5 Summit County Races you won't want to miss this summer:
June 10th – Rob A. Millisor Heart Health Walk and Run – 1k, 5k, and 10k options
June 17th – The Bacon Burner 6k – enough said
July 15th – The 4th Annual Frisco Triathlon – not your normal triathlon
August 12th – The Run the Rockies Trail 10k and Half Marathon
September 16th – Breckenridge Road Marathon – 1/2 Marathon, 1/4 Marathon and Kids Mile
https://bestofbreck.com/wp-content/uploads/2017/04/Monday-April-10-17-1.jpg
1500
1500
Meckenzie Donnell
https://bestofbreck.com/wp-content/uploads/2021/08/bob-horizontal-logo.png
Meckenzie Donnell
2017-04-10 14:33:13
2017-04-12 09:34:27
Run-cation: Experience Breckenridge with purpose