Fall into Autumn with these Four Summit County Cruises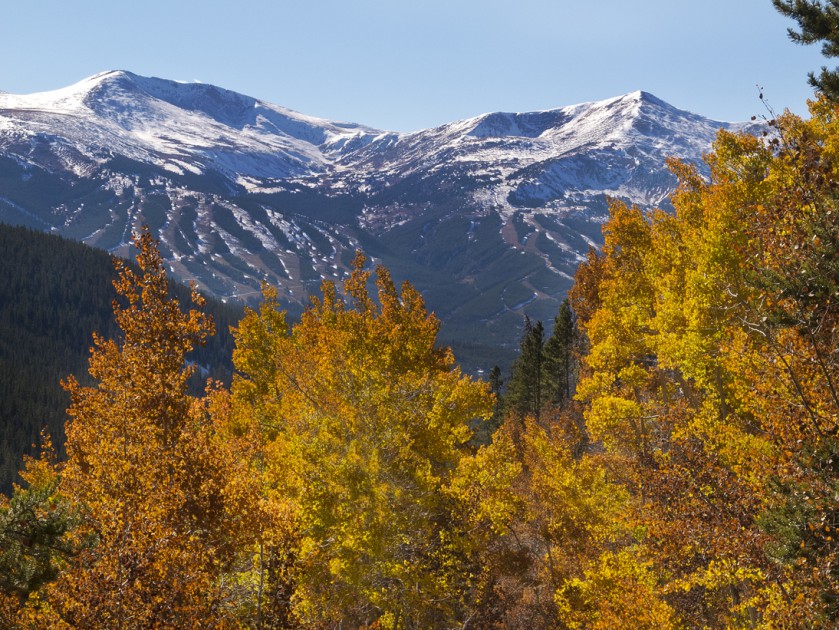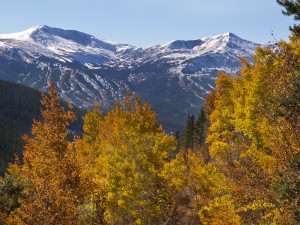 Fall in Breckenridge always seems to start around the same time as football starts, which is a little early compared to the rest of the country. Sometime in mid-August, each year there will be that one tree that starts to show hints of yellow. While most of the country is still baking in heat and humidity, Breckenridge is starting to enjoy the cooler nights and dry, sunny days that characterize a perfect High Country autumn.
As school starts back up, for a brief period, Breckenridge becomes a sleepy little town tucked away in the high Rocky Mountains. September and October weekends are slower and less hectic than the high seasons of winter and summer. For leaf peepers and autumn lovers, Breckenridge offers a chance for early enjoyment of the fall season. A relaxing drive through the mountains and forests in and around Breckenridge offers a great way to see the changing colors of fall.
Boreas Pass/Hoosier Pass Loop – 53 miles, about 2 hours
The Boreas Pass/Hoosier Pass loop is considered by many to be the classic fall drive from Breckenridge. Boreas pass road is an easy gravel road that travels the old rail route that was the only winter way into Breckenridge in 1800's and early 20th century. Start by turning left onto Boreas pass road at the south end of town and stop at High Line Memorial Park located right at the very beginning of the route. See Engine Number 9 and the original rotary snowplow engine that operated on Boreas Pass. Continue up, and in a few miles the road will turn to gravel and you will pass many wonderful stands of aspen trees as you climb to above tree line. You will know you have reached the top of the pass when you see the Section House which is now a lodging "hut" operated by the 10th Mountain Division Hut system. As you descend down the other side of the pass you will arrive at Como and highway 285. Turn right on 285 to return to Breckenridge. Stop in Fairplay for lunch and visit the old South Park Town site to see what Colorado life was like in the 1800's. Continue past four magnificent fourteeners (magnificent 14,000 high peaks) and down through stands of the best aspen colors on the whole route back into Breckenridge.
Loveland Pass – 56 miles, about 2 hours
Loveland Pass is the high pass that was the eastern entrance to Summit County and was the main driving route until the Eisenhower-Johnson tunnel was completed in 1973. This drive is completely paved and offers wonderful views of Lake Dillon, Keystone, Arapaho Basin and the high tundra of Loveland Pass itself. Start this drive by following Highway 9 north out of Breckenridge towards Frisco. After about five miles, turn right onto Swan Mountain Road towards Keystone. Swan Mountain Road is a short, twisty road with heart stopping views of Dillon Reservoir, the Ten Mile range, the Gore Range and more. Stop at the top and take the very short hike to the viewpoints at Sapphire Point. You will see the calico patchwork of towns, fall colors, pines, lakes and rivers, ski areas and mountains that make up the heart of Summit County; a stunning view. Continue on and turn right on highway 6 towards Keystone at the road's end. Stop in Keystone for lunch on the lake or in River Run village. Keep going on Highway 6 and head up Loveland Pass. You will travel into the high wooded valley that Arapahoe Basin is nestled in. As you start to ascend the pass, you will see the steep terrain that gives A Basin its nickname "The Legend." Continue up and over Loveland Pass to almost 13,000 feet in elevation and stop for some fresh air or a short hike above tree line. Continue down to I-70 west towards Frisco and take exit 203 back towards Breckenridge.
Drive around Lake Dillon – 26 miles, about 1 hour
The drive around Lake Dillon is a great way to see Summit County from all angles. This short and easy drive can be accomplished in as little as an hour, but it is worth making a few stops along the way. Start the same way as the Loveland Pass drive by going north on Highway 9 and turning right onto Swan Mountain Road. Don't forget to stop at the top and take the very short hike at Sapphire point and check out the viewpoints. It is well worth the effort. Continue down to Highway 6 but this time take a left towards Dillon and Silverthorne. The road will get very close to the shore of Lake Dillon and provide water level views of the Ten Mile Range and towering Buffalo Mountain to the north and west. Stop in Dillon for lunch and take some time to stroll along the waterfront, or have your kids play at one of the most scenic playgrounds in Colorado at Marina Park. Instead of going to I-70 towards Frisco, take the Dillon Dam Road along the water and through some wonderful aspens. Turn left onto highway 9 in Frisco and head back towards Breckenridge. Consider stopping at the Frisco Peninsula Recreation Area for top notch mountain biking, beginner hiking and Frisbee golf.
Highway 9 to Ute Pass – 120 miles, about 3 hours and 15 minutes
Ute Pass is the longest drive on this list but is also the most rewarding drive for fall colors. To start this drive head up towards Frisco on highway 9 and eventually head towards Silverthorne on either I-70 or the Dillon Dam Road. Find highway 9 north towards Kremmling out of Silverthorne and follow that about 10 miles to Ute Pass Road. Highway 9 follows the Massive Gore Range to the west, dotted with golden aspen groves the whole way. Turn right on Ute Pass Road and climb through the best aspen groves in Summit County as you reach the summit of the pass. As you go down the other side into Grand County you will pass the Henderson Mill and the road will turn to gravel. It is an easy drive but you will slow down as you reach the forests on the other side. You will pass through forested rivers and farms until you reach Highway 40 at Parshall. Turn left towards Kremmling and enjoy the tight valley that makes up the headwaters of the Colorado River. Once in Kremmling, turn left and follow Highway 9 south to Silverthorne and eventually back to Breckenridge.
Fall in Breckenridge is the "secret season." Autumn offers the best weather and smallest crowds. This golden shoulder season is a great option for a fall escape, and a leaf peeping drive can be the perfect way to spend a day in the High Country.
For the best deals on Breckenridge Lodging this Fall, visit our sister site www.breckenridgediscountlodging.com.
https://bestofbreck.com/wp-content/uploads/2015/09/Tuesday-September-1.jpg
1500
1500
Nicole DeCesare
https://bestofbreck.com/wp-content/uploads/2021/08/bob-horizontal-logo.png
Nicole DeCesare
2015-09-01 21:43:31
2015-09-01 21:51:04
Fall into Autumn with these Four Summit County Cruises