Celebrate Independence Day in Breckenridge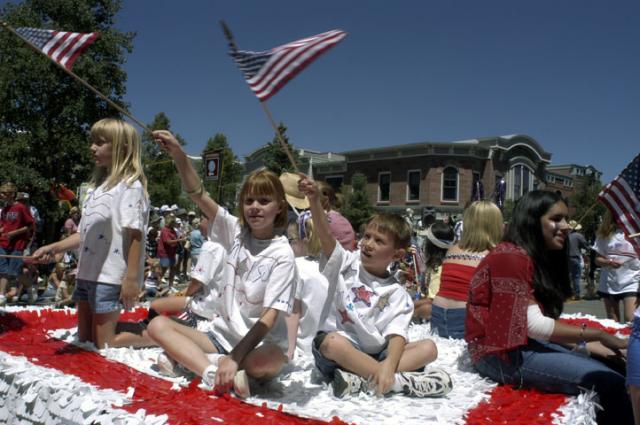 Come to Breckenridge and celebrate the USA's birthday! Breckenridge embraces the 4th of July this year with a weekend of events including the annual Main Street Parade, Firecracker 50 Bike Race, 10k running race, live music, kid's activities, art festival, fireworks (weather permitting) and more. Being high in the Rockies, Breckenridge offers a cooler, more enjoyable climate then most 4th of July destinations. With daytime high temperatures rarely is ever getting above 80 degrees, nights regularly dipping into the 40's and super low relative humidity, Breckenridge really does have "rare air."
In addition to all of the fun events taking place to mark the 4th of July weekend there are tons of activities to partake in while visiting Breck any time during the summer. Rafting season is just starting to get good this year. The mountain bike trails are all dry and the bike paths are in great shape. There is hiking all over Breckenridge and Summit County that range from easy short hikes to "Fourteeners," mountain peaks over 14,000 feet. The Breckenridge Fun Park will be in full swing with activities for the whole family. The fishing in the Blue River and Lake Dillon has been excellent this summer. There is a virtually unlimited number of activities to do while visiting Breckenridge.
Here is a lineup of the major town events:
30th Annual July Art Festival
Info: The 30th Annual Breckenridge July Art Festival is annually ranked one of the top art shows in the USA.
When:  July 5-7, 2013
Where: Main Street Station at the corner of Main Street and South Park Ave.
For more info: visit www.mountainartfestivals.com.
Independence Day 10K Trail Run:
When: 7:00 a.m.
Info: This scenic 10k trail running race offers up some of the best views in the Breckenridge area, while finishing just in time to catch the Main Street parade and other festivities.|
How to sign up: Register at www.townofbreckenridge.com or call 970.453.1734Call: 970.453.1734.
The Firecracker 50 Mountain Bike Race:
Info: The start of the Firecracker 50 is the annual launch of the 4th of July parade in front of thousands of spectators. Come cheer on riders as they embark on a 50 mile journey on the beautiful trails in and surrounding the Breckenridge area. Register early as this race fills up very quickly.
When: 9:30 a.m.
Where: Race will take place on Main Street.
How to sign up:  www.mavsports.com
Fourth of July Garden Party:
Info:  Annual Breckenridge Heritage Alliance Garden Party at the Barney Ford House Museum. Enjoy coffee, mimosas, and breakfast spread as you watch the Breckenridge Fourth of July parade in style from the best view on Main Street.
When: 9:00 a.m.
Where: Barney Ford House
Cost: Adults $40 ($75 day of), Children 12-6 $40 and Children 5 & under $10.
How to get tickets: Call: 970-453-9767 ex. 2
Main Street Parade:
Info: The official 4th of July parade of Breckenridge! Come see all the crazy, fun, patriotic floats and characters parade down Main Street.
When: 10 a.m.
Where: Main Street
Want to register a float? Call 970-453-5055Call: 970-453-5055.
Kids' Water Fight:
Info:  Kids' can join the Red, White & Blue Fire Dept. in an old time water fight on Main Street. Free for kids to participate.
When: From 12:30 p.m. – 2:30 p.m.
Where: Main Street
Viper 'Show and Shine':
Info: Dodge Vipers will be parked on Main Street allowing spectators to view the cars
When: 12:30 p.m. – 3:00 p.m
Where: Main Street
Free Concert at the Riverwalk Center:
Info: Come see Carl Denson's Tiny Universe perform for Free!
When: 2 p.m.
Where: Riverwalk Center
National Repertory Orchestra: 4th of July Patriotic Concert:
Info: Come see the National Repertory Orchestra perform a free concert that has become an annual tradition in Breckenridge. There will be a charge for seats but as always the lawn seating is free and first come first serve for spots.
When: 2 p.m.
Where: Riverwalk Center
Cost: $5, $10 or $15 based on seat location. Lawn seating is free and does not require a ticket.
To get tickets: 970-547-3100Call: 970-547-3100
Fireworks:
Info: Traditional fireworks in the Gondola North Lot.
When: 9:30 p.m. (weather permitting)
Where to view: They will be visible from most spots around town.
https://bestofbreck.com/wp-content/uploads/2015/07/Thursday-June-27-2013.jpg
1500
1500
Nicole DeCesare
https://bestofbreck.com/wp-content/uploads/2021/08/bob-horizontal-logo.png
Nicole DeCesare
2013-06-27 16:46:07
2015-07-30 16:54:53
Celebrate Independence Day in Breckenridge