This weekend's music for Spring Fever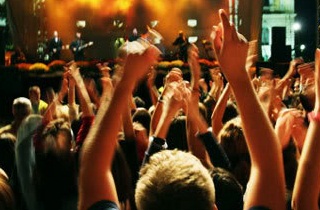 Leftover Salmon and Donovan Frankenreiter are two diverse musical acts that draw a similar crowd and both are playing this weekend on Peak 8 in Breckenridge. Here is some information on these two wonderful musical acts, where they are from, the type of music they play and a little history about the bands.
Leftover Salmon
Leftover Salmon is from Boulder, Colorado that formed in 1989. Leftover Salmon offers a blend of bluegrass, rock, country, and Cajun/Zydeco, which the band calls "Polyethnic Cajun Slamgrass". The band was formed in 1989 when one Boulder band, the Salmon Heads, asked members of another Boulder band the Left Hand String Band to fill some missing spots in its lineup. This combination was a big hit and the result was Leftover Salmon. The lineup would change significantly over the years, but Drew Emmitt, Vince Herman and Mark Vann remained the core of the band until Vann's death in 2002.
Leftover Salmon released their first two albums, Bridges to Bert in 1993 and the 1995 live follow-up Ask The Fish. Later Leftover Salmon performed on the H.O.R.D.E. tour and a earned a contract with Hollywood Records. Their Hollywood debut and second studio album, Euphoria defined their eclectic sound and introduced many songs that would become classics for the band.
In March 2002, founding member and banjoist Mark Vann lost his battle with cancer. He was succeeded by Noam Pikelny.
In 2004 the band announced they would be going on hiatus at the end of the year.  Leftover Salmon reunited in 2007 and played six performances. Leftover Salmon marked their unofficial return to the stage with a performance at the Telluride Bluegrass Festival in 2007. They continue to play shows including Peak 8 in Breckenridge for the 2012 Spring Fever festival. For more information on Leftover Salmon visit http://www.leftoversalmon.com/.
Donavon Frankenreiter
Donavon Frankenreiter grew up in southern California learning to surf by 10 years of age and to play guitar at 16. These two loves in his life have defined his career and taken him around the world.
His first high school band was so inspired by Pearl Jam, they named it Peanut Butter and Jam. His next group, a Southern rock group, scored a spot on the Warped Tour and had a tough time following such acts as Skic of it All. He continued to play rhythm guitar with a cover band, staying comfortably out of the spotlight, until he realized he needed to branch out on his own.
Donovan's friend Jack Johnson was starting up Brushfire Records, and offered Frankenreiter a shot, producing his first album of folk songs. Frankenreiter followed his 2004 self-titled debut with a full-band record, 2006's Move by Yourself (Lost Highway), where he plugged in and chronicled his life on the road.
Donovan relocated to Kauai fulltime with his wife and sons Ozzy and Hendrix three years ago. Frankenreiter fell in love with the sounds of the islands. He lives the island life writing music and touring including a stop in Breckenridge for the 2012 Spring Fever festival. For more information on Donovan Frankenreiter visit http://www.donavonf.com/.
https://bestofbreck.com/wp-content/uploads/2015/06/Tuesday-Feb-28-2012.jpg
1500
1500
Nicole DeCesare
https://bestofbreck.com/wp-content/uploads/2021/08/bob-horizontal-logo.png
Nicole DeCesare
2012-03-30 22:45:40
2015-06-29 22:47:19
This weekend's music for Spring Fever