Tag Archive for:
Stand Up paddle boarding
https://bestofbreck.com/wp-content/uploads/2019/05/Untitled-2.jpg
1500
1500
Brittany De Graaf
https://bestofbreck.com/wp-content/uploads/2021/08/bob-horizontal-logo.png
Brittany De Graaf
2019-05-31 14:51:26
2019-06-03 09:39:50
Stand-Up Paddleboarding this Summer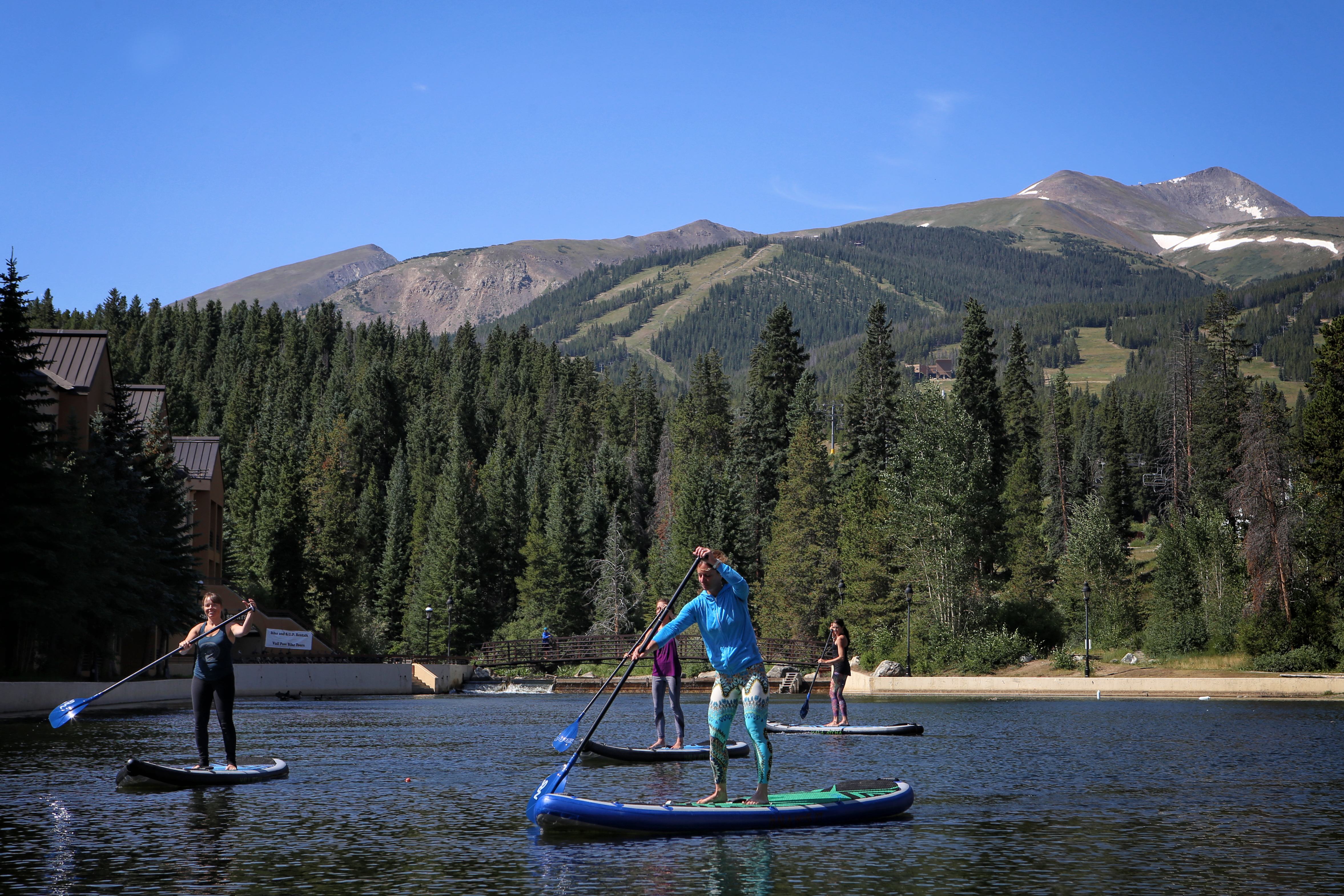 Stand up Paddle Boarding (SUP) has quickly become quite the hit as a fun summer activity in the Summit County area. If you haven't heard of this activity before, this fun sport consist of standing on an oversized thick surfboard with a paddle, while cruising over lakes, oceans and down rivers.
The sport's origin can be found in surfing towns like Hawaii. (However, this sport can be dated back thousands of years ago in Africa as a means of transportation.) Surfers today would stand on their surf boards with a paddle to get further out into the ocean. Jimmy Lewis can be named as one of the first creators of the paddle board structure, differentiating itself from the surf board to be more balanced, wider and able to cover more ground. It wasn't soon after that many surfers opted for this "paddleboard" to allow for more versatility while surfing and soon after "SUPing" became known as a worldwide sport.
Not only is "SUPing" used for surfers, but also for leisure cruises, a means of floating down a river and even an inventive way to do yoga. You can find two rental places on Lake Dillon that enable you to take cruises across the glassy lake water and explore the mountainous shoreline. The Dillon Marina and the Frisco Marina rent out paddle boards for only 35$ for a minimum of 2 hours. Explore one of the many islands or head to the Tiki bar for some food and drinks. If you have a group of people, try one of the beginner or intermediate "SUPPERS" tours where a guide will help your group navigate through the lake and provide tips on how to get the most out of your paddle board experience.
If you are looking for a new way to wake up in the morning, find a tranquil event to attend, or heal those sore muscles, try a "SUP" yoga class. In Breckenridge Colorado, you can try a class on the Maggie pond. Meta yoga studio offers a class from 8:30-10am on Tuesday, Thursday, Friday, Saturday and Sunday. It is best to rent your board before class at Alpinesports.com and sign up via www.metastudios.com. However, you can rent or bring your own board before class. Get there about 5 minutes early to make sure you have everything you need before setting out on the pond. Blue Lotus Yoga Studios also offers SUP yoga classes Mondays through Thursdays, as well as Saturdays (make sure to register online ahead of time).
For the more adrenaline seeking junkie, try floating down the Colorado River on a Stand up Paddleboard. This is recommended for the more advanced "SUPPERS" who can navigate down rapids and steer around obstacles in the river. However, guided trips with a professional are also available. These guided trips include a safety talk before setting out and a guide that will walk you through the motions of navigating a Stand up Paddle board down class 2 rapids. These paddle boards can be rented through Stand up Paddle Colorado.
Don't worry, this sport is also offered in the cooler months of the year where the lakes are frozen. Head down to the Breckenridge Recreation center for a "SUPing" class in the indoor pools. This class will be offered every Thursday at 6:15-7:15am starting October 15th– Nov 19th. Check out the Breckenridge Recreation Center to register!
It's no secret that the mountains offer many ways for you to be creative, adventurous, and enjoy the scenery of the Rocky Mountains. Whatever it is that you are seeking on your next adventure, there are a variety of different ways to try this new and innovative sport in the Summit county area. Make sure to check out all the great lodging deals by clicking below!


https://bestofbreck.com/wp-content/uploads/2015/09/Thursday-Sep-10-2015.jpg
1500
1500
Meckenzie Donnell
https://bestofbreck.com/wp-content/uploads/2021/08/bob-horizontal-logo.png
Meckenzie Donnell
2015-09-10 21:05:32
2015-09-16 21:33:16
Plunge into SUPing in Summit