It's Almost Rafting Season in Breckenridge!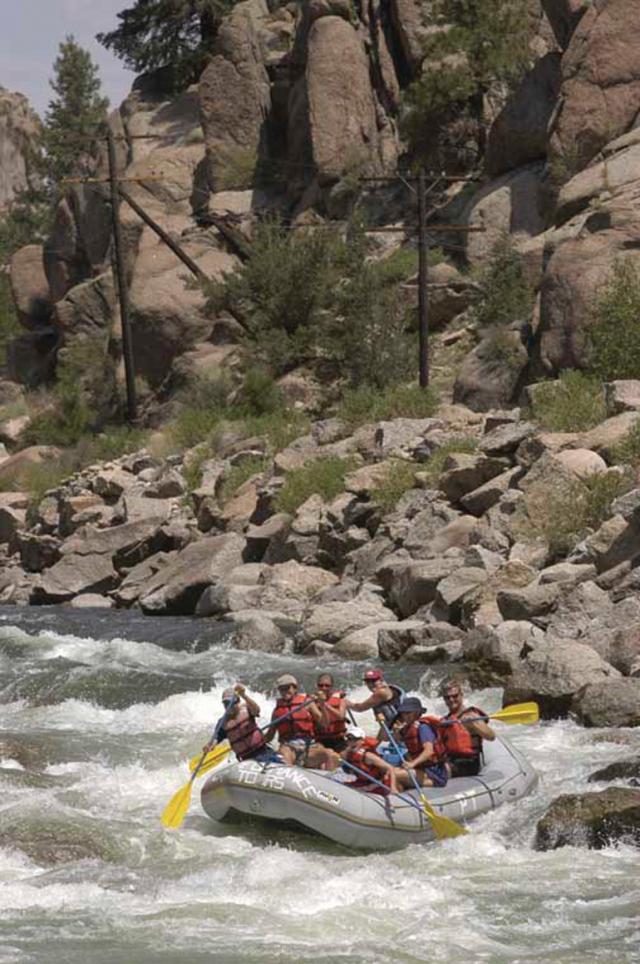 On my way to work this morning I was thinking about the crazy spring weather we have had these last few weeks. I really enjoyed my drive because we have finally turned the corner on the snowy spring weather and are looking at high temperatures in the 60's and sun every day in the ten day forecast. I was thinking about how the season change from winter/spring to summer is so sudden. One day it's snowing and everything is frozen and then the next it's 60, the trees are budding, the snow is gone and the lake is getting ready to melt. This is the week that the snow melt and spring runoff starts in earnest.
Spring runoff means rafting season is almost here. The rivers will start swelling and the flows will grow steadily as they get to their prime flows in the next few weeks. Spring is the best season for rafting and Colorado's High Country around Breckenridge is full of some of the best rafting in the state. There are many professional, reputable companies located in Breckenridge that offer full and half day rafting trips to many rivers all around. Here is the lowdown on the best rafting spots around Breckenridge and Summit County.
Upper Colorado River:
The Colorado River is the only river in the area that is navigable year-round. A friend of mine actually uses a raft to go goose hunting in the dead of winter. It sounds crazy but he bags a lot of geese. Fortunately the spring is here and the Upper Colorado is flowing. The Upper Colorado consists of about 17 miles of mostly slow-flowing water punctuated by gentle rapids that runs through beautiful canyons flanked by the a Union Pacific rail route.  Commonly referred to as "The Upper C," the northern portion of the Colorado River is frequented by an abundance of wildlife including bald eagles, elk and bighorn sheep. The rapids are considered class II – III. Depending on the flows, the Upper Colorado is the most family-friendly stretch of water in the area and is great fun.
It is worth mentioning that there is one section called Gore Canyon that is anything but family-friendly. Gore Canyon is a class V section of the river that includes a mandatory ten-foot drop to get through. Commercial rafting companies offer trips though Gore Canyon, but you have to be qualified which includes passing a test to be allowed to go. It is considered by many to be the wildest section of river in all of Colorado.
Arkansas River
The Arkansas River is a widely-popular stretch of river and home to some of the most exhilarating and enjoyable whitewater in the area. The Arkansas has easier stretches that offer class II – III rapids but is best known for Brown's Canyon which is considered class III – IV. The best rapid on Brown's Canyon is Big Drop, which in high water sends's you over a six-foot wave directly into a huge hole that you have to power through to avoid getting sucked out of the raft. It is hair-raising when it is at its high levels.  Brown's Canyon and the Numbers are perfect for those who have some rafting experience. But experience is not necessary to go on a trip, so if you are looking for an adrenaline rush and a relatively safe trip, these areas are perfect.
Not to be outdone by Gore Canyon, further down the Arkansas below the Numbers is the Royal Gorge. Slightly less dangerous than Gore Canyon, Royal Gorge is a class IV – V experience that will offer a high level of excitement.
Blue River
Located just north of Silverthorne the Blue River is the closest rafting to Breckenridge. The Blue is only navigable for a short time in the spring and early summer but offers a wonderful class III experience that is a perfect family option. If you are visiting while the flows on the Blue are up consider this trip as it is close and the mountain views of the Gore and Williams Fork ranges are impressive.
Clear Creek
The Clear Creek is a fun and challenging stretch of river that runs right next to Interstate 70 out of the Georgetown area. Like the Blue River, the Clear Creek runs best in the spring and early summer and is hard to navigate later in the year. Clear Creek is considered class III-IV and has some pretty tight sections. It is a little more than beginner, but is reasonably easy and commercial companies offer trips to anyone. A neat twist on the traditional rafting trip is offered on the Clear Creek. A couple of years ago Clear Creek built a series of zip line towers and offers a combo rafting/zip line trip where you raft and stop to fly over the river on the zip lines. This is a fantastic alternative to just rafting.
Spring has finally arrived in Breckenridge and with it so has rafting season! Get out there and experience Colorado in new way. If you are planning a trip to Breckenridge this spring or early summer, try a half or full day rafting trip. You will not be disappointed.
For the best deals on early summer Breckenridge lodging check out www.breckenridgediscountlodging.com.


https://bestofbreck.com/wp-content/uploads/2015/07/Monday-May-20-2013.jpg
1500
1500
Nicole DeCesare
https://bestofbreck.com/wp-content/uploads/2021/08/bob-horizontal-logo.png
Nicole DeCesare
2016-04-08 00:00:13
2016-04-12 19:01:10
It's Almost Rafting Season in Breckenridge!