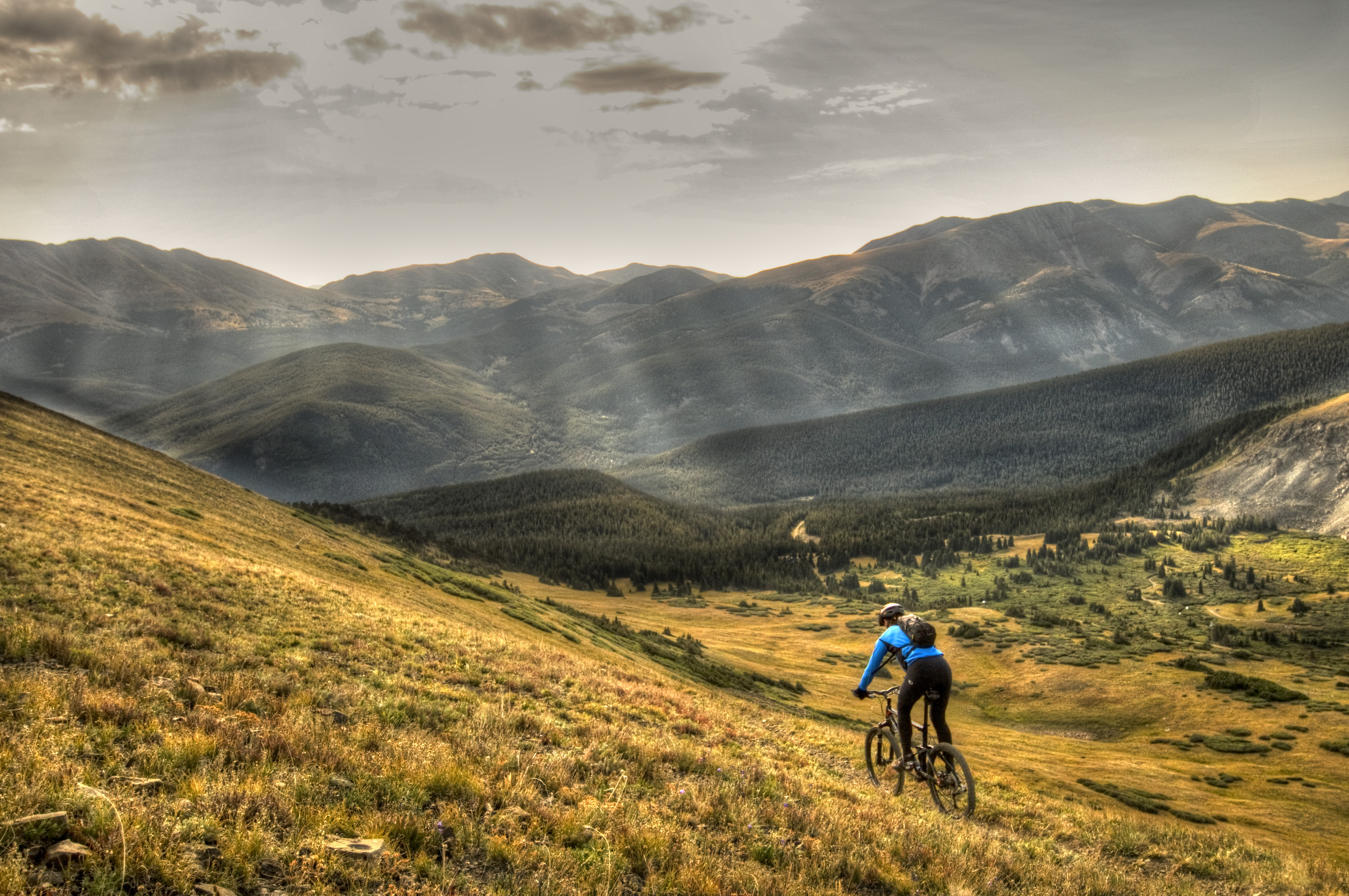 The winter season is winding down. Spring is here and the snow is on the melt. Instead of blizzards and pow days, we're looking forward to blue skies, mild weather and the long days of summer. In Summit County summer is a mild season where the temperatures stay in the sweet spot for outdoor recreation. Not too hot, not too cold, but just right.
Some of us prefer hiking, camping or fishing, but one of the biggest draws of the summer is getting back in the saddle for another season of biking.
Now, up here in the mountains, most people assume that mountain biking is the only discipline. And yes, it does make up a large portion of bikers. But believe us, there's plenty to do for everyone from the casual rider to the extreme athlete.
First thing's first. No bike, whether a rental or an expensive top-of-the-line model is ready to ride without a thorough tune. Especially when dusting it off for the beginning of the season. SO, here are a few of the basics to cover when making sure your ride is ready to rip.
Tires – These are some of the easiest components on a bike to maintain or replace. If you're running on tires that include inner tubes, make sure that there aren't any holes in the tube and that there's plenty of tread on the tire. Making sure that they're inflated to the proper PSI (pounds of pressure per square inch) will go a long way towards making sure that they don't prematurely go flat or pop. If you prefer riding on tubeless tires, same basic principles apply. Make sure the PSI is correct, make sure that there aren't any hidden holes in the tire and more importantly, make sure the seal is airtight. Tubeless tires tend to require maintenance much less often than inner tubes, but they do require a bit of a bigger commitment on the front end to make sure they're set up correctly. Luckily, here in Breckenridge, there is not a shortage of bike shops.
Oil and Lubrication – A bike is a well-oiled machine… Literally. Making sure that your chain, gears and joints have the proper lubrication is very important to keep the bike from rusting prematurely and keeping it operating smoothly. However, keep in mind to wipe off excess oil and lube away from your components as too much can attract a lot of dirt and grit.
Gears – Almost all kinds of bikes have shifting gears. They help you be as efficient as possible when it comes to pedaling. However, with lots of use, they can be thrown out of whack. So, make sure to have them realigned at the beginning of the season. This way when you start shifting with your gear levers, you won't get stuck between gears, knock the chain off, or cause any inconvenience while riding around. Most qualified bike shops will have the tools and the knowledge to do this rather quickly.
Brakes – What good is going fast if you can't control your speed? Brakes are one of the most important components on a bike. These days, there are typically two different types of brakes, hydraulic and cable. Hydraulic brakes use a system of hoses filled with fluid to transfer energy from the brake levers to the calipers whereas the cable system uses a taut wire to transfer that energy. To make sure that your brakes are in great working order, bleed hydraulic brakes (remove bubbles of air from the hose that reduce functionality) and tighten or loosen the brake cables to ensure that they're in the correct position when the brake lever is applied.
Now that we've gone over a few of the basics for prepping your bike (keep in mind this is only a handful of maintenance tips, for a true thorough tune, consult a professional shop or mechanic), it's time to delve into the best spots to ride. A great reference to help you find your way around is: https://www.mtbproject.com/.  It's a crowdsourced site that compiles trails based on popularity and location.
Here in Breckenridge there are seemingly endless trails that range from easy to moderate to scary so make sure you know where you're going before you embark down an unknown trail. Some of the local favorites include Sally Barber (a free-flowing intermediate trail with some ups and downs). The Peaks Trail (which is a bit longer, around 8 miles one way taking you between Breckenridge and Frisco), The moonstone trail (more difficult, primarily downhill with jumps and berms) and The Flumes, which range from easy to difficult uphill and downhill rides.
If mountain biking isn't necessarily your thing, there are plenty of roads to cruise. Boreas Pass Rd. is a grueling climb rewarded with excellent views and a fast, flowy downhill ride. There is also a paved bike trail to and from Frisco (about a 15-minute drive) that is very popular, winding along the Blue River and ultimately Dillon Reservoir. Other than that, feel free to explore town on your bike. Everything is very friendly to cyclers and there are definitely some hidden gems to find through exploration.
Make sure you follow the rules of the road on your bike. Uphill riders on trails always have the right of way (unless you're on a downhill specific trail which will be noted on signs). When riding on a road also used by cars, signaling just as if you were in a car is required. No one is psychic and can read your mind. If you need to make a left-hand turn, point that direction so auto drivers know. Always obey traffic laws and signs and always exercise caution. If you are riding on a trail that is slightly muddy, make sure you always stay on-trail. Riding around mud puddles expands trails and could potentially damage natural vegetation and wildlife. Besides, if you're not out playing in the mud, where's the fun in that?
Stay safe out there and have fun!
https://bestofbreck.com/wp-content/uploads/2017/03/Friday-Mar-24-17.jpg
1500
1500
Nicole DeCesare
https://bestofbreck.com/wp-content/uploads/2021/08/bob-horizontal-logo.png
Nicole DeCesare
2017-03-24 09:52:39
2017-03-24 10:02:10
Back in the Saddle: Breck Biking Season Preview