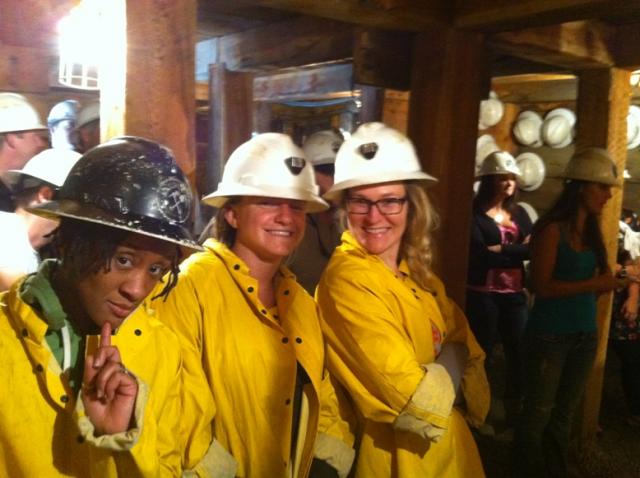 Ever wonder what it was like to live back in the 1800's and mine for gold? According to all accounts the life of a miner was a very difficult life. Miners worked long hours for very low wages and often in very dangerous conditions. Breckenridge was founded in 1949 by gold miners looking to strike it rich in the harsh and forbidding Rocky Mountains. Back then there were no roads past Idaho Springs and Fairplay and the only way into Summit County was a brutal hike over 11,000 feet and into the valleys of the Blue and Snake Rivers (current day Summit County).  In face it was so difficult to get here that it took the discovery of gold to convince people to make the perilous journey.
Gold mining in Breckenridge and Summit County started out as gold panning in streams and rivers. Soon though there were enough people and resources getting into Summit County that mines started springing up all over. Just outside of Breckenridge is a perfect example of a real gold mine from this period of Breckenridge's History.
The Country Boy Mine is a real mine that is open year round giving tours of the mine and is the perfect example of how a mine like this operated. Our staff recently went and toured the mine and loved it. The main attraction is the mine itself. The guided tour takes visitors into the mine back about 1,100 feet stopping along the way to explain mining in the 1,800's. You have to put on a hard hat and dress in a lightweight coat. The temperature in the mine is in the 40's year round so if you come in the winter you will be surprised at how warm it feels compared to outside.
Exploring the mine site is a treat itself. There is a 55 foot ore chute you can slide down, gold panning, old mine equipment, pack animals, a general store and more. Visiting the site and taking the tour can be done in an afternoon and is the perfect break from skiing in the winter.
The next time you are visiting Breckenridge make plans to visit the Country Boy Mine located just a couple of miles outside of town. For more information on the Country Boy Mine visit www.countryboymine.com.
For the best deals on Breckenridge lodging visit www.breckenridgediscountlodging.com.
https://bestofbreck.com/wp-content/uploads/2015/07/Monday-Aug-20-2012.jpg
1500
1500
Nicole DeCesare
https://bestofbreck.com/wp-content/uploads/2021/08/bob-horizontal-logo.png
Nicole DeCesare
2012-08-20 15:01:22
2015-07-03 15:09:53
Country Boy Mine – The Perfect Family Activity