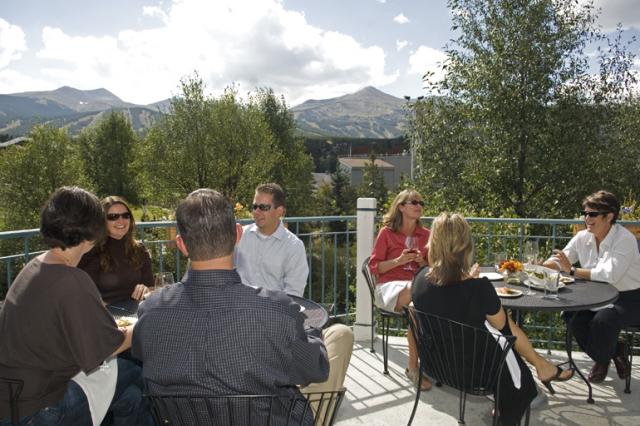 Spring is the time of year in Breckenridge when locals pause to take a breath. Everything is a little quieter and less crowded during the spring months in Breckenridge. The ski season is over and this time is the calm before the busy summer season that heats up around the 4th of July. One of the best aspects of the spring shoulder season (this year's weather has been the best ever!) are the deals one can find out at restaurants, shops and on lodging in Breckenridge as well as around Summit County.  We took a poll here in our office and asked our coworkers what their favorite restaurants are here in Breckenridge so we could offer a few suggestions for those coming to Breckenridge.
Hearthstone Restaurant (130 S. Ridge Street, 970-453-1148) is the favorite in our office and has been a local's choice for years. Located in the historic, 125 year-old Kaiser House, The Hearthstone is known for hand cut steaks, game and fresh seafood using locally farmed seasonal products. This richly decorated Victorian-era home offers beautiful views of town, the Breckenridge Ski Resort and the Ten Mile Range. Our favorite dish is the elk steak and the Colorado lamb. The seating is comfy and they have one of the best happy hours in Breckenridge.
Steak and Rib (208 N. Main Street, 970 453-0063) quite possibly has the best steak one can find anywhere in Breckenridge. Following the history theme the building that houses Steak and Rib is known to be a miner's cabin that dates back to at least 1868. One of the quirky things is the way the floor seems to move with the natural contour of the ground it was built on. Being in such an old structure it not surprising that the dining room is filled with so much character. Although known for it's steak they also have fantastic ribs, game and seafood. Our favorite dish is the Crab Stuffed Filet Mignon. You can't beat it!
Mi Casa (600 S. Park Ave 970-453-2071) is somewhat less expensive than the first two restaurants MI Casa's food is no less impressive. Founded in 1981 Mi Casa offers Mexican food and prides itself on using only the freshest ingredients right down to hand cut heated nachos they offer to every guest dining. The mild salsa that goes with the chips is a fresh and flavorful salsa with a hint of sweetness that is perhaps the best mild salsa there is. Mi Casa offers many traditional dishes but the one that everybody here loves is found on the appetizer menu but don't be afraid to order it for dinner! Duck Quesada's are one of the signature dishes offered by Mi Casa and is so good it has even won numerous awards. Do not miss the opportunity to enjoy this dish and remember to wash it down with a tasty Marg.
Southridge Seafood Company (215 South Ridge Street, 970-547-0063) like its name offers fresh seafood daily as well as other wonderful culinary creations. Opened in 1998 Southridge is the only high end seafood restaurant in Breckenridge. Food choices include fresh seafood, shellfish, pasta, steaks and lamb. Southridge also has the only raw bar in Summit County and has killer happy hour deals. The staff's favorite dish is the oysters Rockefeller.
Kenosha Steakhouse (301 South Main Street, 970-453-7313) is called a steakhouse but is really known for two things. First the most popular menu items are by far the BBQ plates the offer and second any local will tell you that Kenosha has one of the best decks to sit outside on anywhere in Summit County. Perfect sun all day and uninterrupted views of Breckenridge ski resort and the Ten Mile Range make this large deck the local's favorite. Foodwise Kenosha offers great steaks and burgers not to mention their award winning BBQ. The favorite dish in this office is the Beef Brisket Platter. Mmmmmmm.
If you are planning a spring or early summer trip to Breckenridge consider one of our favorite restaurants and don't forget to check the Best of Breckenridge Blog (right here!) for  weekly 2 for 1's and restaurant deals.
If you are looking for the best deals on Breckenridge Lodging visit www.breckenridgediscountlodging.com
https://bestofbreck.com/wp-content/uploads/2015/07/Wednesday-May-16-2012.jpg
1500
1500
Nicole DeCesare
https://bestofbreck.com/wp-content/uploads/2021/08/bob-horizontal-logo.png
Nicole DeCesare
2012-05-16 15:22:01
2015-07-01 15:52:02
5 Favorite Restaurants in Breckenridge